Creating an Event Module with Solodev
---
An events module is a great way to keep your online audience aware of upcoming events. This tutorial will teach you how to build a calendar-based event module in Solodev.
Solodev Required
This tutorial covers building an event module in Solodev using shortcodes.
Displaying a calendar of company and industry events on your website adds value to your website and keeps your audience engaged in the activities of your brand. In this article, Solodev will show you the basics of creating an event module in Solodev using shortcodes.
Step 1 - Create your Event Module
Open the folder to which you want to add your event module. Hover over the Add button and select Calendar.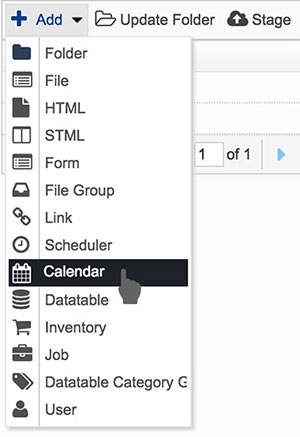 Note:
You can add a module to any location within the Solodev system; however, we recommend creating a dedicated "modules" folder inside the "web files" directory in order to keep all of your modules organized and easy to find.
For enterprise users, we suggest creating your modules inside your "Data Center" directory.
Step 2 - Select your Module type
Select "Events" from the dropdown menu as shown below

---
Step 3 - Upload your Events Form
Copy and paste the code below to a simple text document with .tpl at the end of the file name such as "event-form.tpl".
---
---