Solodev Outscores Industry Heavyweights in Web Content Management
---
The latest G2 Crowd report of Web Content Management Platforms evaluated over 5,700 verified user reviews, and only one company emerged as a clear leader in every satisfaction category.
As a customer-first company, Solodev has always taken our customers' reviews to heart, using each point of feedback as an opportunity to improve the relationship with our users. Like any company, we're flattered when good reviews come in – and we're honored to announce that the latest G2 Crowd report of Web Content Management platforms ranked us once again in their "High Performer" category for Fall of 2017.
As we looked over the numbers, we were stunned by the insight in the best way possible.
Why? Because all the figures, all the accolades stem from one thing: our clients.
G2 Crowd is a peer-to-peer data aggregation system that ensures people leaving reviews actually use the product in question. This report included over 5,700 reviews from business professionals and their honest assessments of the WCM platforms they use. That means the people who know what Solodev can do the best are the ones giving the most honest reviews of our product, like this one below:
"Despite having no technical experience whatsoever, I can login to Solodev and pick any of my property's websites and start making edits directly on the web page - and that's pretty amazing. More importantly, my entire staff – from Kansas to New Mexico – can do the same. Our IT department can now focus on what they do best and leave the website to the marketing team for the first time, which is a huge step forward for us." - Jonathan M.
If you're considering a CMS in your future, here are the 7 biggest takeaways from the report.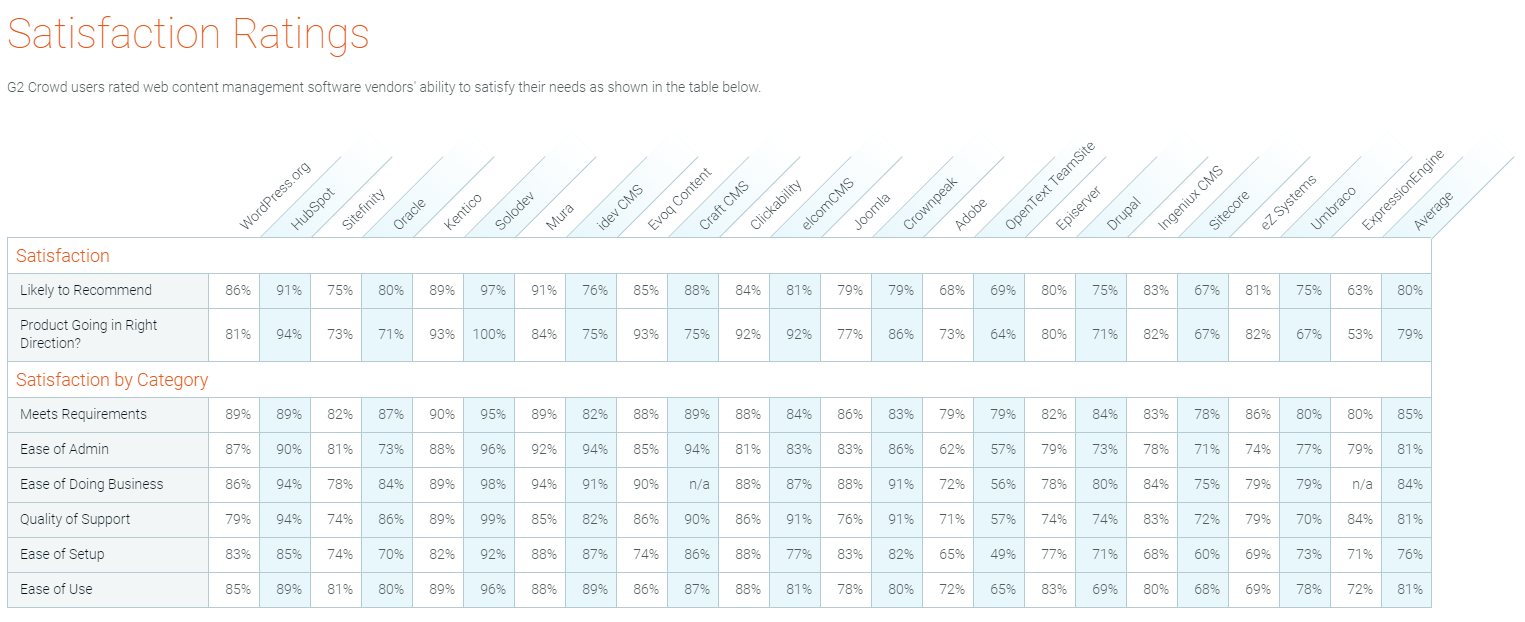 1. Solodev is the only Web Content Management System with a 97% customer satisfaction rating.
"I have been working with Solodev for nearly 4 years and I couldn't be happier with the results and the product they have delivered. Our newly designed website is everything we could have ever imagined and the CMS software is very functional and user-friendly, and easy to learn and teach to colleagues. What I like best about Solodev is being able to explain my vision and have them exceed all expecations." -- Brittny K.
This was the first piece of the G2 Crowd report that caught our attention. Nearly all of our users enjoyed their experience with us enough to tell someone else to try us out. There's nothing stronger than a recommendation from a trusted colleague or friend, and we know that those aren't handed out easily.
2. 95% of users agree that our WCM platform does everything they expect.
"Our new site is extremely user-friendly and easy to navigate. Visitors to our site are now able to find what they're looking for within 1 or 2 clicks of their mouse and have multiple routes to find the same information based upon how their brain thinks. The new site also incorporates new features such as an Interactive Calendar, School Mapping, and Video Pop-ups. In addition, the responsive design allows the site to be pulled up on any mobile device or browser platform. On the back-end, the Solodev CMS is simple and easy-to-use. Thus, making updating the site a breeze. We're now able to make instant changes helping us keep our content fresh and current." -- Michael L.
If a client recommends a product, it's because they had an exemplary experience with it. And those types of experiences only happen when requirements and expectations are surpassed.
At Solodev, we want to ensure that everyone can create the website of their dreams – no matter how big or small the project. Website building can be a headache-inducing task. We innovate and integrate the latest technology into our clients' websites so that they have a relatively painless website building process while also meeting their needs.
3. G2 Crowd reviewers say Solodev is the easiest WCM for Admins and Users.
"By using Solodev, we were able to get rid of the middle man by not leaning on IT for website edits. Now our entire marketing team is completely self sufficient in terms of being able to make edits to our website, add and update content, pricing, offers, you name it." -- Jonathan M.
Because we put so much work in on the front end to make your job as easy as possible with the platform, users give us 96% for both users and admins. The cleanly designed CMS allows each user to complete tasks within the platform without getting too confusing or accidentally deleting important content. Administrators no longer need to worry about how much access their users have to a website. They can set granular permission levels and gatekeep exactly who is adding content to the website and control how much they add.
4. Users note a near-perfect Quality of Support as a WCM tool.
"The Solodev team provides excellent customer support for very user friendly product(s). They are constantly working to evolve and stay ahead of the curve. They are passionate and knowledgable" -- Bill S.
Our quality of support is nearly perfect – an incredible 99%! Solodev offers a dedicated team of well-qualified web developers, designers and marketing strategists to assist with questions users might have. We want to uphold excellent customer service standards; we realize that we'd be nothing without our customer base. Thus, we want to give back to them what they give to us by offering up high-quality support when building and maintaining a website gets difficult.
5. Over 92% of users found us easy to work with and easy to use.
"We benefit from the flexibility of Solodev's platform to support our growing needs for content development and management, managed by a team of professionals who provide us the support we need as our business grows." - John H.
As we mentioned earlier, building a website isn't always the easiest task. However, of all companies compared in the G2 grid, Solodev still came out on top. We still want to streamline that process for our clients, and we won't stop improving until we make the process as straightforward as possible.
In the meantime, Solodev continues to offer personalized customer service to answer questions and troubleshoot issues. We want to make our plans as straightforward as possible. No gimmicks, no hidden fees. Services can easily be found on the AWS Marketplace or on the Solodev website. We offer 24/7 customer support, and our Solodev team will walk users through whatever hurdles they encounter.
6. An astounding 100% of users say we're a WCM moving in the right direction.
"It's very user-friendly and Solodev is always lookign to improve upon their product." - Anonymous user in Utilities
There was no shortage of web content management software systems being evaluated. However, out of all 24 products reviewed, Solodev was the only one to have 100 percent of users agree that we're a product moving in the right direction.
And for us, that's huge. We constantly look toward the latest innovations. We want to see what works and what doesn't. We want our clients to be on the cutting edge.
That's why Solodev promotes new tools that we've tested ourselves. We championed cloud-based hosting and cloud-first technology because we saw the promises of it years before other companies saw its benefits.
As this technology moves forward, so will our practices. We're also working toward headless API to give our clients more freedom with their web content management.
7. Reviews overwhelmingly rate Solodev higher than the other 22 CMS platforms for Content, Platform, and Design.
"The process of updating the site is much smoother for our department authors. Our previous solution kept our users from posting information in a timely manner. Now our authors are taking pride in the content they publish and are updating multiple times a day." -- Administrator in Primary/Secondary Education
G2 Crowd asked users to rate each vendor on other categories, such as Content Authoring, Asset Management, Customization, API/Integrations, Enterprise Scalability and more. In virtually every category, Solodev outranks the competition by a wide margin. If you'd like to dive into the full report that profiles all 23 Web Content Management Software Vendors, you can access it for free ($599 value) for a limited time by clicking this link: Get Your Insider's Guide
We know we're a smaller industry player, but we've built something amazing. Become one of the 97% likely to recommend us; schedule your demo today.
---