Orlando, Fla. (December 16, 2021) – Solodev, the launchpad for building and deploying custom cloud experiences, announced today that it has achieved the rank of "High Performer" on the Winter 2022 edition of the G2 Grid® for Web Content Management, specifically in the Enterprise, Mid-Market, and Small Business segments. This marks the fourth time this year that Solodev CMS – available in the AWS Marketplace and now the Solodev Cloud – has outranked market-leading platforms in several key areas.
In the Winter edition of the G2 report, Solodev ranked first in the critical "Web Content Management Usability Index for Enterprise," which focuses on a customer's overall satisfaction around a platform's user experience. G2 measures sentiment through actual product users in areas such as ease of administration, ease of use, and the ability to meet requirements. Overall, Solodev scored higher than WordPress, Contentstack, Sitecore, HubSpot, and other leading CMS platforms in this specific area.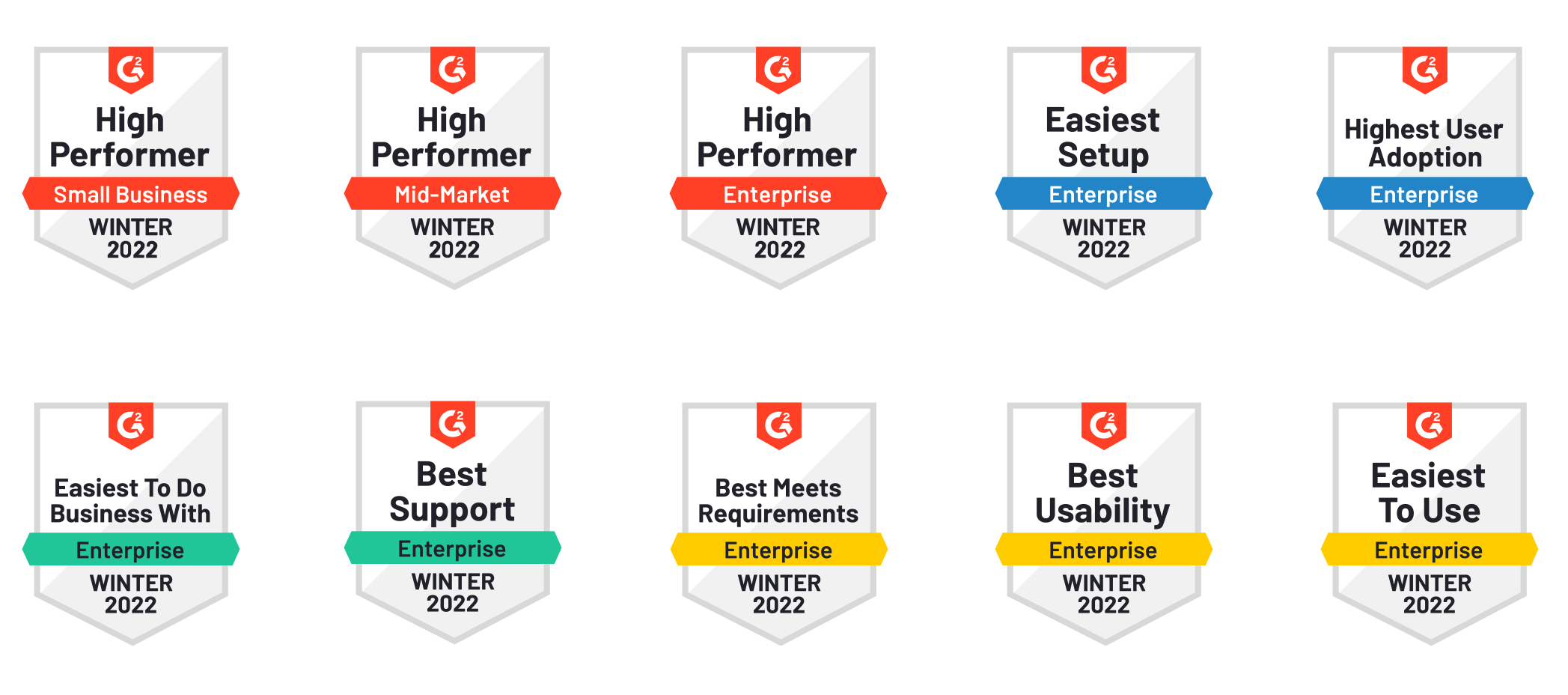 Among the field of enterprise contenders, Solodev earned coveted badges for "Best Support" and "Easiest to Do Business With," scoring a 100% in both categories. The company also attained enterprise badges for "Easiest to Use," "Easiest Setup," "Highest User Adoption," "Best Usability," and "Best Support." In each of these areas, Solodev scored well above the average satisfaction ratings of all platforms on the grid. These achievements reinforce Solodev's core commitment to delivering world-class customer service to help users and organizations build and manage their content operations – all powered by a cloud-first, API-first platform that offers both traditional and headless CMS capabilities.
With over 1 million reviews for technology products across the digital stack, G2 is the leading authority for independent, user-generated software insights. Each quarter, G2 publishes its respected Grid Report for Web Content Management, where real platform users provide unbiased reviews of features, capabilities, and overall satisfaction with specific software tools.
"Once again, our customers are proving to the market that Solodev is more than a leading enterprise CMS – we're a dedicated partner that truly understands the value of service," said Matt Garrepy, Chief Digital Officer at Solodev. "We consistently score high on G2 because our users love how easy it is to use our software to run their omnichannel content ops, build custom apps, and deploy everything on AWS with relative ease. But we're especially proud to know that our quality of support and ease of doing business rank incredibly high across our community, and that's how we've built long-term loyalty."
Solodev's innovation will continue in 2022 as they fully launch the new Solodev Cloud, a Software as a Service (SaaS) ecosystem for building and deploying custom cloud apps. The experience will enable anyone, from developers to enterprise teams, to browse the Solodev Marketplace and compose their own stack of industry-leading cloud and digital marketing apps, from Kubernetes to AI-driven personalization to advanced AWS services. Users can sign up for free, leverage SSO, connect their Github repos, pay for everything in one place, and even offer their own apps and services in a custom e-Commerce storefront.
Recently, Solodev launched its first Solodev Cloud deployments for Cardano and Ethereum, two of the world's leading platforms for building high-utility blockchain applications like smart contracts and custom crypto strategies. This is the first of many planned additions to the Solodev Cloud that will provide bleeding-edge technologies in a single ecosystem.
Solodev continues to differentiate among CMS vendors as a cloud-first platform built exclusively for Amazon Web Services (AWS), offering its Lite, Professional, and Enterprise products via subscription in the AWS Marketplace. These cloud-first attributes help rank Solodev's enterprise scalability at 10% higher than the average vendor in the G2 WCM category. Solodev is also an AWS Advanced Technology Partner, with competencies in Government, Education, Digital Customer Experience, and Public Safety and Disaster Response.
To read reviews of Solodev or to access the Winter 2022 G2 Grid Report for Web Content Management, click here.
To sign up for the Solodev Cloud, visit www.solodev.com