Solodev IoT (Internet of Things) is the gateway to managing device data in a connected world! From smart homes to wearable tech to automation, Solodev IoT is your digital bridge – powered by AWS.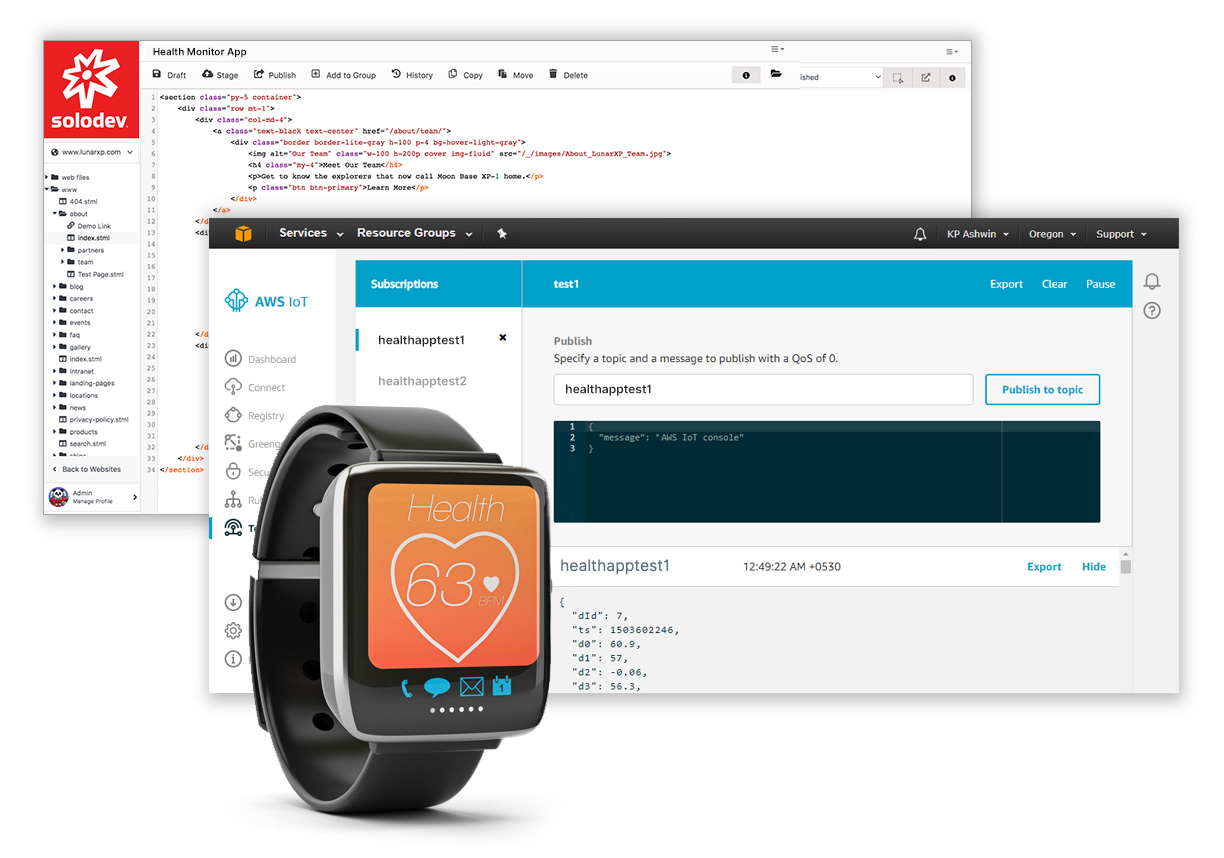 Product Features
Solodev IoT is your key to the Internet of Things! With billions of devices in homes, businesses, hospitals, cars, and countless other places, we need scalable solutions for connecting and managing digital experiences. Solodev IoT is the fabric for managing an ever-expanding ecosystem of endpoints, providing a platform for communicating and shaping experiences across a universe of form factors – including wearable technology like smartwatches, health monitoring devices, and even large utilities like power grids.
Powered by AWS IoT, Solodev provides an integrated, Cloud-native solution that enables you to connect and control services at scale across a wide variety of digital applications. This includes IoT services for industrial, consumer, and commercial solutions – from managing software licenses to controlling thermostats and beyond.
The applications of IoT are limitless. With Solodev, you can automate the process of connecting and communicating with IoT devices, allowing you to expand your digital experiences across a multitude of channels.
Build custom IoT applications that communicate with millions of devices
Connect with wearable technologies like smartwatches and connected health monitoring solutions
Simplify and automate supply chains
Access data and rich analytics from a wide range of sources to enhance the customer experience
Rapidly scale to manage huge numbers of devices and messages
Filter noisy IoT data
Access multi-layered security with AWS
Deploy advanced AI models in the Cloud to optimize IoT automation
Product Details
Solodev IoT can power your connection to an expanding ecosystem of devices and experiences:
Build custom IoT solutions, powered by AWS
Power applications that connect with IoT devices
Manage wearables, cars, and healthcare monitoring systems
Deploy digital applications for smart homes, cities, utilities, and more
Access rich data and analytics
Scale rapidly and deploy AI models in the Cloud
Support
Instructions
Please contact us for a custom demo of Solodev IoT solutions.