Monitor your cloud-scale applications – from servers to databases to container clusters and more – with Datadog's powerful SaaS-based tools and data analytics platform.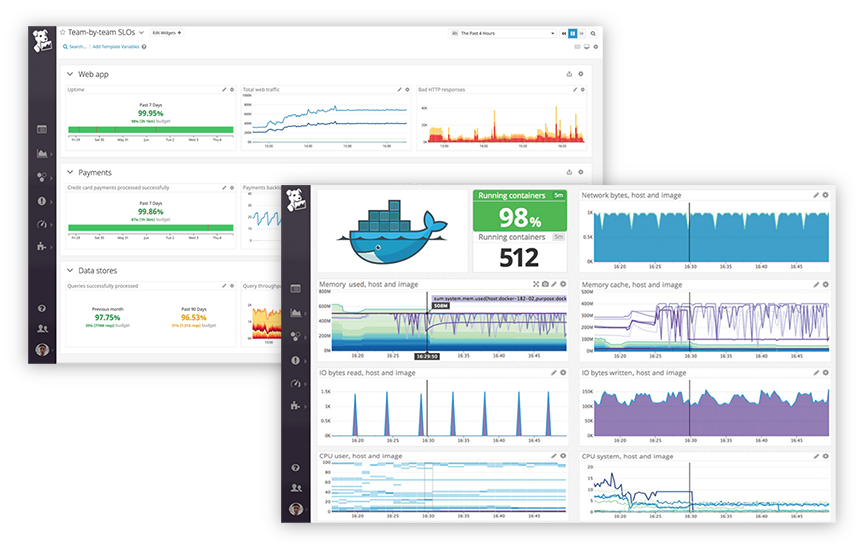 Product Features
See inside any stack, any app, at any scale, anywhere with Datadog! Engineering organizations have traditionally relied on separate systems to monitor their website frontends, backend application code, logs, and underlying IT infrastructure. This reliance on point-solution tools makes it more difficult to correlate between systems and pinpoint the source of any user-facing issues.
Datadog provides a single platform for collecting and analyzing logs, infrastructure metrics, application performance data, synthetic tests of frontend functionality, and more. With Datadog, you can automatically correlate all this data, so engineers can pivot seamlessly from performance metrics to distributed traces to logs to find the source of an issue.
Monitor, troubleshoot, and optimize application performance
Trace requests from end to end across distributed systems
Track app performance with auto-generated service overviews
Graph and alert on error rates or latency percentiles (p95, p99, etc.)
Instrument your code using open source tracing libraries
Quickly search, filter, and analyze your logs
Automatically collect logs from all your services, applications, and platforms
Navigate seamlessly between logs, metrics, and request traces
See log data in context with automated tagging and correlation
Visualize and alert on log data
Product Details
Datadog is a SaaS-based analytics and monitoring platform for cloud-scale applications, databases, tools, cloud services, and more.
Get full visibility into modern apps
Visualize traffic flow in cloud-native environments
Interactive dashboards
Infrastructure, network, and security monitoring
Real-time user monitoring
Log management and analytics
Incident management
Support
Instructions
Need help getting started with Datadog? Contact us to get your account set up and running optimally.