Back up your apps to AWS and maintain continuity with the power of Solodev Backup! In minutes, you can start storing daily snapshots of any app in Solodev and restore previous versions as needed.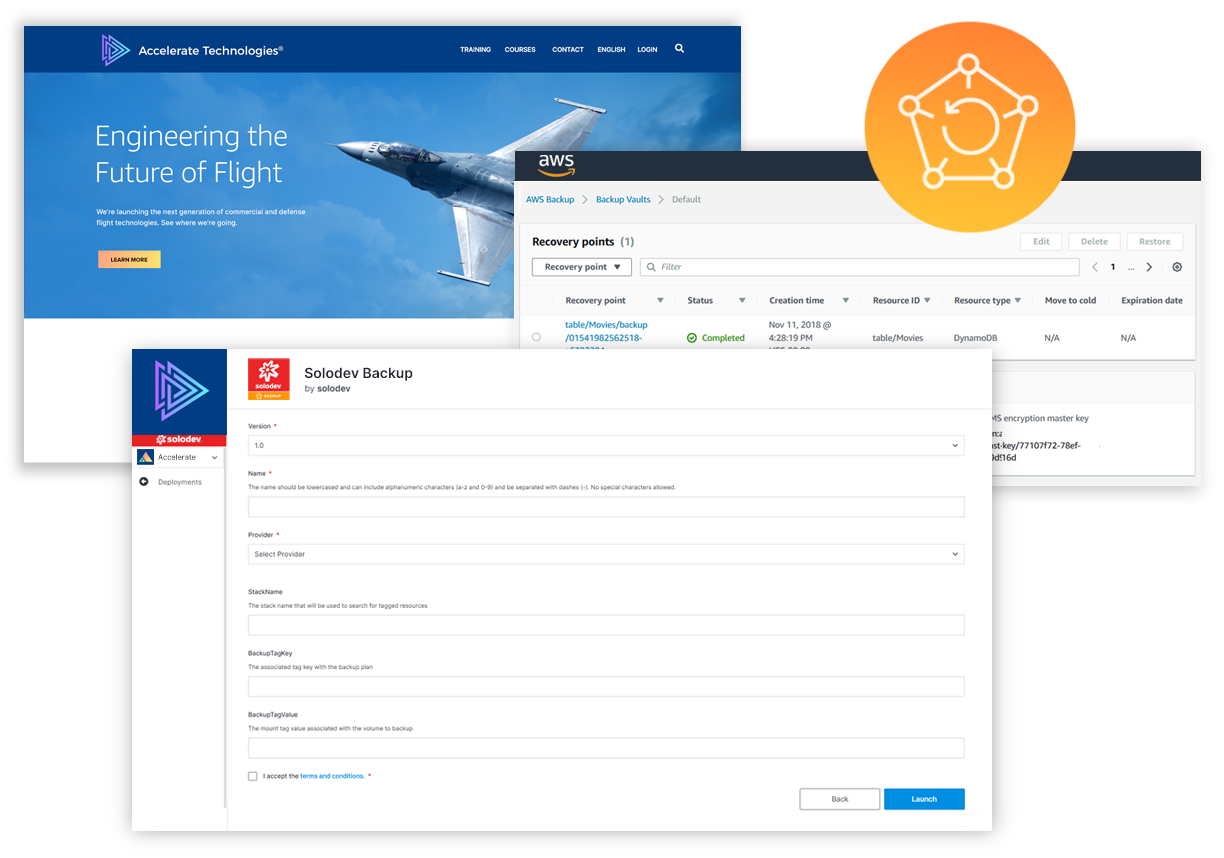 Product Features
Backups can be a hassle. But if your websites and apps are critical to your business, it's essential. Now you can automatically and conveniently back up any app in Solodev to the AWS Cloud – for as little as $5 per month!
Solodev Backup offers a cost-effective, fully-managed, policy-based service that simplifies application redundancy. Each night, a complete backup of your website, container, or cloud app is added to a custom AWS Backup Vault, giving you confidence that your data is stored in the most secure cloud on the planet.
Easy to use and manage: No need to fuss with a complex solution. Fill out a few simple fields and Solodev Backup does the rest.
Back up your website daily: Backup takes a snapshot of your app each day, so you can recover a complete version if needed.
Retain backups for 30 days: Get access to a continuously rolling set of daily backups that are stored for over a month.
Restore with ease: Log into your AWS console and quickly restore a previous version from your rolling backups.
Powered by AWS Backup: Maintain the highest levels of security, uptime, and business continuity by backing up to the most trusted cloud provider.
Meet compliance requirements: By adding Solodev Backup, you can more effectively meet regulatory mandates and governance goals.
Cost-effective: Starting at $5 per month, Solodev Backup is incredibly affordable. Custom enterprise options are also available upon request.
Product Details
Solodev Backup is a simple, powerful way to automatically back up your apps to the AWS Cloud.
Easy to use and manage
Fully automated daily backups
Store any app in Solodev, from websites to cloud apps
Keeps rolling backups for 30 days
Restore a previous version with ease
Powered by AWS Backup
Helps meet compliance and regulatory requirements
Support
Instructions
Please contact us for help with setting up your Solodev Backup services or recovering previous versions.