Connect and collaborate in the metaverse with Hubs by Mozilla! Create your own 3D spaces with a single click and invite your community to learn, share, and hang out with VR headsets or on 2D screens.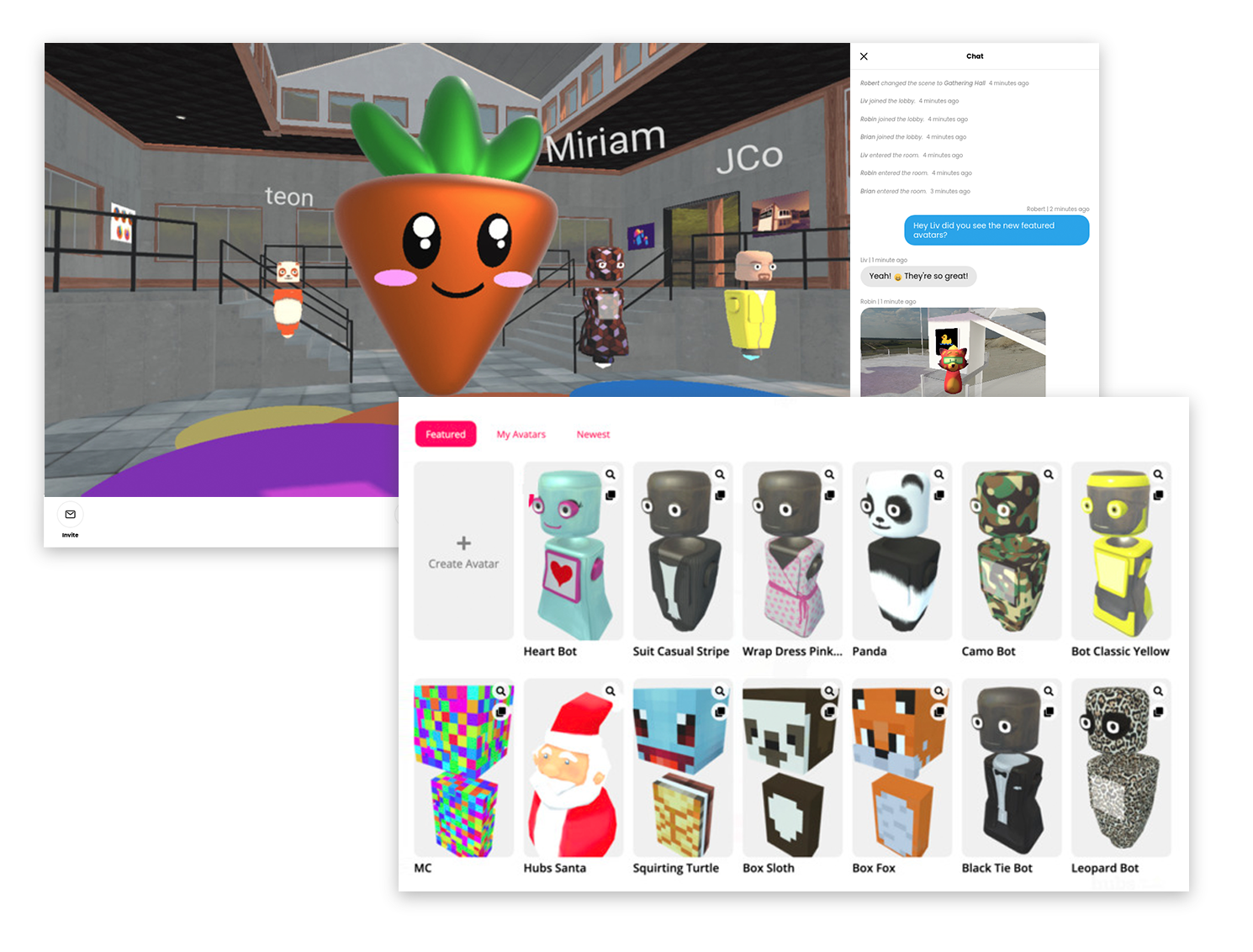 Product Features
Welcome to Hubs: your gateway to the metaverse! Hubs by Mozilla is a collaboration tool used to create virtual spaces that can be explored using VR and mixed reality. It's a dynamic first-person experience that's accessible by VR headsets like Oculus or via 2D screens with a keyboard and mouse – setting it apart from other browser-based collaboration tools.
Hubs is for anyone who wants to connect with others remotely and bring communities together in a shared virtual space. With Hubs, you can create your own 3D spaces and instantly invite others to join using just a URL – and there's no installation or app required.
Create virtual spaces in seconds: Forget the learning curve! With just a few clicks, you can have a virtual space or environment running in Hubs and start exploring.
Cross-platform: Got a VR headset like Oculus? Then you're ready for the fully immersive 3D experience of Hubs! But there are no limits to device form factors – so if you have a desktop, laptop, tablet, or mobile device, you can still enter Hubs and engage with other users.
Perfect for collaborative experiences: Host a conference. Teach a class. Showcase art or just hang out with friends. With Hubs, the possibilities are endless.
Share media: Hubs makes it easy to connect and share images, videos, 3D models, and more within your virtual space.
Spatialized audio: Just like in the physical world, Hubs provides spatialized audio, so sounds shifts as you move around your space. This allows you to have conversations with everyone together or break out into smaller groups — just like you can in person.
Create a custom avatar: Use the built-in features to create a unique persona and maintain your avatar across different spaces within Hubs. You can also use advanced features to add texture maps for your own 3D models.
Upload personalized avatars: Got an avatar from Ready Player Me or another 3D modeling platform? You can upload your unique character to Hubs and keep your persona persistent.
Customize environments with Spoke: Spoke is the built-in editor for creating unique environments for Hubs rooms and spaces. With Spoke, you can use your browser to upload your own 3D models, images, and files to use in your projects. Spoke also contains building kits and integrations with content providers to help you build the perfect space.
Hubs Cloud: Looking for more control over your Hubs interface? With Hubs Cloud, you can self-host your own virtual environment and add custom branding under your own domain and control access to users. You can also build custom features and functionality.
Quick starts for AWS and Digital Ocean: Looking to launch your own Hubs Cloud stack? You can do it with a quick start guide in both AWS and Digital Ocean.
Community Hub and support: Access a world of fellow contributors discussing health metrics through shared meetings and a growing knowledge base, or find answers through the Hubs Support portal.
Product Details
Hubs by Mozilla is a collaboration tool used to create virtual spaces that can be explored using VR and mixed reality.
Create virtual spaces in seconds with just a few clicks

Immersive 3D VR capabilities for headsets like Oculus

Available for 2D desktop, laptop, tablet, and mobile devices

Accessed through a browser – no software required

Host conferences, teach classes, and create hangouts

Connect and share images, video, 3D models, and more

Spatialized audio provides real-life proximity to other users

Create custom avatars with advanced modeling and textures

Upload personalized avatars from Ready Player Me and more

Self-host with Hubs Cloud and launch on AWS or Digital Ocean
Community Hubs and support portal
Support
Instructions
If you're interested in harnessing the full power of Hubs Cloud and building a custom solution for metaverse and Web3 applications, we can help! Talk to our VR/AR team about how we can help integrate, deploy, and support your project's success.