Proposify powers the close! Get control and insight into the most important stage of your sales process. From design to sign-off, get the confidence and consistency to dominate your deals.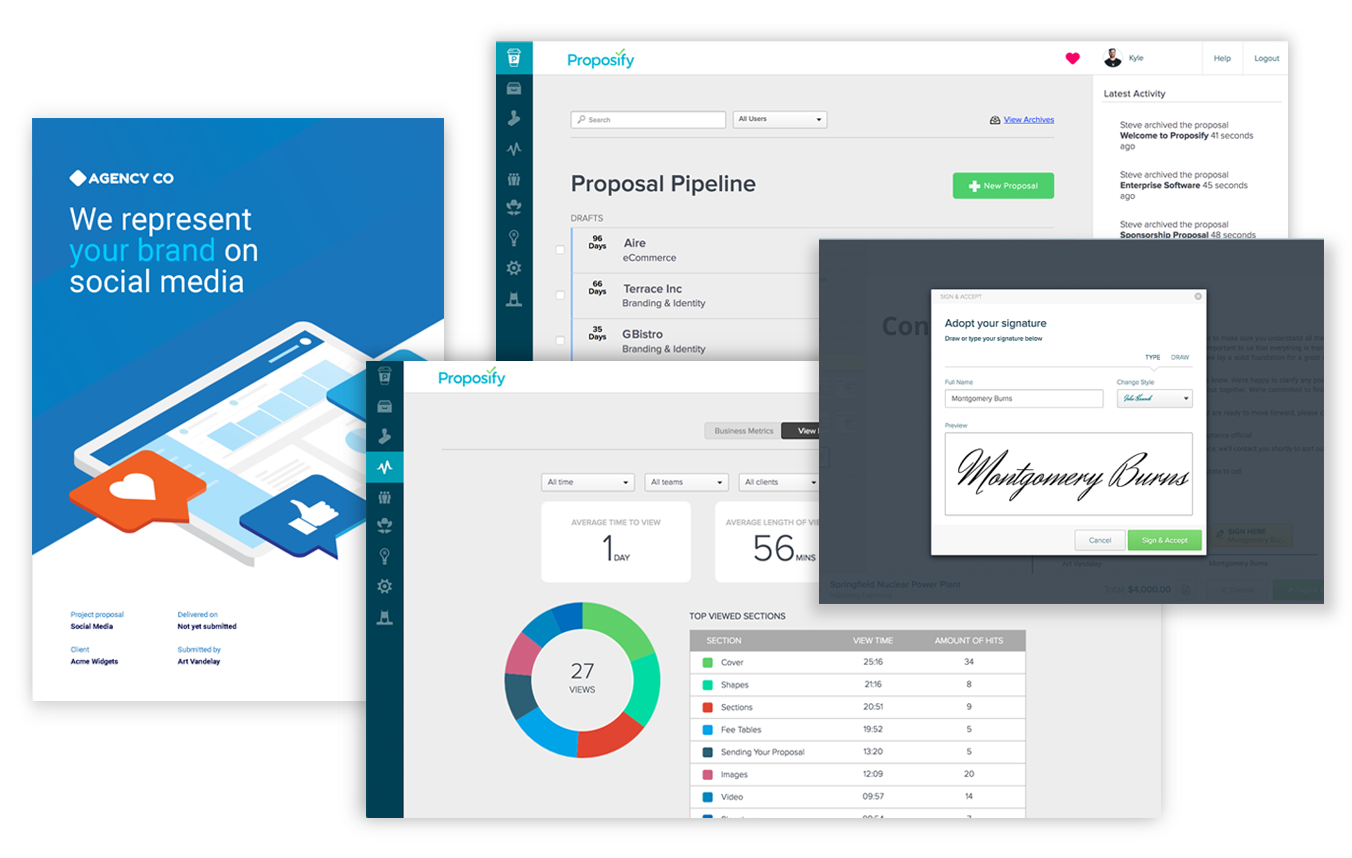 Product Features
With Proposify, it's closing time. Proposify helps you build a scalable and predictable closing process that keeps your brand, content, and deals consistent – so you can stay in control. Proposify lets you build custom proposals, agreements, and contracts that help you elevate your brand, streamline sales, and dominate deals.
Inconsistency across your sales documents (messaging, pricing, brand, approvals, workflow) can mean costly mistakes, unprofessional first impressions, and jeopardized deals. Proposify gives you the control you need to ensure consistency all the way to your ideal close.
Design beautiful, custom proposals or use off-the-shelf themes: Perfect your deal design and create unique documents that help you sell with greater confidence. Elevate your brand and sophistication by delivering a more curated digital experience to your prospects.
Save pre-approved templates and content in a central organized library: Created consistent documents and resources and save it all for use across your proposals, agreements, and contracts. Make universal changes to components like legal terms and maintain control at a high level.
Set parameters for unique user roles and permissions: Keep your sales team armed with the latest and greatest materials while assigning specific permissions for different users.
Obtain digital signatures and approvals: Ensure deals are going out with the proper sign-off by defining your approval workflow, and collect signoffs and client approvals in one place.
Integrate with CRM: Sync data, set variables, and keep your opportunities in order by integrating your CRM, including Salesforce.
Product Details
Proposify is a leading online proposal platform that streamlines the most important part of your sales process:
Design beautiful proposals, agreements, and contracts
Create custom brand components and content
Use off-the-shelf templates and theme elements
Control your users with roles and permissions
Get digital signatures and approvals
Integrate with CRM platforms like Salesforce
Support
Instructions
Need help setting up your Proposify account and getting started? Contact us for assistance.