Make your metaverse with MediaCoin, the #1 platform for building worlds, minting NFTs, and sharing them across the metaverse! Create, buy, and sell collections in immersive 3D environments.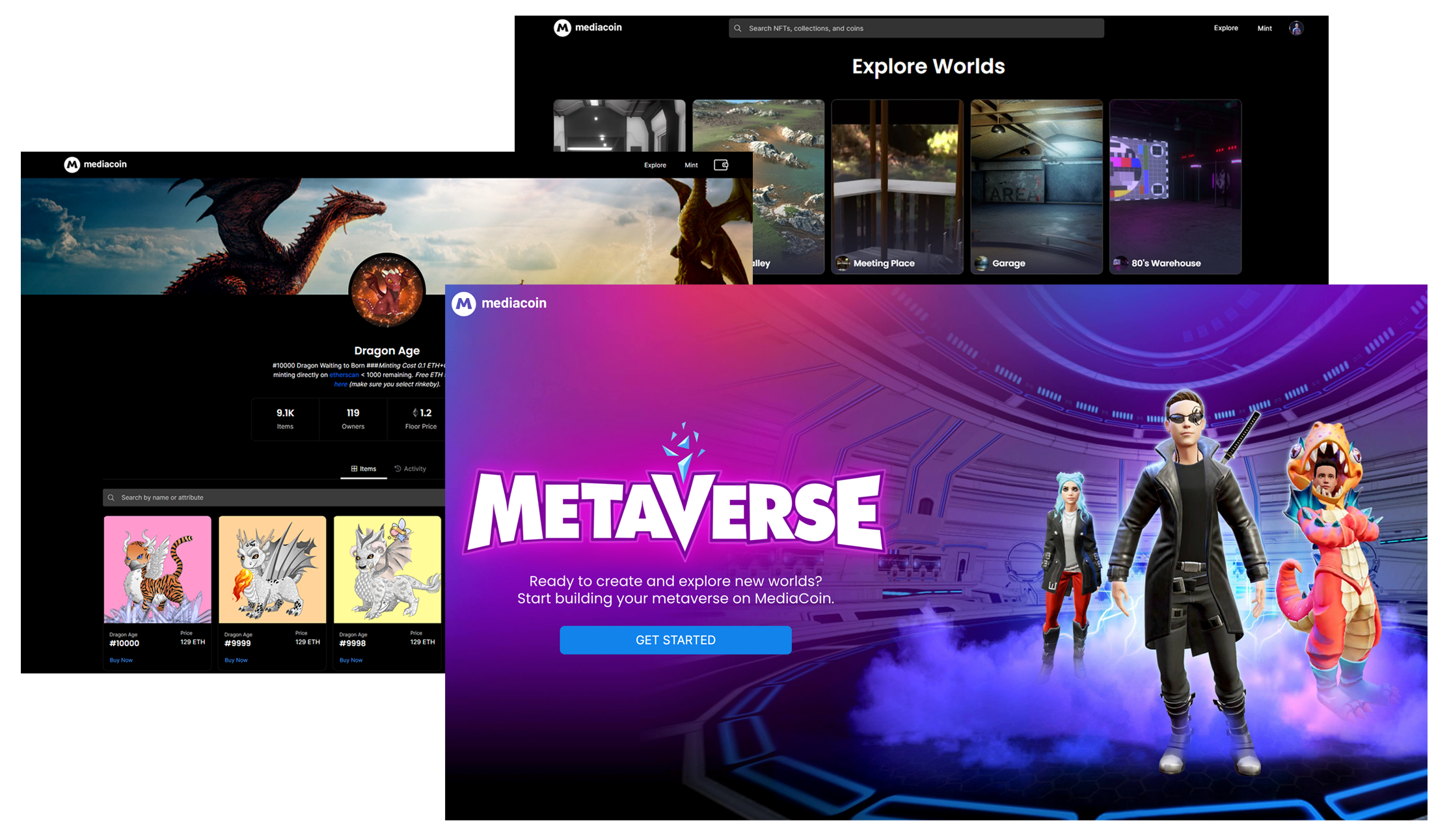 Product Features
MediaCoin is the mint for the metaverse! With MediaCoin, you can buy, sell, and auction your non-fungible token (NFT) creations and share them across online media channels and communities. Build your own collections of original, unique artworks and digital assets – from images to music and more – and create demand and value in the growing NFT space.
With MediaCoin, you're in control of the world's first metaverse experience platform. Not only will you be able to create your own 3D characters and immersive worlds, but you can also mint your own coins to buy and sell NFTs in your MediaShop.
Easy to use: MediaCoin makes the entire metaverse and NFT experience simple, with easy-to-use functionality that you can learn in a matter of minutes.
Mint NFTs: MediaCoin is built for "minting" – meaning you can publish your unique token to the blockchain and prove your ownership. Start building your catalog to buy and sell digital assets in your metaverse environments, and power it all from the MediaShop.
Create custom coins: Leverage native crypto capabilities to launch your own brand coin to transact in the metaverse.
Lifelike avatars: Powered by Ready Player Me, you can create or import your custom avatar to explore the MediaCoin metaverse.
Character Generator: Ready to scale your NFT catalog? With the Character Generator, you can create unique versions of your NFTs and infuse your collection with randomized creativity and fun.
Build 3D worlds: Use three-dimensional models powered by Unity and Blender or upload your own environments to MediaCoin, and invite other users to engage and interact within your creations.
Powered by IPFS: Unlike other platforms, MediaCoin uses the InterPlanetary File System (IPFS) – a well-respected storage Web3 storage service – to store your digital assets. That means your NFT files aren't stored in the blockchain, which reduces the environmental impact and makes your collections more sustainable to manage and grow.
Securely connect your NFT wallet: In seconds, you can connect your preferred Web3 wallet to MediaCoin – from Metamask to Gamestop – and securely manage your NFTs in one place.
Own your assets: Because MediaCoin is a decentralized app (dApp), it supports the fundamentals of Web3, giving digital creators the ability to directly sell their creations while ensuring buyers can prove ownership on the blockchain.
Earn in a multichannel NFT marketplace: MediaCoin is an open marketplace. If you're a digital artist, you have a complete set of tools for hosting your own custom collection of assets and selling them directly on MediaCoin and the OpenSea marketplace.
Product Details
MediaCoin is the metaverse experience platform for creating 3D worlds, minting NFT collections and custom coins, and transacting in the metaverse.
Easy to use and manage
Mint NFTs and coins to the blockchain
Avatars powered by Ready Player Me
Create 3D NFT characters and artwork
Build 3D worlds powered by Unity and Blender
NFT file storage via IPFS
Connect NFT wallets like Metamask
Own your assets via smart contracts
Earn by sharing and selling on OpenSea
Support
For support questions and details on MediaCoin, please contact us.
Instructions
Interested in a custom metaverse strategy? Looking to build your own NFT marketplace collection? We can help! Contact one of our metaverse engineers to discuss your project.