Creatopy is the efficient and intuitive production platform for creating visual experiences! Build stunning animated and video banners, collaborate with your team, and automate your workflow.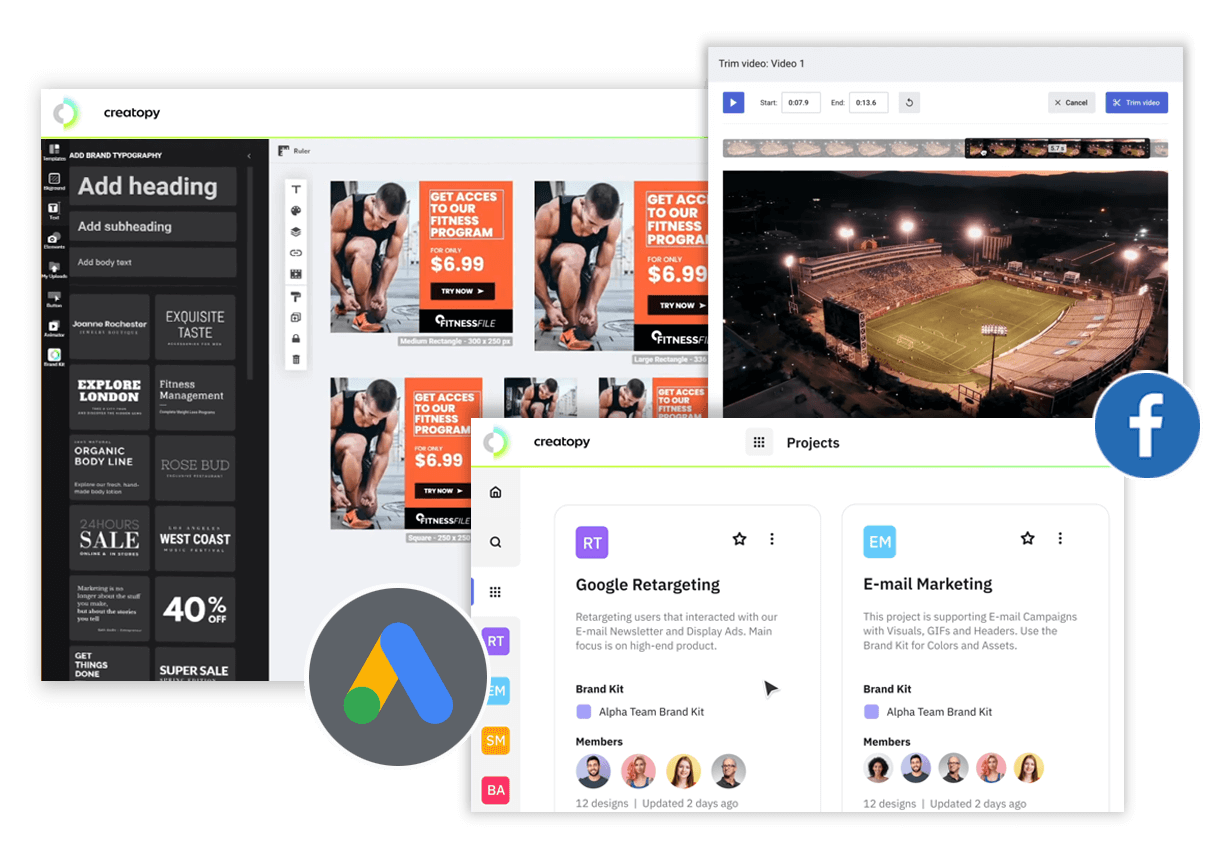 Product Features
Design, communicate, and shine with Creatopy! Formerly known as Bannersnack, Creatopy lets you build dynamic and engaging banner assets with an intuitive, cloud-based production platform. Create effortlessly and work together with your team to design your digital brand ecosystem – from retargeting banners to email graphics to social ads and beyond.
Creatopy also features powerful animation tools and rich video editing capabilities, so you can bring your banners to life with a variety of media. You can also scale your campaigns seamlessly with design automation tools like the Creatopy Generator.
Multiply design formats: Create full sets of multiple banner sizes simultaneously in minutes and resize your designs automatically for static and animated banners.
Design on-brand: Fully leverage your brand's color systems, logos, and graphic elements across your designs, and save everything to a custom brand kit for specific projects and clients.
Export for various platforms: Download your designs in bulk and have them fully optimized for any digital platform, from Google Retargeting to Facebook Ads.
Build custom animations: Engage your audience with advanced animations that don't require complex coding skills. Add middle animations, on-click transitions, animated presets – whatever you may need for your designs to come alive.
Edit videos: Use Creatopy's editing tool and create eye-catching video-based ads.
Build with free templates and graphics: Start with a professionally designed theme based on your industry, and choose from 8,000+ template designs and graphics.
Access free stock photos and videos: Browse over 2 million+ assets to create your unique visual design.
Collaborate with your team: Invite users, set up roles, and work together to increase productivity. Throughout the process, you can easily share your work with team members and clients.
Get customer support and platform resources: Get expert guidance to help craft your visual story, from articles to visual examples, and tap world-class support, tutorials, and more.
Product Details
Creatopy is an intuitive, cloud-based visual production platform for creating dynamic animated and video banners.
Design multiple banner sizes in minutes
Resize automatically for static and animated banners
Export to various platforms, from Google to Facebook
Add custom animations with no code
Edit videos with built-in tools
8,000+ free templates and graphics
2 million+ free stock photos and videos
Collaborate with teams and share
Customer support and resources
Support
Creatopy's support is handled directly through their global help desk. For more information, visit their support page at help.creatopy.com
Instructions
Need help with Creatopy? Contact us to get your account set up and running optimally.