AltspaceVR is the premier place to attend live shows, meetups, classes, and more with people around the world! Collaborate with avatars in virtual mixed reality worlds with rich features.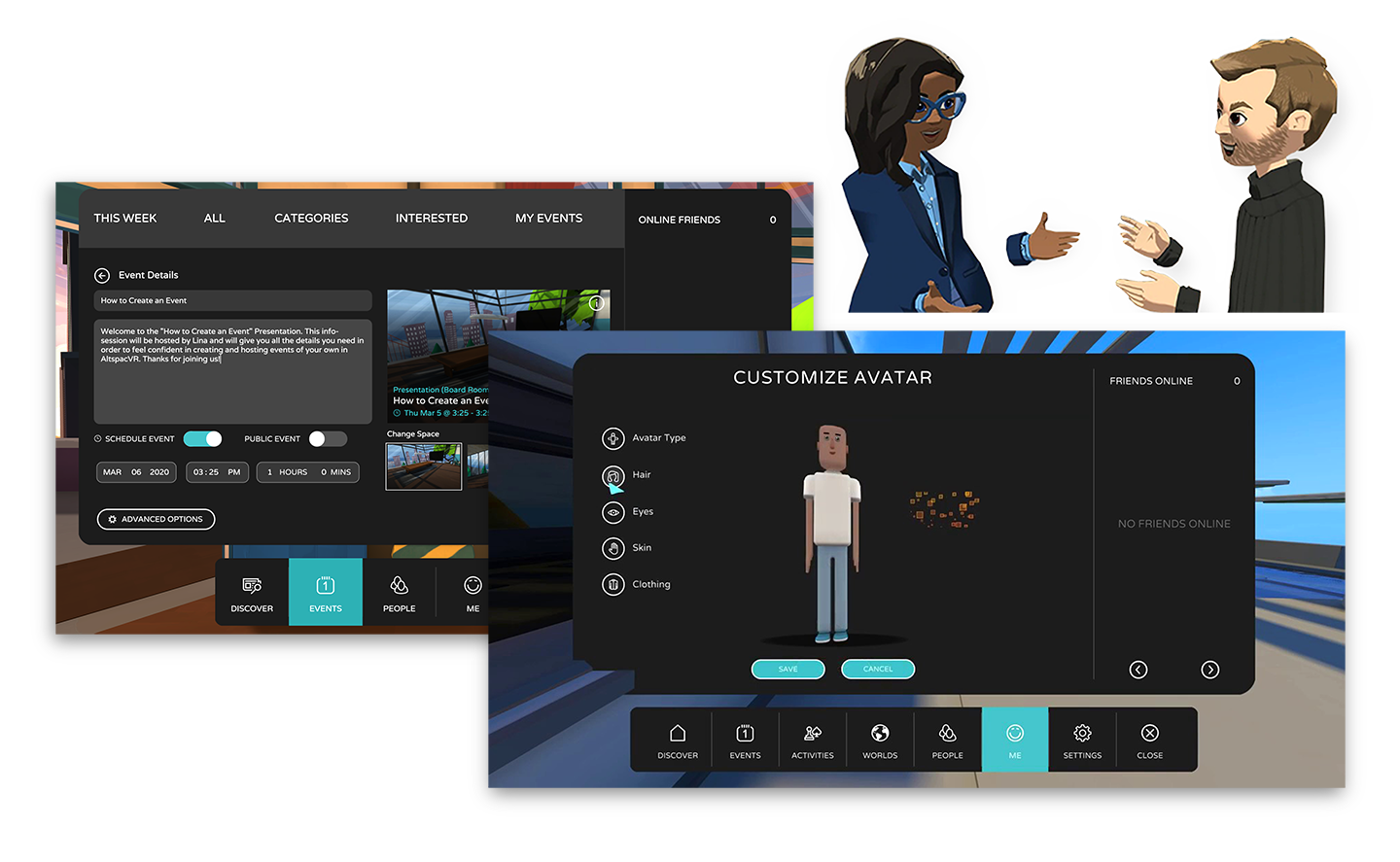 Product Features
Be together anywhere with AltspaceVR! As the leading platform for live virtual events, AltspaceVR is empowering artists, brands, and businesses to easily design meaningful experiences that foster community and connection.
Whether on 3D headsets or 2D desktop screens, people from all over the world can use Altspace VR to connect and collaborate in real time with a true sense of presence. AlspaceVR's expressive avatars, engaging eye contact, spatial sound, and immersive virtual environments allow people to feel like they're together – even when they're oceans apart.
Part of the Microsoft ecosystem, AltspaceVR is at the intersection of experience, content, and community. It's the premier place for live concerts, conferences, comedy shows, festivals, tech talks, team meetings, remote collaboration, and more. Enter the metaverse with AltspaceVR!
Create your own avatar: Bring your virtual self to life in AltspaceVR! Customize your 3D avatar with elements like facial features, body type, clothing, and accessories – and maintain it across AltspaceVR worlds.
Browse daily events: Experience awesome events every day where you can learn, laugh, and gather with people on every major VR headset and desktop computer.
Host your own events: In minutes, you can start your own meetup, show, or class and discover the next frontier of entertainment and community.
Explore VR worlds: In AltspaceVR, you can visit many pre-built VR environments, simply referred to as "worlds." These worlds cover public areas like streets and rooftops and more fantastic locations like an enchanted meadow. Event hosts on AltspaceVR can choose from these worlds when planning events.
Build custom worlds: With AltspaceVR's World Editor, you can create your own VR world environment or customize an event space. Use the drag-and-drop tools to place objects into pre-built environments or empty spaces.
Find the perfect content channels: AltspaceVR offers various content channels to suit your area of interest. Content topics are diverse, such as humanism, diversity and inclusion, spirituality, stand-up comedy, and music festivals. You will be notified when a channel has a new event added, and an email reminder will be sent 1 hour before the event start time.
Microsoft Mesh: With Microsoft Mesh, you can enable presence and shared experiences from anywhere, on any device, and through mixed reality applications. Complete the Microsoft Mesh Register Interest form and check out the Hololens Mesh preview app to keep up-to-date on this new product.
Cross-platform for VR: AltspaceVR is available on headsets with HTC Vive, Oculus Quest and Rift, and Windows Mixed Reality – as well as on desktop for Microsoft and Apple MacOS Beta.
Product Details
AltspaceVR is the leading platform for live mixed reality experiences in the metaverse.
Create custom 3D avatars
Experience with VR headsets from HTC, Oculus, and Microsoft
Available in 2D desktop with Microsoft and Apple MacOS (Beta)
Connect and collaborate in featured daily events
Host your own events in minutes
Build custom world with the World Editor
Explore content channels with a wide range of topics
Microsoft Mesh options
Support
Instructions
Need custom support, setup, or implementation of AltspaceVR? We can help! Let our team of VR and metaverse experts bring your worlds to life with dedicated services built around your project goals.