Rule your metaverse with Meta Quest 2! Built with the industry-leading Oculus technology, explore a universe of unique virtual reality games and social multi-player entertainment.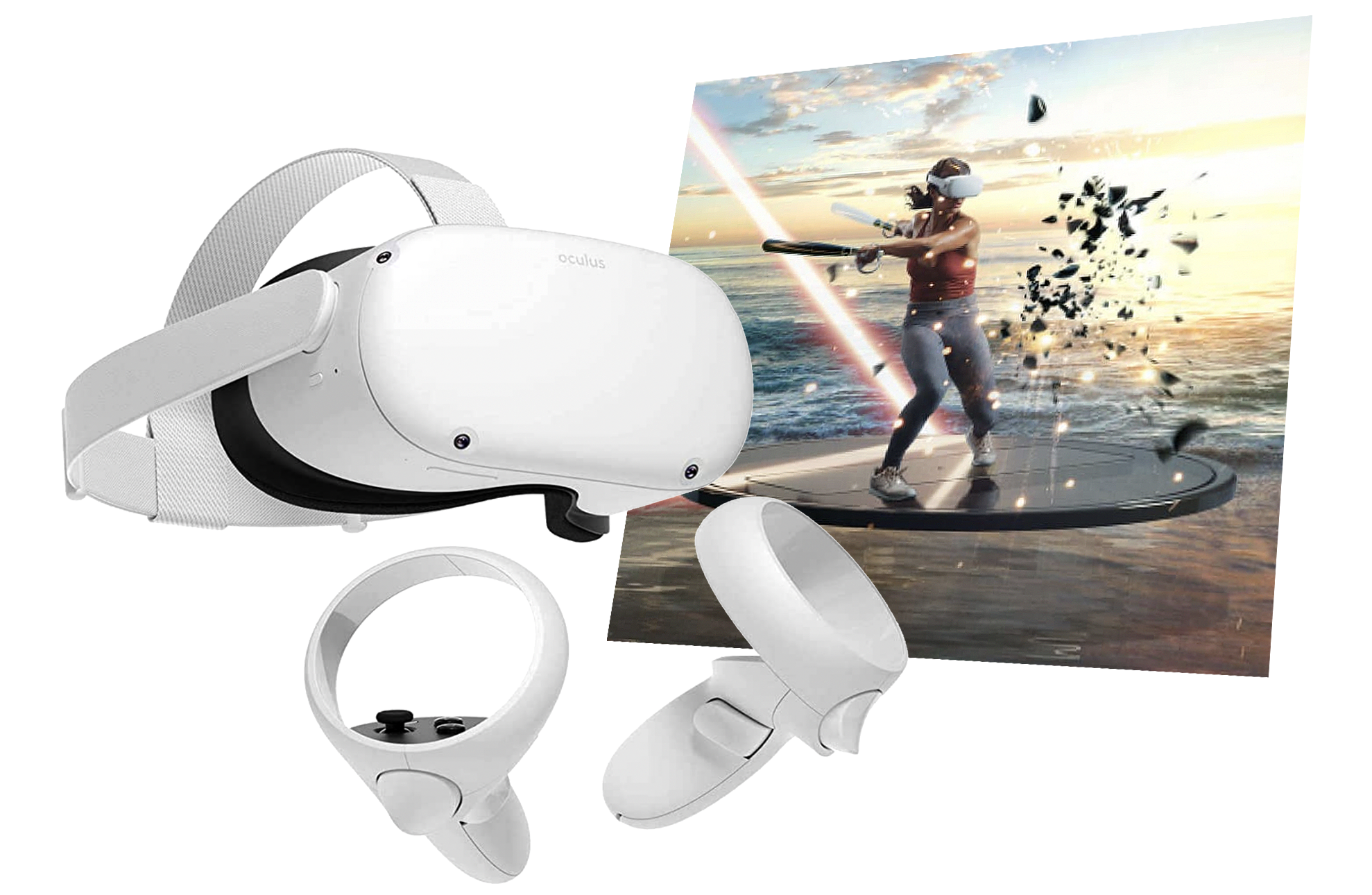 Looking for more info on Meta Quest 2?
Fill out the form to connect with an expert
Product Features
Meta is shaping the metaverse - and you can experience it all with the Meta Quest 2! Dive into total immersion as you explore realistic, life-like environments with an all-in-one VR platform. Travel universes of fantasy, traverse unique realms and collaborate with colleagues in dynamic workspaces. Strap on Meta Quest 2 and let your VR journey begin!
Get started in minutes: Strap on your headset, set up your account, and connect your wifi. That's it! In minutes, you can start exploring Meta's immersive library of games.
Powerful hardware: With a super-fast processor and high-resolution graphics, you'll experience smooth, seamless action.
3D positional audio and haptic feedback: Bring the experience to life with sounds that match your spaces, and haptic vibrations that make your virtual worlds feel real.
Comfortable, portable, and convenient: Meta Quest 2 is the lightest and most powerful headset ever. It's easy to wear and use, and it's designed for optimal performance.
Roam freely and safely: Create a pre-drawn Guardian boundary and move fluidly with built-in battery power.
No PC required: Meta Quest 2 is self-contained. Forget the PC – just establish your wifi connection and you're ready to roll.
An expanding universe of games: Explore over 350 titles with choices in gaming, social/multiplayer, and blockbuster releases that offer totally unique VR experiences.
Discover new worlds: Go anywhere. Do anything. Discover fully immersive worlds of entertainment, creativity, and collaboration and play with a growing community of enthusiasts just like you.
Social spaces: Come together in multiplayer arenas as you take in live music events with friends. Compete on virtual courts or go on adventures in the jungles of time and space. Experience social on a whole new level.
Product Details
Meta Quest 2 is the leading virtual reality (VR) headset from Meta Platforms.
Get started in minutes
Super-fast processor
High-resolution graphics
No PC required
3D positional audio and haptic feedback
Designed for comfort and portability
Guardian boundary for safe play
Over 350 titles to choose from
Games, fitness, entertainment, and more
Collaborate and share in social spaces
Support
Instructions
Need help with your Meta Quest 2 platform? Talk to our VR/AR metaverse team.