Drupal is one of the world's most popular open source content management systems! Build simple or complex websites and apps and get access to a rich ecosystem of tools and themes.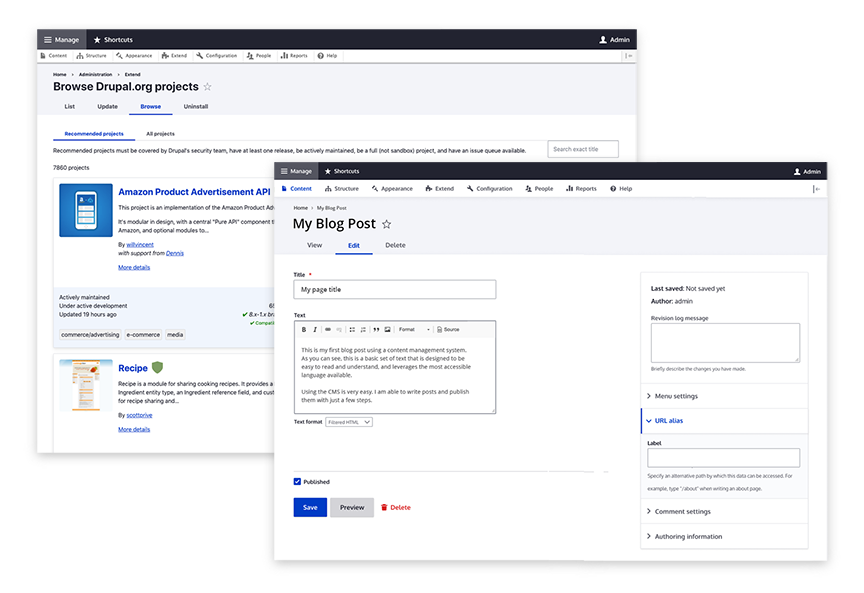 Product Features
Drupal is one of the leading open-source content management systems (CMS). Backed by an expansive and passionate community, Drupal is used by millions of developers, content managers, and enterprises around the globe to build and maintain their websites. With its extensive range of customizable features, Drupal is well-suited for a wide range of use cases.
Since 2001, countless organizations – from commercial to public sector – have trusted Drupal to power their digital presence, including the Red Cross, Harvard University, NBC News, Twitter, and more.
Open source: Drupal is a free and open-source web content management system written in PHP and distributed under the GNU General Public License.
Modular design: Drupal is built with a modular architecture, which allows users to add or remove functionalities as needed, making it easy to customize and extend.
Powerful CMS features: Drupal provides a comprehensive suite of tools for managing and organizing content, including the ability to manage content types, create and manage taxonomies, and manage content with advanced editorial workflows.
Themes and templates: As a open source platform, Drupal offers a nearly endless landscape of third-party themes and templates for almost any kind of application.
Strong user permissions: Drupal offers robust user management capabilities, including user roles and permissions, user profiles, and integration with external authentication systems.
Multilingual support: Drupal provides built-in support for multiple languages, making it easy to create multilingual websites.
Responsive design: Drupal's responsive design capabilities make it easy to create websites that are optimized for all devices, including desktops, laptops, tablets, and smartphones.
Accessibility: Drupal is built with accessibility in mind, and it meets the Web Content Accessibility Guidelines (WCAG) to make websites accessible to users with disabilities.
SEO-friendly: Drupal is optimized for search engines, making it easy to create search engine-friendly websites.
Community and support: Drupal has a large and active community of users, developers, and contributors, providing a wealth of resources and support for users.
Security: Drupal is known for its security, and it has a strong track record of fixing vulnerabilities quickly.
Product Details
Drupal is a leading content management system (CMS) for building simple or complex websites and apps.
Open source
Modular design
Comprehensive CMS features
Wide range of themes and templates
User permissions
Multilingual support
Responsive design
Accessibility
SEO-friendly
Community and support
Proven security
Support
Instructions
Need assistance with a custom Drupal project or implementation? Contact us for help.