Customer stories
Decide DeKalb Economic Development
Welcoming people into an inviting online community
Challenge
DeKalb County, Georgia is a hidden treasure of opportunity. As part of the greater Atlanta metro area – and the fourth most populous county in the state – DeKalb features a rich blend of urban and rural landscapes, temperate climate and a low cost of living. Home to numerous world-class colleges, DeKalb also boasts proximity to one of the largest transportation hubs on the planet: Atlanta's Hartsfield-Jackson Airport. A nexus of manufacturing, high-tech and service businesses, DeKalb offers a wealth of skill and diversity from its young and rapidly growing workforce, making it an economic generator for the state of Georgia.
Despite its attributes, DeKalb struggled to shine in the long shadows of its bordering counties, vying for business in an increasingly competitive corridor. To stay ahead, the newly-established Decide DeKalb Development Authority aimed to position the county as a world-class location for business and attract regional, national, and international companies. To do this, they needed a dynamic website that could reflect the area's sophistication while also serving as a resource for potential investors. Given their limited size and budget, Decide DeKalb's new website had to be cost-effective and integrate seamlessly with their marketing stack – empowering content marketers to manage dynamic campaigns and drive leads.
Solution
To meet these challenges, Decide DeKalb turned to Solodev to deliver a comprehensive approach – from design to implementation and beyond. With deep experience in the economic development sector, Solodev was a proven and trusted partner for Decide DeKalb – and worked closely with their organizational leadership to deliver a comprehensive web strategy.
The new website needed a sophisticated visual design, reflecting the core mission, vision, and values of the agency. Solodev helped develop a fresh, compelling brand platform that was clean, attractive, and unique – helping the county project a strong leadership "persona" and clearly differentiate itself. SEO was also a key consideration; in order to be "found" by the right businesses and entrepreneurs, Decide DeKalb needed a highly searchable data structure, from meta content to keyword optimization. Because Solodev is architected from the ground up for search, the new website was built to supercharge SEO. Solodev also seamlessly integrated with all of Decide DeKalb's marketing stack, enhancing the performance of their SEM, email and social campaigns.
One of the most critical requirements for the new Decide DeKalb website was ease of use – particularly for non-technical staff. With a lean budget and a small team of content writers, the website had to deliver rich functionality with simple, intuitive controls. Solodev provided the perfect platform, allowing their team to quickly edit content, build new landing pages, and add new sections to their website without the support of IT. Solodev also delivered a customizable hero slider that was easily managed through point-and-click photo uploads and text inputs, as well as a dynamic media room for news, videos, events, and social integration – all intended for users with minimal to no coding experience.
By partnering with Solodev, Decide DeKalb also leveraged the world-class power and scalability of Amazon Web Services: the most advanced cloud infrastructure on the planet. The new website was securely hosted with geographic redundancy across multiple data centers and equipped with full disaster recovery. Amazon CloudFront Content Delivery Network (CDN) allowed Decide DeKalb to securely deliver page content, images and video to viewers anywhere in the world with low latency and high transfer speeds – enhancing the performance of the website. By leveraging the AWS Elastic Compute Cloud (EC2), Solodev quickly auto-scaled capacity up and down as the computing requirements changed. The AWS OpsWorks service gave developers the freedom to configure and operate applications, define their architecture, and orchestrate changes as the website scaled up or down.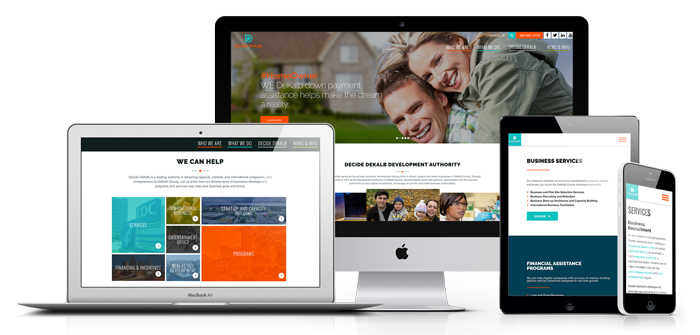 Results
Armed with a beautifully designed, highly-functional website, Decide DeKalb had a powerful new engine for driving economic interest in their region. Agency managers could easily access text, photos, video and other elements to keep the website updated with their latest development projects and customize content that targeted specific businesses. It also put the power back in the hands of marketers and organizational leaders, making it a perfect solution for both non-technical managers. With an easy-to-use platform, comprehensive training, complete documentation and 24/7 U.S. based support, the Decide DeKalb staff was empowered with greater agility – enabling their team to focus on attracting businesses rather than worrying about extensive coding or development.