Make your website multilingual in minutes with the AI power of Weglot! Instantly translate text into over 100 languages with editing control.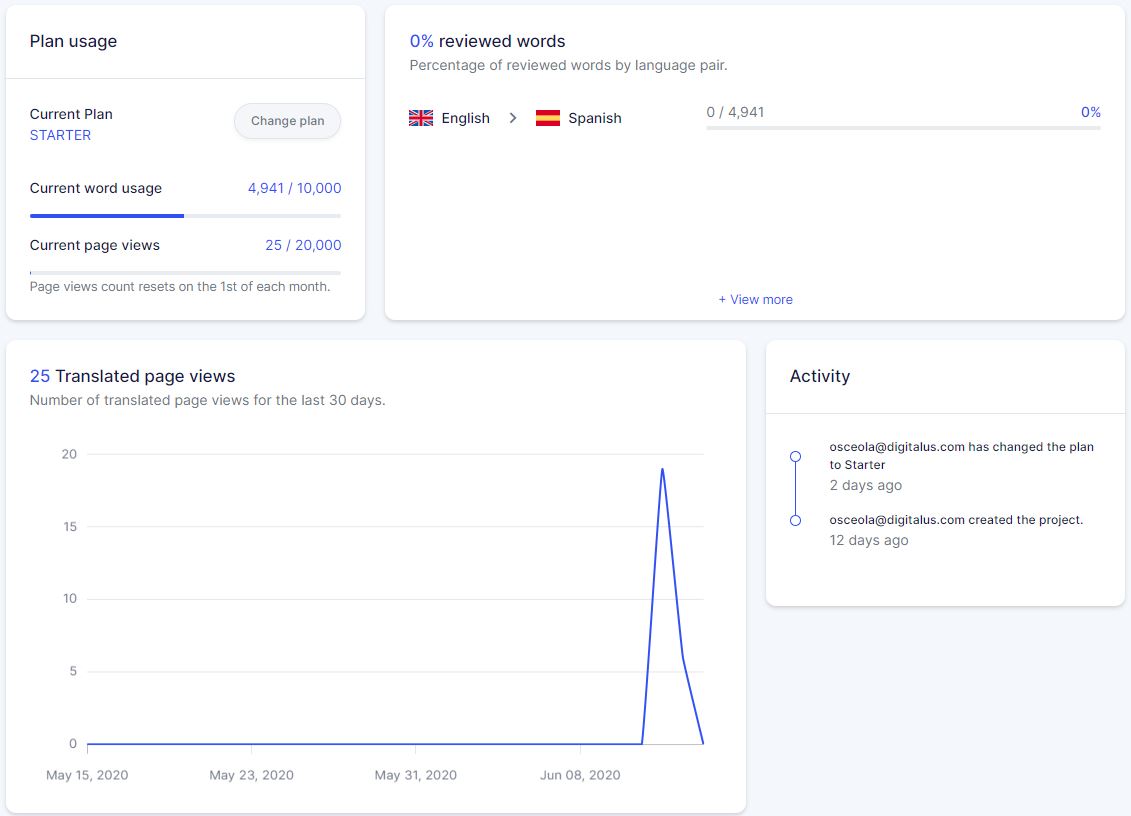 Product Features
Weglot delivers a fully translated website the simple way. With Weglot, you have everything you need to translate, display, and manage your multilingual website – all with full editing control and predictable pricing. Trusted by thousands of brands across every industry, Weglot's AI-powered performance delivers higher traffic and conversion rates.
Easy to install: Weglot is simple to install and compatible with all CMS and website technologies. You can have your multilingual website up and running in less than 5 minutes, with no need for development support.
All-in-one platform: Weglot has everything you need to manage your translation strategy. First, choose your destination translation from a list of over 100 languages. Then, easily edit all your translated content through a simple interface. Use our in-context editor to translate your content and easily see what your translated pages will look like.
Automatic content detection: Weglot automatically scans and detects the text, images, and SEO metadata of your site, replacing the process of manually gathering website content for translation. This includes posts, pages, menus, e-Commerce products, widgets, and more. Just sit back and let Weglot continuously detect and translate any new content or page as you go.
Team collaboration:

Remove lengthy

back-and-forth processes between your marketing team, translators, and developers

with integrated translation management tools.

Complete editing control: Add translators to your dashboard, assign tasks, collaborate with teammates and even order professional translations within your Weglot project dashboard.
Automatic and manual translation: Unlike other translation services, Weglot offers a primary layer of AI-powered automated translation, as well as the option for human translation. Not satisfied with the results of a machine translation on a specific page? Edit the content by hand and optimize your translation performance.
Access to professional translators: Weglot provides access to leading translators across its cache of languages. Order a professional translation from vetted partners directly inside your Weglot dashboard.
Reach new audiences with multilingual SEO: Weglot a

utomatically creates language subdomains or subdirectories, implements hreflang tags, and translates metadata to rank your translated pages on search engines.

Localized experience all along the customer journey: From the landing page to the email confirmation, get all your key conversion steps translated into each customer's language.
Product Details
Weglot is an automated, AI-powered translation service for making your website multilingual.
Easy to install with no development required
100+ language options
Automatic content detection
Team collaboration
Complete editing control
Manual translation option
Access to professional translators
Multilingual SEO
Support
Weglot offers an array of support articles, CMS installation documentation, and more through its Help Center at https://support.weglot.com/
Instructions
Need help getting started with Weglot? Looking to build a custom translation experience for a campaign or program? Contact us and speak with one of our experts.