Bring your ideas to life with UXPin! Build wireframes, mockups, and prototypes that feel like the end product, from websites to applications.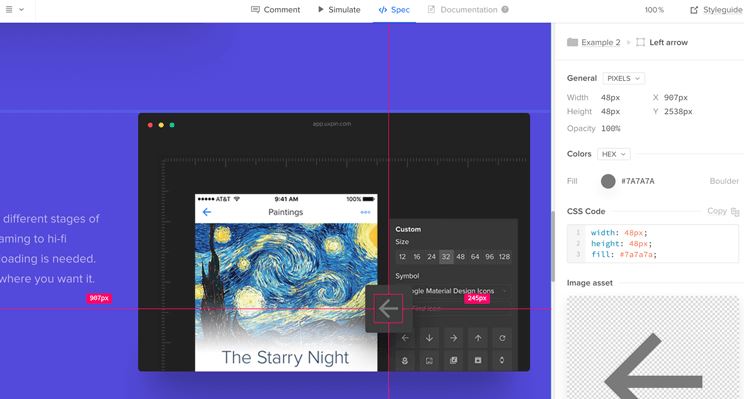 Product Features
Scale your design operations with UXPin! Turn your ideas into real products quickly and efficiently with UXPin, a leading platform for creating pixel-perfect prototypes with components that developers use. Trusted by leading brands, UXPin provides a dynamic sandbox for designing websites and applications and quickly moving your prototypes into MVPs or fully-functional products and experiences.
Easy to use: With its slick, intuitive interface, UXPin's no-code experience is simple to learn but incredibly powerful.
Create perfect prototypes right from the beginning:

Build wireframes, mockups, and prototypes that feel like the end product with hundreds of built-in UI elements. Integrate with

Storybook

,

Git repo

, or

NPM package

and use code components straight from your design system, app, or website.

Build with user experience in mind: With States, Variables, Conditional Interactions, and Auto Layout, your prototypes will perfectly mimic the end product experience during usability testing.
Merge Technology:

Speed up your product development process with UXPin's revolutionary

Merge technology, allowing both

UI designers and developers can create consistent interfaces using the same building blocks.

Code components made for designers: Design from one source of truth. Prototype with functional and interactive elements generated from production code. Build things fast and consistently, and save yourself the repetitive work. Update all components at once or edit each instance separately.
Built-in libraries: Easily access libraries for iOS, Material Design, and Bootstrap, as well as hundreds of icons to let you work faster.
Design systems:

Design at scale with dynamic and reusable design systems – your centralized place with

interactive UI components and documentation

. Share it easily with your team and ensure consistency across the whole company.

Make your design meaningful with data: Use your data in various formats or ready-to-use content, such as avatars, cities, and names.
Make your designs accessible: Design inclusive products in line with WCAG standards. Test your prototypes with built-in features like Contrast Checker and Color Blindness Simulator.
Real-time collaboration: Work with your team in real-time just as you would in Google Docs. On Windows, Mac or in the browser. Add comments and address customer feedback to optimize your experience.
Product Details
UXPin is a product design platform for designing, collaborating, and sharing wireframes, mockups, and prototypes for websites and applications.
Easy to use

Create perfect prototypes

Integrate with Storybook, Git, and more

Merge technology

Code components

Built-in libraries

Design systems

Build for accessibility

Real-time collaboration

Commenting and feedback
Support
Instructions
Need help getting started with UXPin? Contact us for additional resources.