Slack is your digital HQ! Bring your team together with the world's most powerful and trusted platform that makes team communication faster and better organized.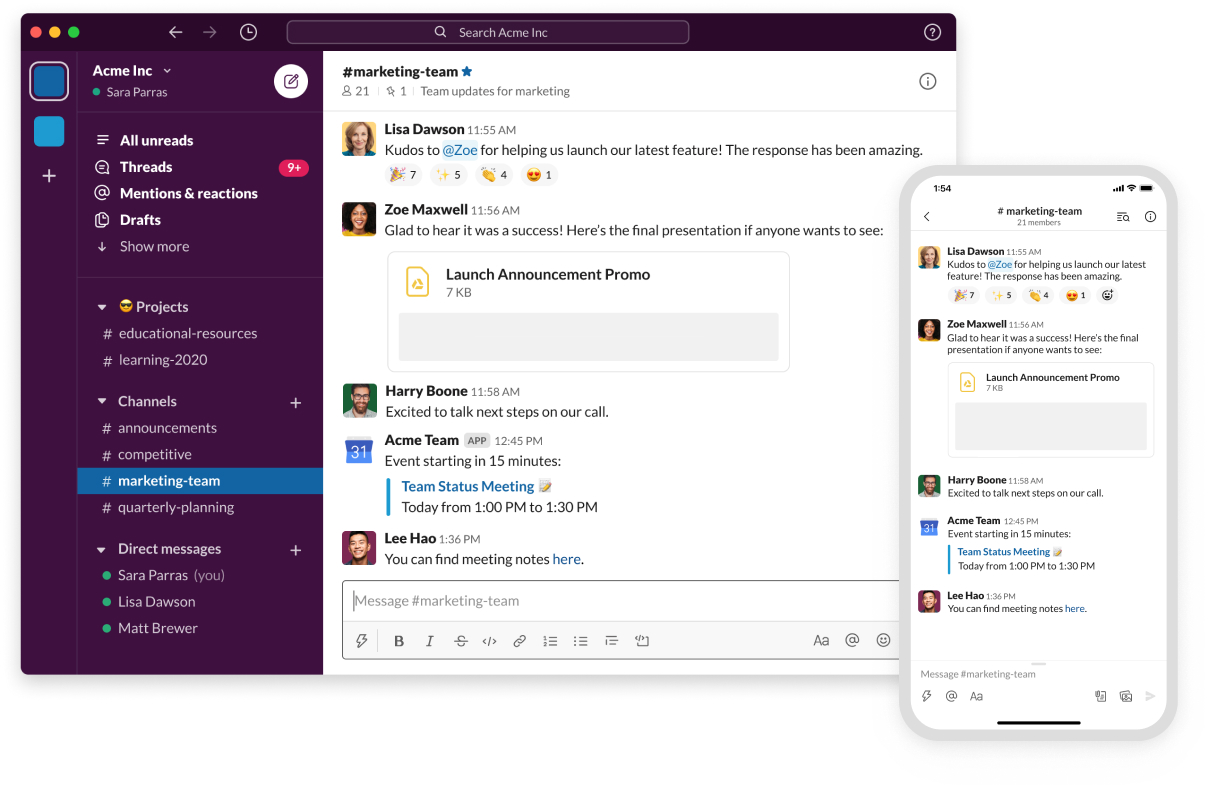 Product Features
Slack is the leading messaging app for business. It connects people to information – and to each other. With Slack, you can unify your team like never before and transform how your organization communicates.
Slack works by making work-based messaging both fun and engaging. It breaks down the silos and accelerates communication by bringing everyone together to get work done.
Real-time connection and collaboration: Slack makes it incredibly easy to access your work colleagues both inside and outside of your organization.
Choose how you want to work: Slack gives you unmatched flexibility around when and how you want to work. Type messages, chat, or send audio and video clips.
Huddle with your team: Slack's huddle feature makes it simple to pull people together into a focused meeting to talk live.
Dedicated spaces: Use Slack's channels to bring together the right people and teams around specific projects or requirements.
Assemble your team anywhere: With Slack, you can work together regardless of your team's location, time zone, or specific work function.
Work asynchronously: There's no timetable with Slack. Access the information you need – whenever you need it.
Be inclusive: When your teams work together in channels, you can share information quickly with everyone, helping people stay aligned and make decisions faster.
Connect your tools to enhance productivity: By using Slack, you can streamline many of your daily tasks for your entire team by joining group calls, managing calendars, and collaborating on files – all in one place.
Integrate specialized tools: From Jira to Zendesk to Salesforce, Slack creates more collaboration across your organization's existing stack of services.
Customize your experience: Slack's Workflow Builder and APIs allow you to create custom solutions, with or without code. Build custom apps that integrate with your specific tools, processes, and data.
Product Details
The #1 messaging app that connects people and unifies teams.
Real-time connection and collaboration
Flexible options for messaging, from chat to video
Huddle feature for live discussions
Dedicated channels for projects and teams
Work anywhere and asynchronously
Share information quickly to make decisions
Streamline daily tasks like managing calendars
Integrate specialized tools like Jira and Salesforce
Customize with Workflow Builder and APIs
Support
Slack offers a complete set of online documentation and support articles for troubleshooting issues, from notifications to connections to huddles. Search for answers at https://slack.com/help
Instructions
Need help getting started with Slack? Looking to deploy a custom solution for your organization? Contact us for help with getting Slack optimized around your specific goals.