Achieve your digital potential with Siteimprove! Automate your ADA accessibility checks with rich tools, track and maintain your compliance, improve your SEO, and more.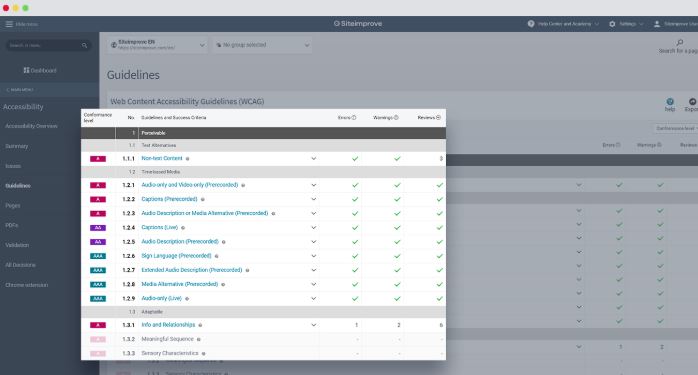 Product Features
Siteimprove helps you achieve your digital potential. Whether it's maintaining your accessibility compliance, fine-tuning your SEO, or elevating your Google Quality Score, Siteimprove can help you take the next step on your digital journey.
As a leading platform for website accessibility, Siteimprove helps you easily follow and adhere to international Web Content Accessibility Guidelines (WCAG) – so you can remove the barriers that damage the user experience, safeguard your brand reputation, and create an inclusive experience for all everyone.
Automate your accessibility checks: Using WCAG standards, Siteimprove spots issues and errors across all conformance levels. Audit hundreds of thousands of pages across dozens of sites and prioritize what needs action.
Highlight and categorize issues: Use Page Reports to see issues on specific web pages or in your source code, then organize and filter issues based on their location on your site – so you can speed up remediation and ensure consistent results.
Leverage CMS Deep Linking: Integrate with your CMS and go directly to a corresponding page to address a problem.
Protect against legal or reputational risk: Avoid potential lawsuits or brand damage with a complete overview of your web assets, from pages to PDFs. Review content against WCAG and work towards Section 508 and ADA compliance.
Measure and report your progress: Use historical graphs and the unique DCI® score to demonstrate progress towards compliance. Benchmark against industry standards, generate reports, and share your achievements with teams and stakeholders.
Get guidance and recommendations: Siteimprove provides users with access to clear explanations on issues and how to resolve them with official WCAG techniques, including issues that require humans to verify results.
Access additional platform features: Siteimprove's cloud-based tools also provide quality assurance, data privacy, SEO, paid ad optimization, website performance, and web security control. A comprehensive platform to power your digital growth.
Product Details
Deliver inclusive digital experiences to all users
Work towards ADA and Section 508 compliance
Automate your ADA accessibility checks
Highlight and categorize issues on pages and in code
Use CMS Deep Linking to rapidly remediate issues
Protect against legal or reputational risk
Measure and report your progress
Get expert guidance and recommendations
Add features for SEO, data privacy, security, and more
Support
Instructions
Need help getting Siteimprove optimized for your website or CMS? Contact us for assistance with set up or additional ADA-related services.