SEMrush is a powerful, all-in-one toolkit for digital marketing professionals. With SEMrush, you can boost your search performance, research competitive keywords, and uncover marketing opportunities.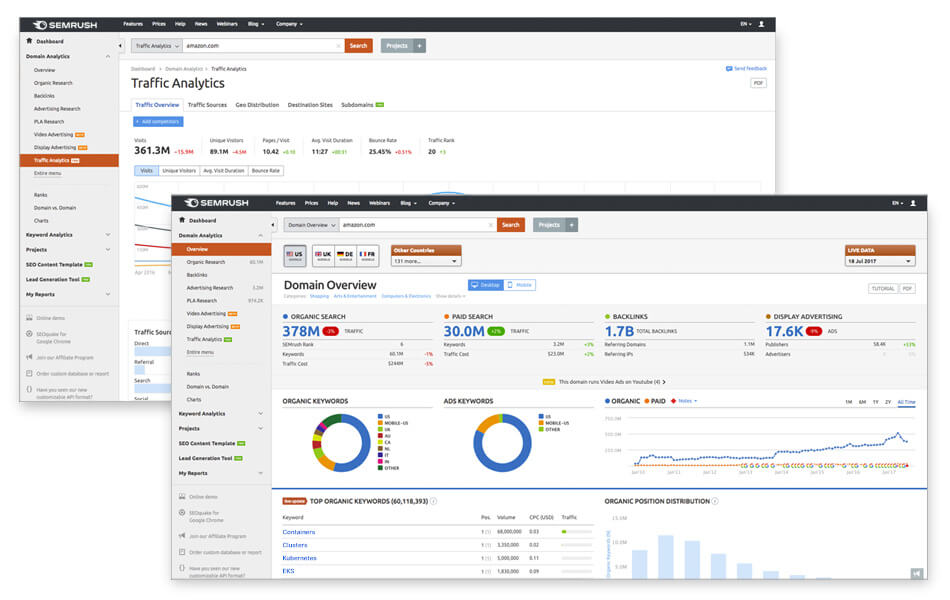 Product Features
Make your website visible to a universe of new customers with the SEMrush integration for Solodev. Great content separates businesses from product-focused to a truly immersive digital experience that keeps your customers coming back for more. This popular SEO tool does everything from keyword research, trend tracking, and a full-scale SEO audit of your website.
Connect SEMrush dashboard with Solodev. With a simple integration, we combine SEMrush's powerful analytics tool with the reliability of your Solodev dashboard.
Review and evaluate content performance. See what content works best for your customers, and identify content trends to create new content that resonates with readers.
Track your website's ranking data. Keep an eye on your website's overall performance to establish a plan on how to shape and improve your customers' digital experience.
Evaluate important backlinks. See what links are helping your website's search engine ranking and which ones you should remove thanks to backlink analysis.
Global campaigns. Launch global campaigns for your website and get all the necessary metrics regarding its competitors, keyword rankings, and on-page health from one place.
Look at long-term progress. Discover just how far your website has come, and create new paths to improve your website's customer experience with website rank tracking.
Get more traffic. See how you can get more traffic out of your paid and organic search, and manage your marketing strategy accordingly.
Product Details
SEMrush lets you leverage intelligent analytics, helpful data tracking, and competitor analysis to keep your company ahead of the curve. Build, manage, and measure your campaigns across all online channels with simple hands-on guides.
Leverage market intelligence
Monetize your audience
Perform keyword research
Boost your content marketing
Analyze your social performance
Support
Instructions
Please contact us to help getting your account set up and running optimally.