Trust your cybersecurity to a proven global leader: Secureworks. With their cloud-native services and solutions, you can help predict, prevent, detect, and respond rapidly to cyberattacks.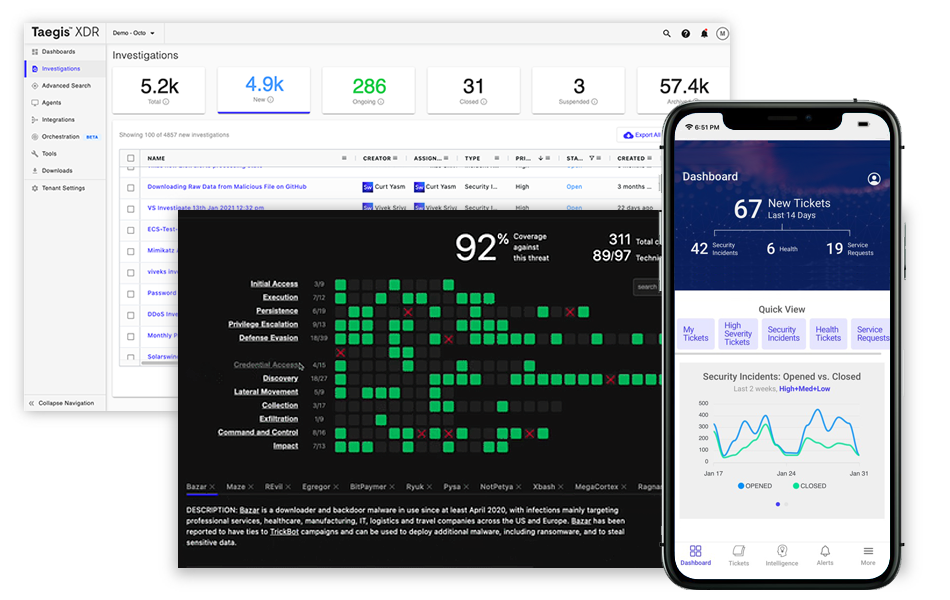 Product Features
Secureworks helps you beat the threat. Trust your security to a leader in managed detection and response (MDR) by Forrester! With Secureworks, you'll have more insight and protection with extended detection, response, and vulnerability management from a single platform provider.
Secureworks is 100% focused on cybersecurity. For nearly two decades, they have been committed to fighting adversaries in all forms and ensuring that enterprises are protected. Along with their innovative technology, their security expertise – from threat researchers to incident responders to SOC analysts – provide essential consulting to customers worldwide. Features include:
Extended Detection and Response: Secureworks® Taegis™ XDR is a cloud-native security analytics platform built on 20+ years of real-world threat intelligence and research, providing advanced threat detection, streamlining and collaborating on investigations, and automating the right actions.
Managed Detection and Response (MDR): Taegis XDR relentlessly scours your telemetry around the clock for signs of threat activity and experts respond and remediate quickly, helping you realize up to a 413% ROI.
Vulnerability Management: With Taegis VDR, you can stop managing vulnerability tasks manually with a cloud-based, ML-powered solution.
Red Cloak™ Technology: Add advanced endpoint detection and slash the time to identify and respond to threats like malware, so you can eradicate threats earlier in the kill chain.
Managed security services: From security monitoring to vulnerability management, Secureworks provides a complete set of solutions.
Incident response: Secureworks provides world-class emergency and proactive incident response and threat hunting assessments.
Threat intelligence: With countermeasures and brand surveillance, Secureworks delivers powerful threat intelligence solutions.
Adversarial security testing: Add penetration testing, app security testing, and red team testing for compliance.
Counter Threat Unit™ Research Team: Secureworks employs 70 of the world's most highly regarded security researchers to protect you globally.
Product Details
Secureworks provides intelligence-driven information security services and solutions to help organizations predict, prevent, detect, and respond rapidly to cyberattacks. Features include:
Extended Detection and Response
Managed Detection and Response (MDR)
Vulnerability management
Managed security services
Incident response
Threat intelligence
Adversarial security testing
Support
Secureworks' Managed Security Solutions are delivered from five resilient Security Operations Centers (SOCs) that integrate seamlessly to provide continuous operations, with all locations staffed and fully functional 24/7.
To access Secureworks support or report a vulnerability, please visit their Client Support portal.
Instructions
Interested in adding Secureworks technology to your website or app? Contact us to discuss a custom solution with one of our experts.