Recurly is the subscription management and billing platform trusted by leading brands to grow recurring revenue faster, smarter, and stronger with intelligent tools.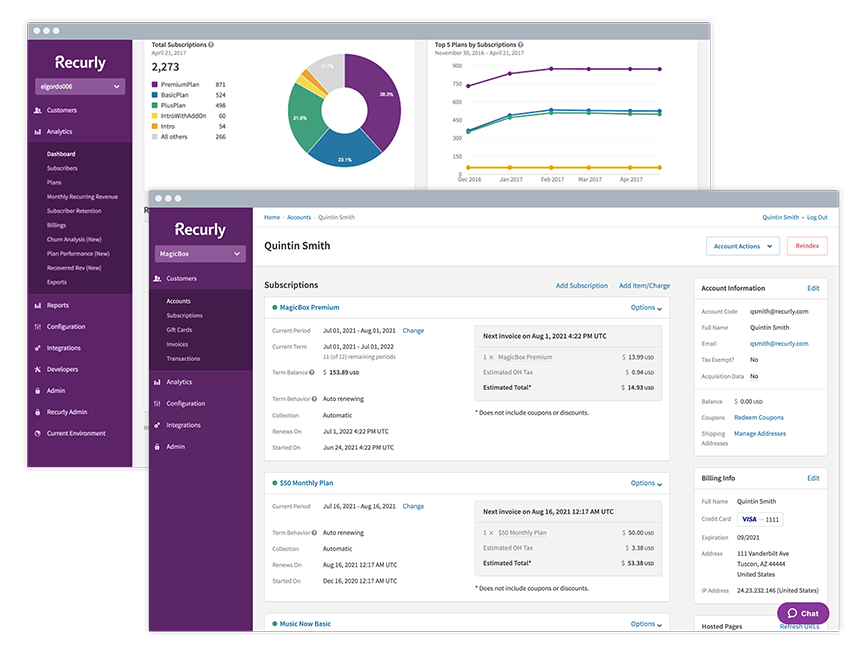 Product Features
Keep a good thing growing with Recurly! High-growth brands trust Recurly to support over 50 million subscribers and over $10 billion in payment volume annually – with 98% customer retention five years in a row. That's why you need Recurly to grow faster, smarter, and stronger.
Grow, retain, and scale: With Recurly, you can optimize your subscription growth strategy and realize revenue recovery at the top of industry standards.
Plan management: The right plans allow you to reach more customers. With Recurly, you can add innovative subscription services with tools to help configure plans, get started, and respond to your customer's needs first.
Automate your recurring billing: Recurly streamlines your subscription billing with global customers that bring complex requirements to the mix. Now you can realize revenue faster while delivering a better experience and identifying new growth opportunities through intelligent automation.
Remove the growth headaches: With 18 supported languages, 48 million active subscribers each month, and over 1 billion invoices delivered to date, Recurly is focused on simplifying your growth.
Build right into your existing workflows: Recurly makes it efficient to add subscription management to your current business model, workflows, and financial systems.
Simplify recurring payments: Unlock more revenue and accelerate your subscriber growth with Recurly. You can also optimize your acceptance rates and transaction costs. Let subscribers pay anywhere, anytime, in their preferred way - including Recurly Wallet.
Intelligent retention: Stop fighting subscriber churn challenges and focus on your business growth. Recurly works in the background to help minimize failed payments and increase revenue. Recurly's credit card vaulting and proprietary decline management techniques help you prevent and recover failed transactions.
Product Details
Recurly is the subscription management and billing platform for growing revenue online.
Optimize subscription growth
Improve subscription plan management
Automate recurring billing
Support up to 18 languages
Build into your existing business model or workflow
Simplify recurring payments
Eliminate churn by preventing/recovering failed payments
Support
Recurly provides complete product documentation and access to a developer hub via its support portal. You can also engage the Recurly support team and create tickets online. Visit https://support.recurly.com/hc/en-us
Instructions
Looking to get Recurly off the ground? Want advanced support for a custom implementation? Talk to us! Let our team of engineers help you realize your subscription business goals.