OpenSea is the world's leading marketplace for NFTs! Create, buy, sell, and auction one-of-a-kind digital assets – from artwork to music – and connect your own custom NFT marketplace to OpenSea.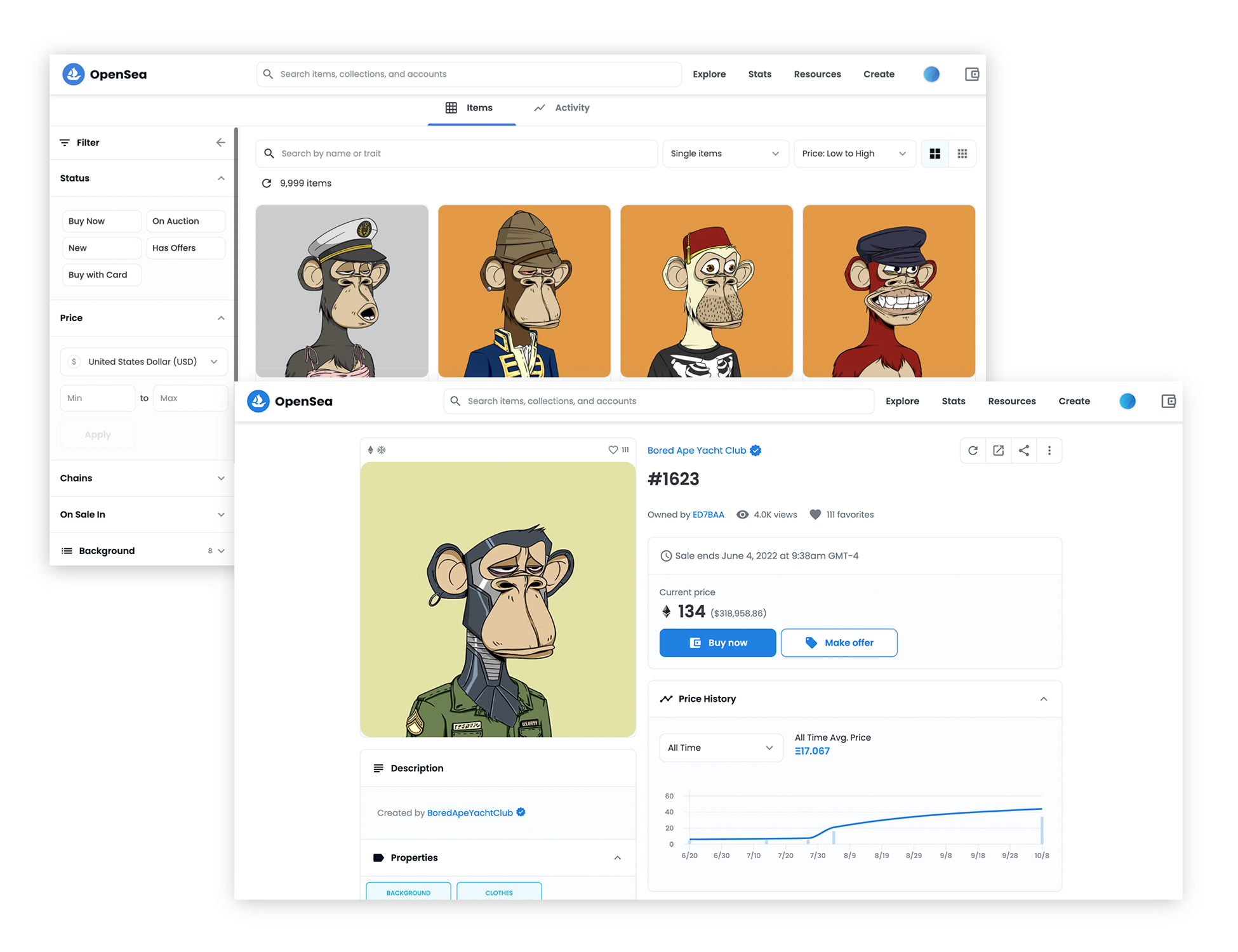 Product Features
OpenSea is the world's first and largest digital marketplace for crypto collectibles and non-fungible tokens (NFTs). In OpenSea, you can buy, sell, and discover exclusive digital items, from unique artwork to music and more. Whether you're looking to expand your collection of Bored Apes or sell your own digital masterpieces, OpenSea is the decentralized exchange for owning and transacting in the metaverse.
Looking to connect your own NFT marketplace with OpenSea? Now you can offer your collections across multiple channels and reach more potential buyers. With over 1.3 million active users and over 2 million collections, you'll have the largest exchange on the planet for building your NFT experience.
Trusted reputation: OpenSea has become the most successful – and most trusted – NFT exchange on the planet. With significant investment from leading tech firms like Andreessen Horowitz, OpenSea is shaping the future of Web3.
Easy to use and "beginner-friendly": OpenSea makes NFTs incredibly simple, especially for new users. The platform supports up to 150 payment options, including cryptocurrencies like Ethereum.
The internet's largest collection of NFTs: Non-fungible tokens are creating significant demand for unique, one-of-a-kind digital assets. OpenSea is home to millions of NFTs, all searchable across a wide range of categories including digital art, music, photography, sports, trading cards, virtual worlds – even domains.
Earn money: OpenSea is an open marketplace, allowing you to buy digital assets with the possibility of appreciating in value – and then selling at a profit. If you're a digital artist, you also have a complete set of tools for hosting your own custom collection of assets and selling them directly on the OpenSea platform.
Secure: Connect your Metamask, Coinbase, or another Web3 wallet to OpenSea and transact securely using crypto in a secure, industry-standard environment.
Own your assets: Because OpenSea is a decentralized app (dApp), it supports the fundamentals of Web3 – giving digital creators the ability to directly sell their creations while ensuring buyers can prove ownership on the blockchain. Store your NFT contracts in your digital wallet and start collecting with confidence.
No self-coding minting: OpenSea takes the complexity out of NFTs. Instead of manually minting, you can focus on your digital assets and collections.
Configurable auctions: Auctions can be an exciting way to sell your NFTs. With OpenSea, you can sell to the highest bidder or with a declining price (meaning that the price falls until someone makes a purchase).
Gas-free NFT marketplace: OpenSea is the first cross-blockchain platform to offer a gas-free exchange on the Polygon blockchain. Buyers no longer have to pay fees when making trades on OpenSea – and creators can fully earn their way into crypto.
API, SDK, and developer resources: If you're looking to build custom functionality and integrate your own marketplace, OpenSea offers a deep set of documentation for developing smart contracts and interacting with NFT data.
Product Details
OpenSea is the leading online marketplace for creating, buying, selling, and auctioning NFTs on the Polygon blockchain – without paying any gas fees.
Globally trusted reputation
Easy to use
The internet's largest collection of NFTs
Securely transact gas-free with crypto
Over 150 payment options
Secure login and wallet connection
No self-coding minting
Configurable auctions
Sell collections from your own NFT marketplace
Developer API, SDK, and developer resources
Support
Instructions
Looking to open your own NFT marketplace and integrate with OpenSea? We can help! Let our team of Web3 engineers support your project and extend your marketplace strategy to the world's largest exchange for non-fungible and semi-fungible tokens.