Listen, learn, and improve your customer relationships with Olark! Power your website engagement with live chat, automated messages, team management, analytics, and more.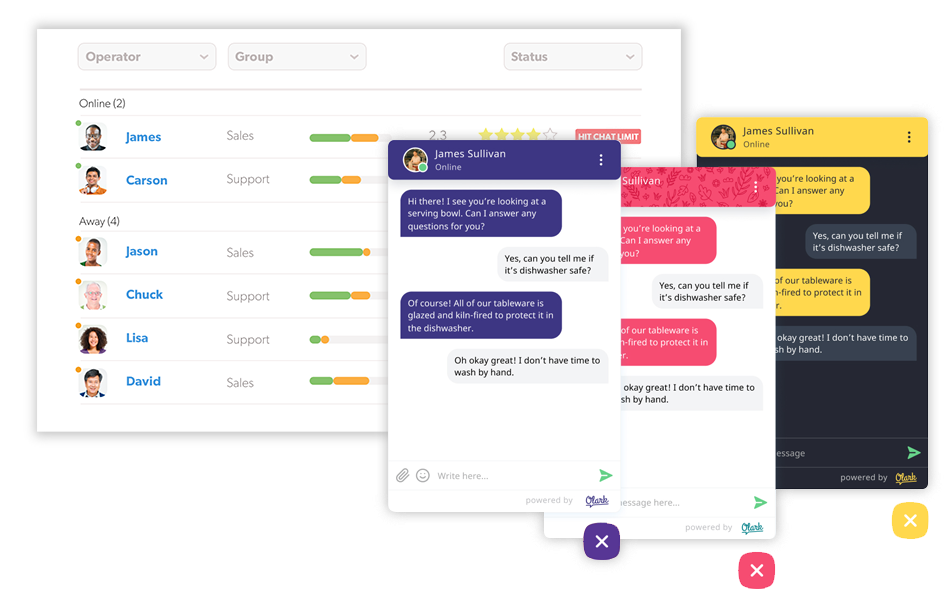 Product Features
Talk to your customers in real-time with Olark. One of the most recognized names in live chat, Olark is a cloud-based platform that enables you to engage with your customers through your website – so you never miss an interaction.
Olark powers real conversations for thousands of businesses worldwide, helping them create happy customers and better sales. In minutes, you can add rich chat capabilities, automated messages, searchable transcripts, and more to your digital communications strategy. Features include:
Simple onboarding: Olark is incredibly easy to deploy and intuitive to use. In minutes, you can be up and running with minimal training.
Customizable chatbox: With Olark, you can adjust the colors, shape, and position of your live chatbox widget, enhancing the brand consistency with your website.
Live chat: Customers are more likely to convert or make a purchase after a live chat on a website. With Olark, you can respond to live questions from prospects that are actively exploring your products and services or provide support for their questions.
Automation: If you have lots of customers and limited bandwidth for live chat, Olark lets you send your visitors automated messages based on a range of criteria, including location, referring URL, browsing behavior, and more.
Chatbots: With Olark Copilot, you can create robots capable of starting and ending conversations, qualifying and routing leads to the right people, and automating repetitive tasks like scheduling. Cut down on FAQs and hand off customers to humans with ease.
Searchable transcripts: Chat, filter, search, and sort your customer data to build a clear picture of your customers. With Olark, you can save every live chat transcript and offline email and analyze your interactions for feedback. Filter based on keywords, tags, date range, and more.
Custom forms: Personalize your interactions with custom chatbox forms and ask visitors to share vital information – so your team is prepared to start the conversation.
PowerUps: Add features like a non-branded chatbox (removing the "Powered by Olark") or live chat translations for over 100 languages.
Team management: Keep your agents on track with chat activity monitoring, message routing, per-agent chat limits, and canned responses.
ADA accessibility and data privacy: Olark's chatbox widget fully conforms to WCAG 2.1 AA and Section 508 and is audited both internally and externally. Additionally, their GDPR and data privacy features are designed to simplify your compliance.
Product Details
Olark is a cloud-based live chat solution that enables businesses to interact with customers through their website.
Simple onboarding
Customizable chatbox
Live chat features
Chatbots and automation
Searchable transcripts
Custom forms
Optional feature upgrades
Team management
ADA accessibility/data privacy
Support
For global support and access to online documentation, visit Olark's free Help Center at www.olark.com/help.
Instructions
Need help getting Olark implemented on your website? Contact us and one of our integration specialists can get you set up and running optimally.