Take your security to the next level with Okta, the world's #1 identity and access management platform! Protect and enable your workforce and customers with secure access solutions, from SSO to MFA.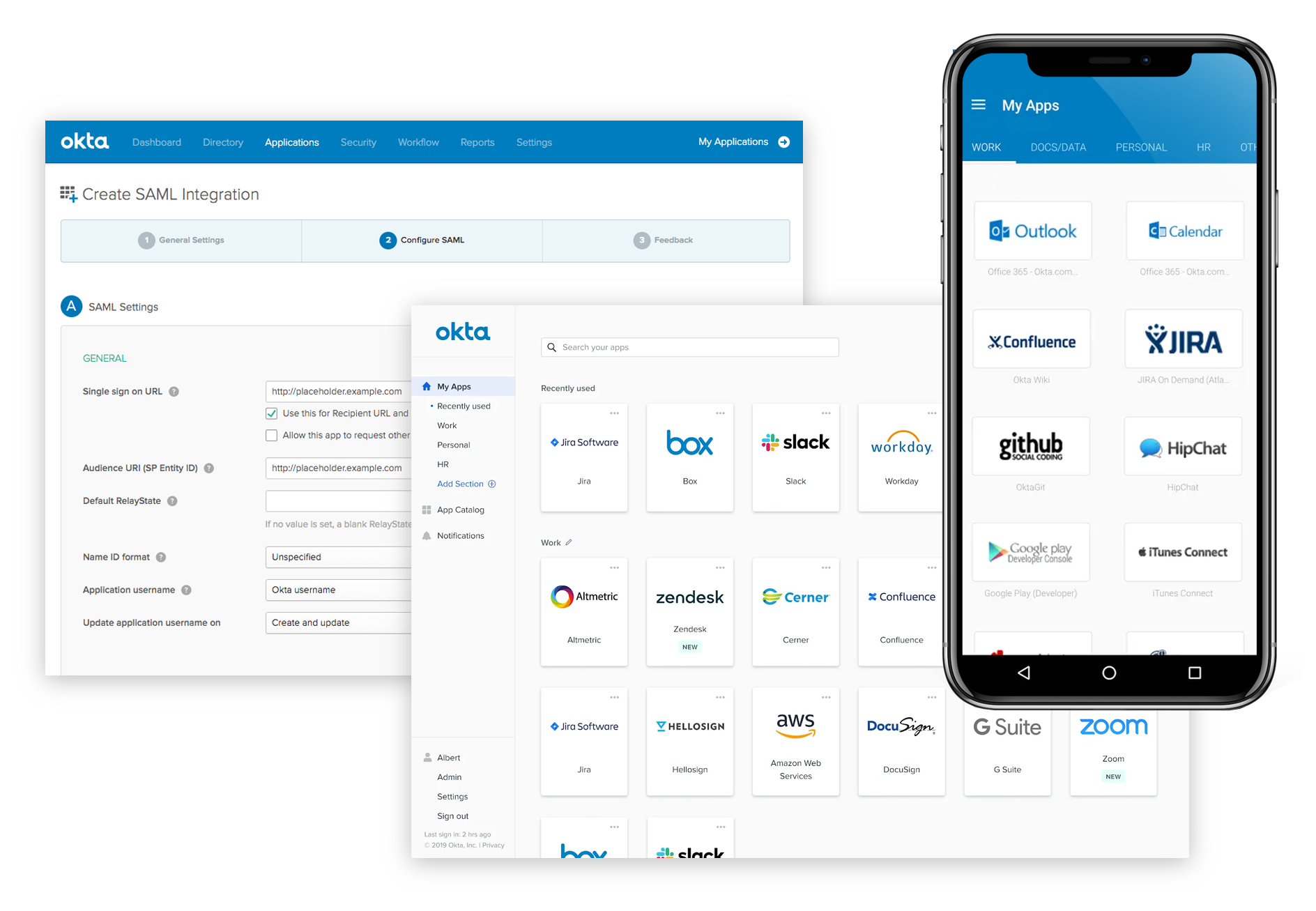 Product Features
Okta is the industry standard for identity access and authorization solutions. Trusted by over 15,000 customers, Okta secures digital interactions and helps organizations accelerate innovation with unmatched reliability.
Consistently named a leader by top industry analysts, Okta provides scale and flexibility for the world's largest organizations, from Zoom to T-Mobile to Nasdaq, allowing organizations to build and secure powerful digital experiences.
Single Sign-On (SSO): Okta's secure, cloud-based single sign-on provides a network of 7,000+ pre-built integrations that help you securely adopt and deploy SSO. Support includes SAML 2.0, Open ID Connect, RADIUS, LDAP and more.
Adaptive Security Policies: With Okta SSO, your IT team can protect users with consistent security policies that adapt to their behavior. Automatically identify and block malicious login attempts across networks.
Mutli-Factor Authentication (MFA): Add secure, intelligent access for your workforce and customers that reduces the risk of a security breach, credential theft, fraud, and more. Create contextual access policies that assess risk factors at each step of the authentication process.
Lifecycle Management: Onboard and offboard users with greater control and automation, and simplify user permissions across your enterprise for employees, contractors, and more. Streamline auditing and compliance with a centralized view of account access.
Universal Directory: Get a single, consolidated view of every user from multiple sources, create secure policies, and streamline password management.
Authentication: Create secure, seamless customer experiences with user authentication-as-a-service. Set strong customer authentication policies, reduce account takeover attacks, add passwordless authentication, and get access to deep reporting and syslog analytics.
User Management: With Okta, you can collect, store, and manage user profile data at scale to give your customers more personalized experiences. Add scalable, cloud-based user management, create frictionless registration experiences, employ progressive profiling, and more.
Workflows: Okta's no-code identity automation and orchestration make it easier to scale identity processes with simple logic, pre-built connectors, and a publicly available API.
API Access Management: APIs are the new "shadow IT" – and Okta can help you secure them in one day with extended authentication and authorization. Protect against API security breaches, simplify OAuth 2.0 management, and get your APIs under secure control.
Okta Fastpass: Okta offers always-on passwordless authentication to help users access anything they need on any device. Okta FastPass is available to any customer utilizing Okta for Single Sign-On to SAML, OIDC, and WS-Fed apps.
Identity Governance: Add Okta's new unified IAM and governance solution to improve security while mitigating modern security risks and increasing efficiency.
Product Details
Okta is the leading platform for adding identity access, authentication, and authorization capabilities to your apps.
Single Sign-On (SSO)
Adaptive Security Policies
Multi-Factor Authentication (MFA)
Lifecycle Management
Universal Directory
Authentication
User Management
Workflows
API Access Management
Okta Fastpass
Identity Governance
Support
Instructions
Looking to deploy SSO or an advanced Okta identity experience? We can help! Let our team of cloud and IAM experts support your project from end to end with dedicated service and support.