Microsoft Exchange is the leader in online email! Work smarter with a focused inbox, manage your mail and calendar securely across all devices, access unified messaging, and so much more.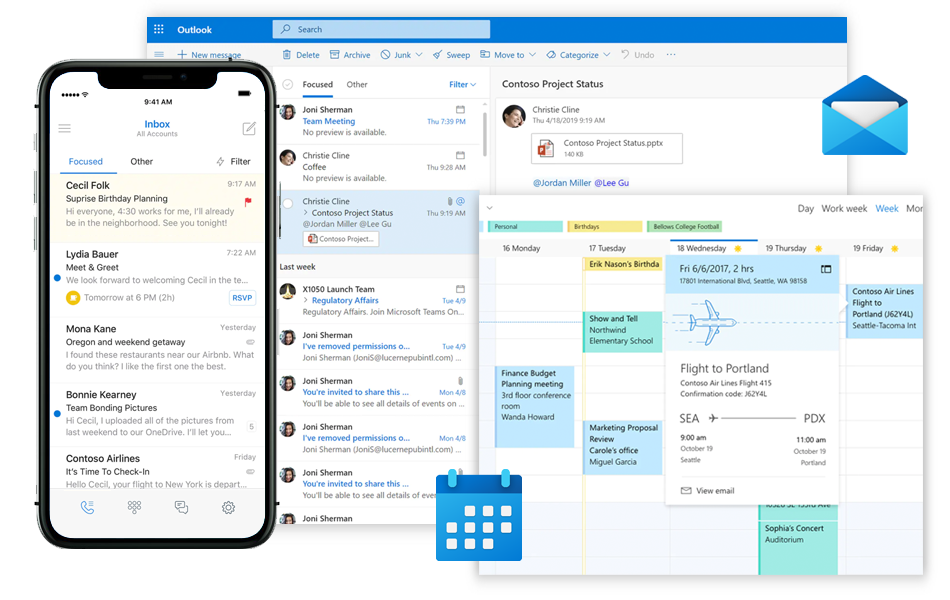 Product Features
When it comes to business-class email, Microsoft delivers. Microsoft Exchange Online is the leading business email service that makes managing your inbox incredibly simple across every device. In minutes, you can add secure email for one or one hundred users with ease and control.
With its seamless, subscription-based pricing, Microsoft Exchange helps you make the most of your time. Whether you're a solopreneur or an enterprise, Exchange can help improve your productivity with intelligent inbox management, online support, and access to a complete technical library of resources.
Microsoft is your trusted communications partner, and it all starts with the power of email. Features include:
Easy activation: With simple subscription terms, you can be up and running in minutes with the right mailbox package.
Secure: With Microsoft Exchange, you can manage your business-sensitive data with built-in data loss prevention (DLP) policies around personally identifiable information (PII) and payment card industry (PCI) standards.
Work on every device: Microsoft Exchange is designed around how and where you work, from desktop to smartphone.
Focused email management: Exchange adapts to your work style, letting you collaborate on critical documents by prioritizing important messages.
Intelligent inbox: Get access to a personalized inbox with helpful features and a smarter, more organized way to view and interact with email, including search enhancements that give you faster and more complete results.
Add-ins: Get powerful customization and extensibility that connects you to modern services and internal line-of-business applications.
Unified messaging: Take advantage of hosted messaging services that provide call answering, a dial-in user UI, and automated attendant capabilities.
Powerful calendaring: Organize your time with a calendaring system that goes beyond basic scheduling and commitments. Automatically capture events from email such as flights and hotel reservations and get suggestions about where to meet based on your location.
Exchange Deployment Assistance: If you're migrating your organization to Microsoft Exchange, you can access their easy-to-use web app and render a check list for your move.
Upgrade to Office 365 Business Standard: Add the power of Microsoft Office applications – from Word to PowerPoint to Excel – along with additional custom email services, online meetings, chat-based connections to Teams, and more.
Product Details
Microsoft Exchange Online lets users connect to their mailboxes with a consistent experience across desktop, web, and mobile.
Easy to activate
Subscription model with multiple plans
Secure data loss prevention and compliance
Add-ins for services and business applications
Call answering and dial-in user UI
Powerful calendaring
Deployment assistance
Optional upgrades to Office 365
Support
For access to Microsoft's online documentation and resources, please visit the Microsoft 365 support portal. 24/7 web and phone support available with Microsoft 365 Business Standard packages.
Instructions
Need assistance with getting your Microsoft Exchange Online email setup? Contact us to speak with one of our Microsoft 365 specialists.