Magento gives you the power to create unique and engaging shopping experiences. Enjoy rich, out-of-the-box features, an unrivaled ability to customize, and seamless third-party integrations.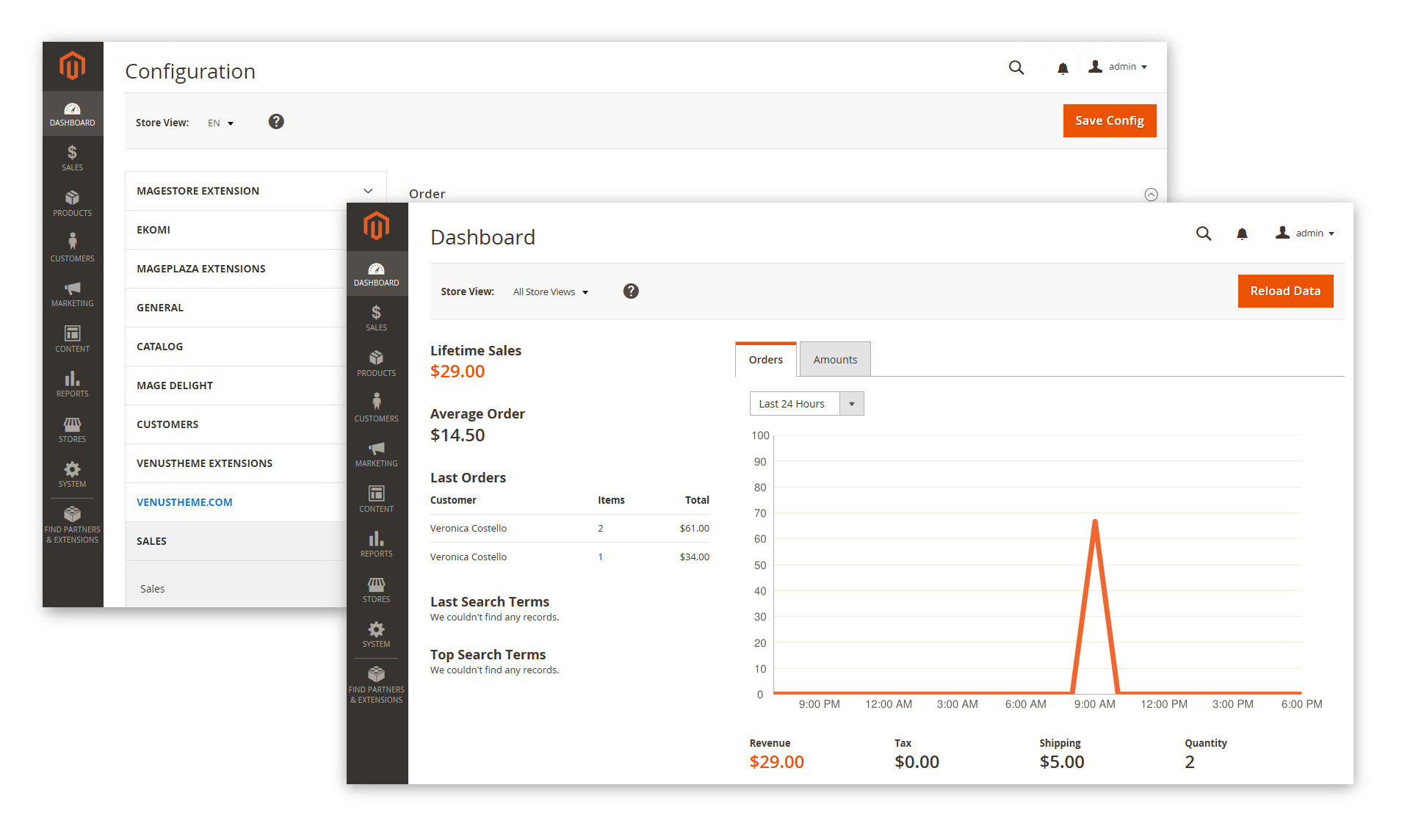 Product Features
Give your customers a one-of-a-kind eCommerce experience thanks to Magento's array of solutions. Now part of the Adobe Experience Cloud, you'll be supported by a global network of merchants and partners to help bring your dream shopping experience to life. Scale your growth and customize to meet the performance needs of your eCommerce store with a platform that can be easily updated.
eCommerce Without Limits: With Magento Commerce's power, flexibility, and practicality, you compromise nothing
Marketplace:From implementing new payment methods to connecting with ERP systems, from CRM to marketing services to sales tax calculations, our extensions from the best companies in the world enable you to optimize and improve your business and eCommerce website
Meaningful Commerce Experiences: Marry content with commerce to customer demands for flawless brand interactions. Own your customer experience, craft personalized content and promotions, and deliver a smooth path to purchase. Page Builder is a simple drag and drop solution to eCommerce website builders.
Make transactions simple and safe for your customers. From small businesses to enterprises, give your customers secure and reliable commerce experiences that will keep them coming back.
Accurately display your updated inventory. Solodev and Magento communicate through the advanced integration to easily get the most recent product information to your customers.
Track analytics that matter for customer-focused eCommerce. See what data matters most to your performance and leverage Magento's analytics to give actionable recommendations for improvement.
Product Details
With nearly 50% of online sales happening via mobile device, make your eCommerce site ready to reach customers on any device with Magento's mobile-ready features.
Whether you're an SMB looking to grow or an enterprise solution looking to make selling more efficient, Magento has a customizable solution for any size.
Create an ever-present buyer journey that sticks with customers using Magento's features and build out omnichannel shopping experiences.
Stay on top of the latest eCommerce trends with a platform dedicated to keeping you on the cutting edge of digital transformation.
Support
Instructions
Please contact us to help getting your account set up and running optimally.