Lumar is the leading website intelligence and SEO platform! Monitor, analyze, and impact your website's technical health and performance with unified control and actionable insights.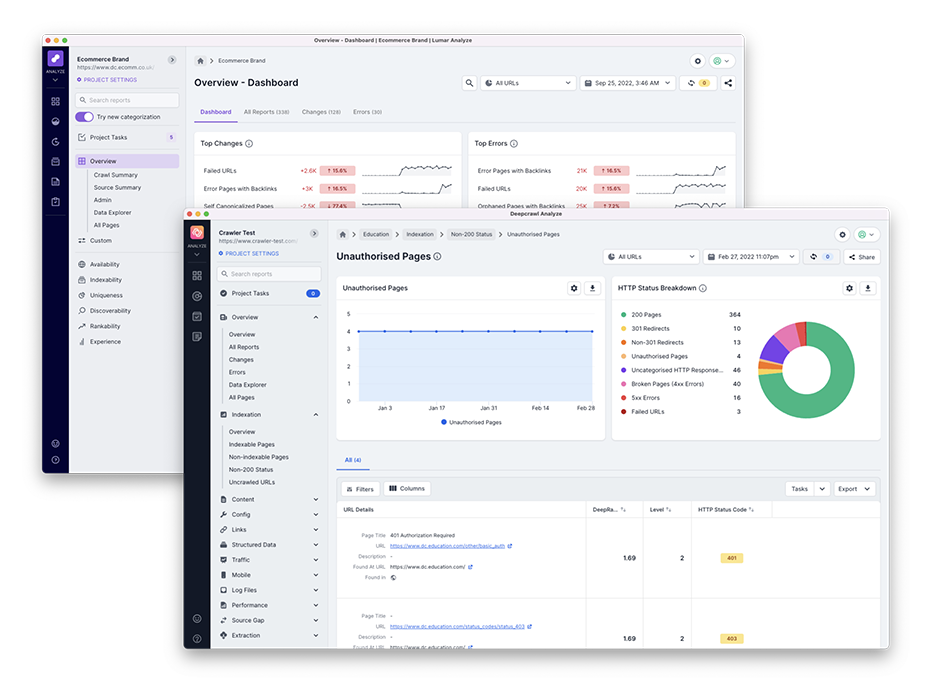 Product Features
Illuminate your website's full potential with Lumar! Formerly DeepCrawl, Lumar is a centralized command center for maintaining your website's technical health. By diagnosing and remediating technical and performance issues, Lumar's best-in-class platform is designed to unite cross-functional website teams with actionable insights.
Website intelligence platform: Empower your website teams to make their digital properties more impactful than ever with Lumar's deep intelligence. Diagnose faster and mitigate risk with a snapshot view of your site's health.
Designed for digital marketers: H

igh-performing websites can drive enormous business growth. But when it comes to realizing this potential, digital marketing leaders are often in the dark. With Lumar, you can monitor and benchmark your site's technical performance, drill down into the details, and find new opportunities for revenue-driving organic growth.

World-class SEO capabilities:

Powered by an industry-renowned website crawler, Lumar reveals the technical SEO metrics and insights you need to optimize better and climb in the rankings. With crawl speeds of up to 450 URLs per second, you'll have the data you need in no time.

Built-in reports and analytics: Have unique data-gathering needs? Lumar has hundreds of built-in reports and endless opportunities for tailored SEO analytics through custom extractions.
Testing automation: Save time and protect your site's traffic! Take full advantage of new automated QA testing and prevent issues before they go live on your site.
Developer tools and resources: Lumar integrates with CI/CD pipelines and makes developers' collaboration with product, UX, SEO, and marketing teams easier than ever with a centralized repository of technical website insights, custom dashboards, and tailored alerts.
See how your website stacks up with funnel scores: Compare your website's health metrics against industry averages so you can see where you have a competitive edge – or where you need to improve your experience.
Integrations: Easily connect your Lumar data to the rest of your business's tech stack with integrations for major analytics and business intelligence platforms. Looking for more flexibility? Lumar also offers a GraphQL API.
Professional services: Work with Lumar's in-house SEO experts to build impactful search strategies tailored to your website's specific structure, performance, and goals.
Product Details
Lumar (formerly DeepCrawl) is a website intelligence and SEO platform for monitoring, analyzing, and impacting website performance.
Unify website teams
Gain actionable insights
Monitor and benchmark performance
Crawl websites up to 450 URLs/sec
Get built-in reports and analytics
Automate QA testing
Leverage developer resources
Integrate with your tech stack
GraphQL API
Professional services
Support
Instructions
Looking to deploy a custom SEO strategy for your enterprise? Contact us and one of our SEO experts can walk you through our tailored options.