With Invict's "AppSec with Zero Noise" platform, you can automate and simplify the scanning of your websites and applications to identify security flaws and vulnerabilities before threats strike.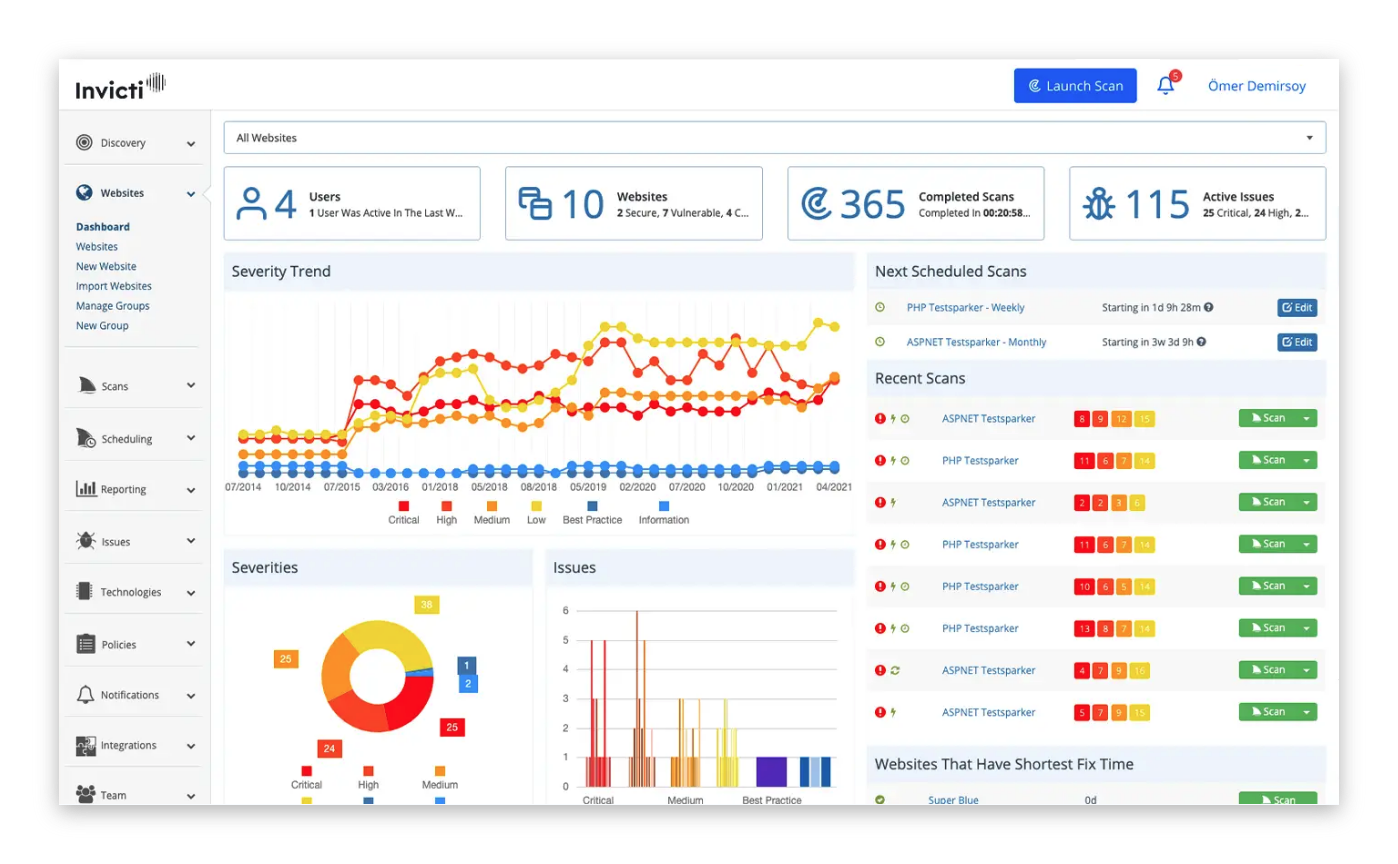 Product Features
Invicti is the world's most scalable AppSec platform. With Invicti, you have access to an automated and fully configurable security testing tool, making it possible for your enterprise or organization to secure thousands of websites, web apps, and APIs – and dramatically reduce the risk of an attack. Invicti helps you discover, detect, resolve, integrate, and continuously secure your digital footprint.
Your security challenges grow faster than your team. That's why you need security testing automation built into every step of your SDLC. With Invicti, you can scale to meet the demands and see a more complete picture of your app security. Leading brands and companies trust Netsparker across a range of industries, helping them identify thousands of zero-day vulnerabilities.
Website and application scanning: Scan any type of web application, web service, and web API – including first and third-party code – regardless of the technology or framework they're built with.
Proof-based Scanning™ Technology: Reduce time-wasting false positives with Invicti's software and eliminate the need for manual verification, saving your team hours of manual work.
Advanced crawling and interactive + dynamic scanning: Gain more visibility into your apps and identify those that are lost, forgotten, or hidden.
Comprehensive security testing and auditing: Leverage Invicti's pioneering DAST + IAST scanning to spot vulnerabilities that other tools can't, giving you fast, accurate results with signature-based and behavior-based scanning.
Detailed documentation: Help your developers fix issues faster with detailed documentation that pinpoints the exact locations of you vulnerabilities.
Integrate security into development – seamlessly: Invicti helps you address security issues before they grow into major disruptions by integrating security into the tools and workflows that developers use. Eliminate bottlenecks and reduce tension between developers and security teams and catch vulnerabilities early in the SLDC to save time and money.
Automatic notifications: Get alerts with a deployed technology becomes outdated without running a new scan, so your apps stay secure.
Threat assessment: With Invicti, you can scan and highlight the severity level of threats and assess their potential damage, allowing you to be more proactive with your cybersecurity.
Complete vulnerability management: Integrate Invicti with your issue trackers to smoothly fix and retest your applications and create roles, assign issues, overview the remediation process, and retest. You can also integrate with third-party issue trackers including GitLab, Jira, and more.
Compliance reporting: From HIPAA to PCI, access a multitude of out-of-the-box reports designed for both management and developers, or generate custom reports using templates.
Stay secure 24/7/365: Prevent delays and ensure fewer risks are introduced with ongoing scanning and security checks throughout your SDLC.
Product Details
Invicti is an automated application security testing tool that enables enterprise organizations to secure thousands of websites and dramatically reduce the risk of attack.
Website and application scanning
Proof-based Scanning™ Technology
Advanced crawling
Security testing and auditing
Detailed documentation
Automatic notifications
Cybersecurity threat assessments
Vulnerability management
Compliance reporting
Stay secure 24/7/265
Support
Instructions
Need help getting Invicti up and running? Contact us and we can assist with setting up your environment for continuous penetration and managed vulnerability testing.