Intercom is the business messenger you and your customers will love! Add live chat, bots, apps, product tours, email, messaging, and more to your website and enhance your customer relationships.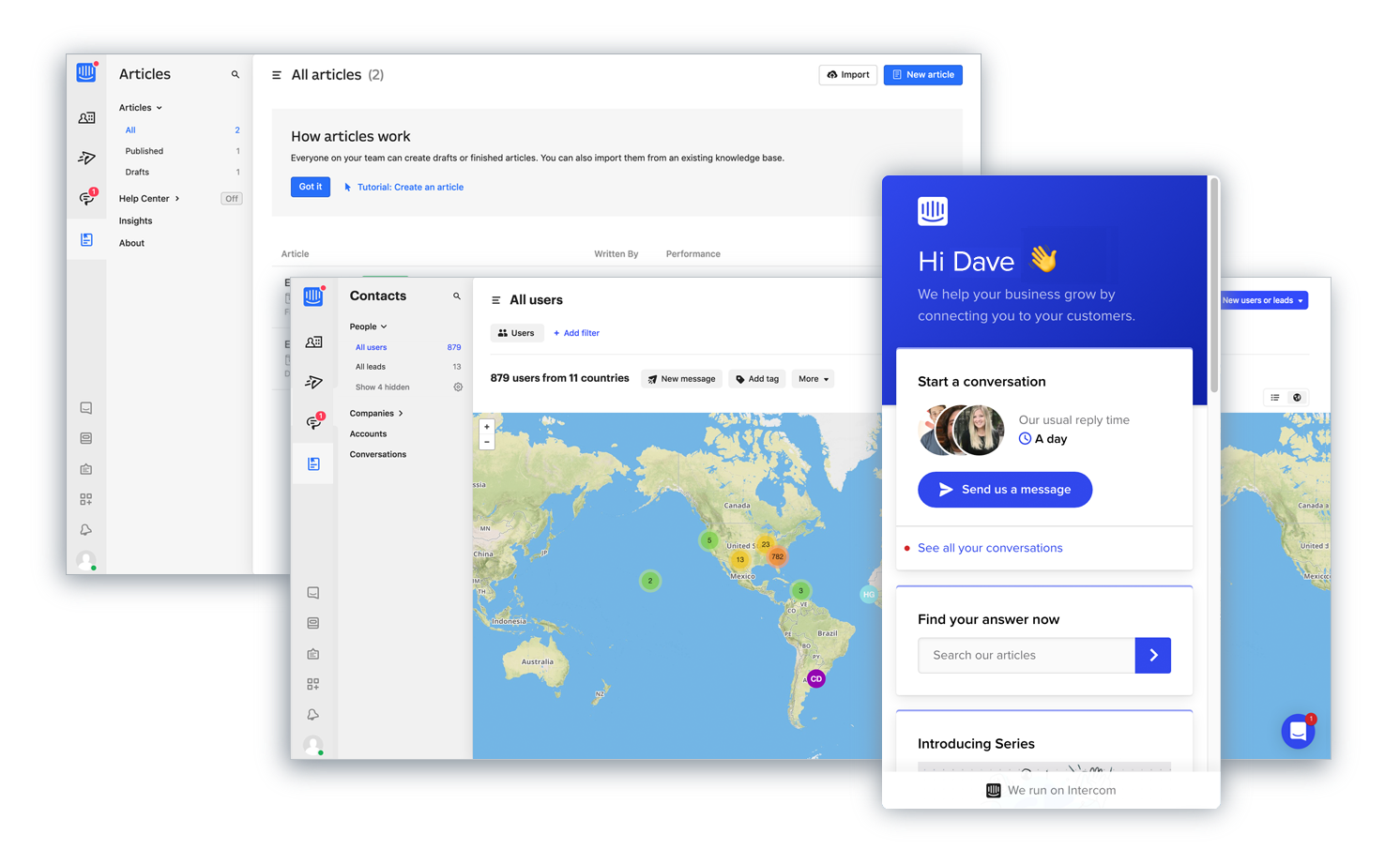 Product Features
Intercom is conversational support, engagement, and marketing in a single platform. Trusted by over 30,000 businesses, Intercom combines best-in-class business messaging with rich, data-driven tools for enhancing customer relationships.
With Intercom, you can see who is using your product or website at any time and personally communicate through targeted content and personalized, behavior-driven messages. Connect with live humans, provide self-serve experiences, and deliver proactive messages that enhance your customer experience throughout their journey.
From live chat to intelligent bots, Intercom enhances your customer relationships. Features include:
Real-time chat: Connect with a customer at the moment they're ready to engage or buy through live chat sessions. Provide instant support, convert interest into purchase, and grow your pipeline.
Follow-up messaging: Set clear expectations with customers based on your team's bandwidth and collect information to follow up later, including email.
Chatbots: Design powerful bots without code and provide users with self-service access to FAQs, documentation, resources, and more. Speed up customer resolutions, use advanced targeting and enrichment, and proactively engage every qualified lead.
250+ integrations: Connect with hundreds of apps, from Strip to Hubspot to Salesforce – or build your own custom solution. Use Intercom's APIs to create custom integrations with own product, tech stack, or other tools.
Customer Data Platform (CDP): Unite your customer data from across your entire tech stack, so your team can access a customer's details and history. Provide personal touches at scale and target specific segments using behavioral, conversation, and custom data.
Collaborative inbox: Intercom provides your team with an easy, unified messaging system so they can offer more customers fast, personalized attention.
Automated workflows: With Intercom, you can automate processes such as routing, assignment, and SLAs, removing manual work from your team.
Customer journey tools: With Intercom's visual campaign builder, Series, you can send personal messages that drive action across multiple channels, including in-product messaging, email, product tours, and more.
Reporting and analytics: Generate out-of-the-box reports or customize your own to measure what matters. Get deep insights around message performance, responsiveness, customer satisfaction, and so much more.
Product Details
Intercom is a conversational platform for building better customer relationships through messenger-based experiences.
Live chat and follow-up messaging
No-code chatbots
250+ app integrations
Custom integrations via APIs
Customer Data Platform (CDP)
Collaborative inbox
Automated workflows
In-product messaging and email
Reporting and analytics
24/7 online support
Support
Instructions
Need help getting started with Intercom? Looking to build a custom integration with your product or website? Contact us and speak with one of our experts.