Power your digital marketing and sales with Hubspot, the leading inbound marketing and CRM platform! Connect and convert your customers with dynamic email, analytics, data insights, and more.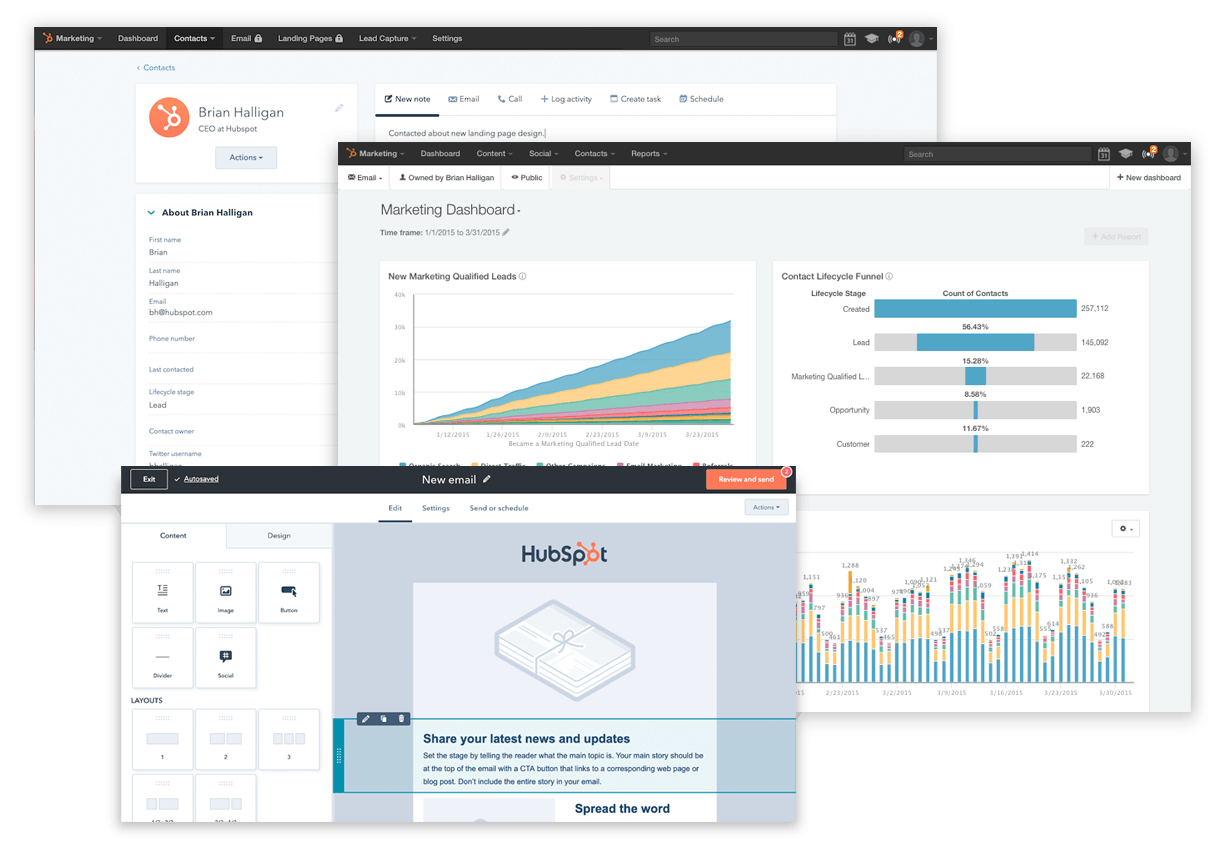 Product Features
Hubspot is the world's leading inbound marketing platform! With HubSpot's suite of advanced, web-based tools and features, you can power your brand across channels, convert more customers, and enhance loyalty like never before. From analytics to lead generation to email marketing, Hubspot brings every step of the customer journey into one data-rich CRM platform.
Build a complete, end-to-end content strategy with HubSpot's dynamic inbound features, including SEO-powered blogs and social media connectors. You can even serve up targeted, relevant content based on past user behaviors and trends. With Hubspot, you can also monitor real-time insights around site traffic and page views, helping your sales team identify qualified, engaged leads.
All-in-one inbound marketing platform: Hubspot powers your content to the next level with personas, templates, and other resources to juice your brand, target the right audience segments, and drive lead conversions. It's all here in one place, making it one of the most powerful marketing platforms on the planet.
Control your content: Fresh content drives more inbound traffic. With Hubspot, you can create and publish blog posts and schedule them in advance, making the entire process more efficient. Integrate with website CMS forms and capture leads as part of your engagement programs.
Energize your social media channels: HubSpot offers a built-in social media calendar and scheduling system with excellent visibility – simplifying your social media management.
Boost your lead tracking and conversions: With Hubspot, you'll have everything you need to optimize, nurture, track, and convert your leads. Get a comprehensive view of how visitors arrive at your site, what types of search engines they use, what pages they visit, when they bounce, and more.
Make SEO a snap: HubSpot's SEO tools help you track keywords and improve your site's ranking, as well as generate content that's optimized for search.
Power sales with CRM: Hubspot's CRM brings powerful integration with your social media accounts and your website, making it possible to track what visitors are doing. Cross-reference your insights with social media profiles and simplify communication between you and your contacts.
Leverage rich analytics: With Hubspot, you'll have access to rich data and clear visualization, allowing you to make actionable decisions about your marketing efforts, improve performance, and enhance your ROI.
Product Details
Hubspot is the leading all-in-one inbound marketing and CRM platform:
Create and publish more content to drive targeted leads
Integrate social media using advanced tools and schedulers
Boost leas tracking and conversions
Improve your SEO rankings with search-optimized content
Get closer to your customers with powerful CRM capabilities
Track, improve, and measure ROI with rich analytics
Support
Instructions
Please contact us for help with getting your Hubspot account set up, connected, and running optimally.