Understand the behavior of your website users with Hotjar! Go beyond the numbers and use heatmaps, session recordings, and feedback tools to improve conversions and performance.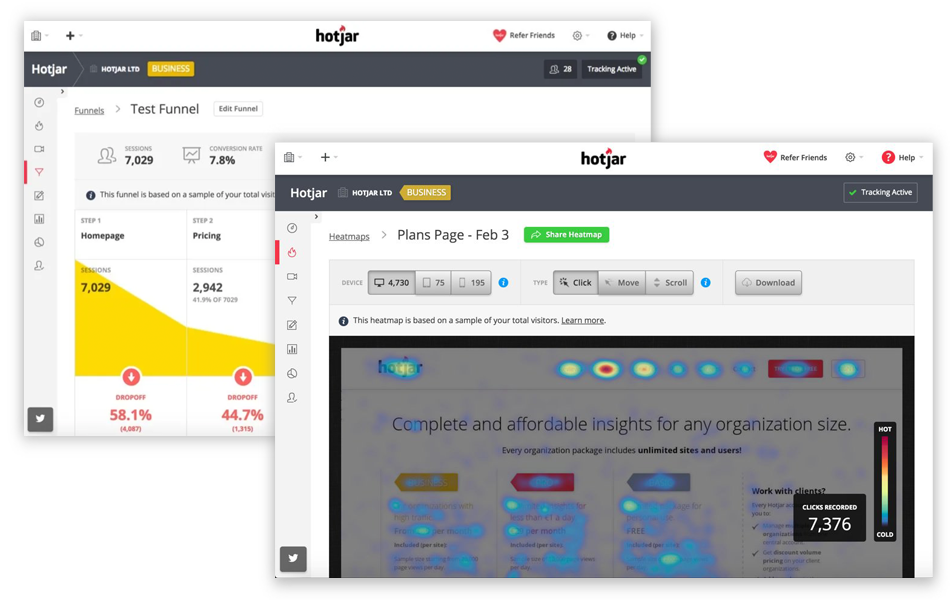 Product Features
Numbers alone can't tell you what users really do on your website. Hotjar will. Traditional web analytics tools can help you analyze traffic data. But how are your customers really engaging with your website?
Hotjar brings you closer to your customer than ever. Understand user behavior by analyzing heatmaps and recording sessions. Capture incoming feedback and conduct spot surveys to gauge sentiment. Access data-driven conversion research that impacts CRO – and get it all with one platform that's focused data privacy.
Trusted by over 900,000 organizations across 180 countries, Hotjar is built for marketers, product managers, and UX designers at every level. Features include:
Easy to install and use: Hotjar is cloud-based and simple to setup. In minutes, you can install the Hotjar script and get started.
Heatmaps: Using Hotjar's innovative technology, you can track where users click, move, and scroll on your site. With this context, you'll discover what really attracts attention, where it drops, and how behavior changes after A/B tests. You can also compare engagement across different devices.
Screen recordings: With Hotjar, you can playback live sessions of users on your site, so you can spot problems, pain points, bugs, and more. Armed with this knowledge, you can uncover why users don't convert.
Surveys: Bring the voice of your customer into clarity by using targeted surveys to validate your ideas. Collect feedback as users experience your site. Find out what they discovered, what's holding them back, and why they love your product.
Incoming feedback: Like a real-time suggestion box on your website, Hotjar lets users express their frustration or delight around every aspect of your site – from pages to forms to images. Understand what makes them unhappy and how to improve their experience.
Data privacy: From GDPR to CCPA, Hotjar is designed to help organizations capture vital user data while meeting the fierce requirements of data security and privacy.
Unlimited team members: Add as many users from your team at no additional cost.
Multilingual: Hotjar's feedback tools come in over 40 languages.
Powerful integrations: Share insights over Slack or run tests using Optimizely using one of Hotjar's array of integrations.
Customer support: Get answers to questions within two working days.
Product Details
Hotjar is a powerful tool that reveals the voice and behavior of your website users, helping you improve conversion rates, optimize performance, and elevate your user experience.
Heatmaps for tracking user behavior
Screen recordings for capturing live sessions
Targeted surveys
Incoming feedback tools
Data privacy (GDPR/CCPA)
Unlimited team members
Multilingual tools (available in over 40 languages)
Library of integrations (Slack, Optimizely)
Online customer support
Support
Instructions
Need help installing Hotjar on your website or adding a custom integration? Contact us and we'll get you set up and running optimally.