Fast, dynamic translation tailored to your content needs - using Google's pre-trained or custom machine learning models.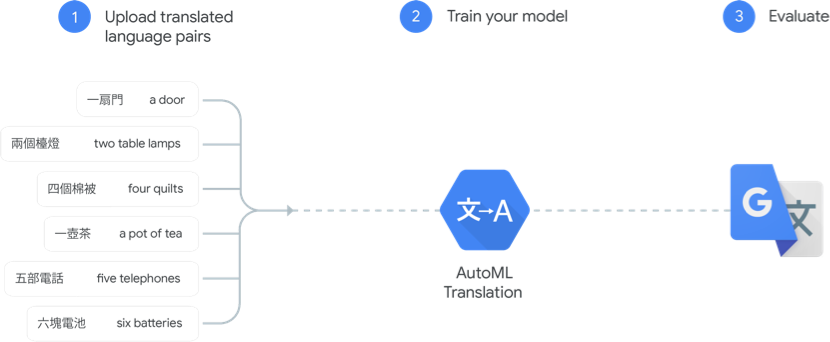 Product Features
Make your content and apps multilingual with fast, dynamic machine translation from Google! With Google Cloud Translation, you can reach more customers and expand to global markets by internationalizing your products and services.
With Google Cloud Translation, you can also engage with your audiences by offering more compelling localization of your content and delivering seamless user experiences with automatic, real-time translations.
Translate multiple languages: Google's translation API provides a pre-trained model that supports more than 100 languages, from Afrikaans to Zulu.
AutoML Translation: Build custom models in more than 50 language pairs.
Language detection: When you don't know your source text language, Google Coud Translation will automatically identify languages with a high degree of accuracy.
Glossary support: The Translation API glossary can help you maintain your brand in translated content. Simply define the vocabulary you want prioritized, then save the glossary file to your translation project, and those words and phrases will be included in your copy.
Highly scalable: Google Coud Translation scales seamlessly, with a generous daily quota. You can also use batch translation with Google Cloud Storage to reduce the workflow complexity of translating long or multiple text files.
Easy integration: With Translation API and Media Translation API, you get an easy-to-use Google REST API – so you don't have to extract text from your document. Just send the HTML and you'll get back translated text.
Simple, affordable pricing. Translation charges on a per-character basis, even if the character is multiple bytes. AutoML Translation charges for training, per-character prediction usage, and storage. Bottom line: you only pay for what you use.
Product Details
Google Cloud Translation enables organizations to dynamically translate between languages using Google's pre-trained or custom machine learning models.
Translate to more than 100 languages
Auto ML Translation in more than 50 language pairs
Automatic language detection
Glossary support
Highly scalable with a generous daily quota
Easy integration with REST API
Simply, affordable pricing
Support
Google provides online documentation and resources for Cloud Translation. For more information and help, click here.
Instructions
Want help with deploying Google Cloud Translation with your website or app? Contact us and speak to one of our cloud architects about your project requirements.