With Customer.io, you can craft and send data-driven emails, push notifications, and SMS messages with flexible data integrations, powerful segmentation, and automation workflows.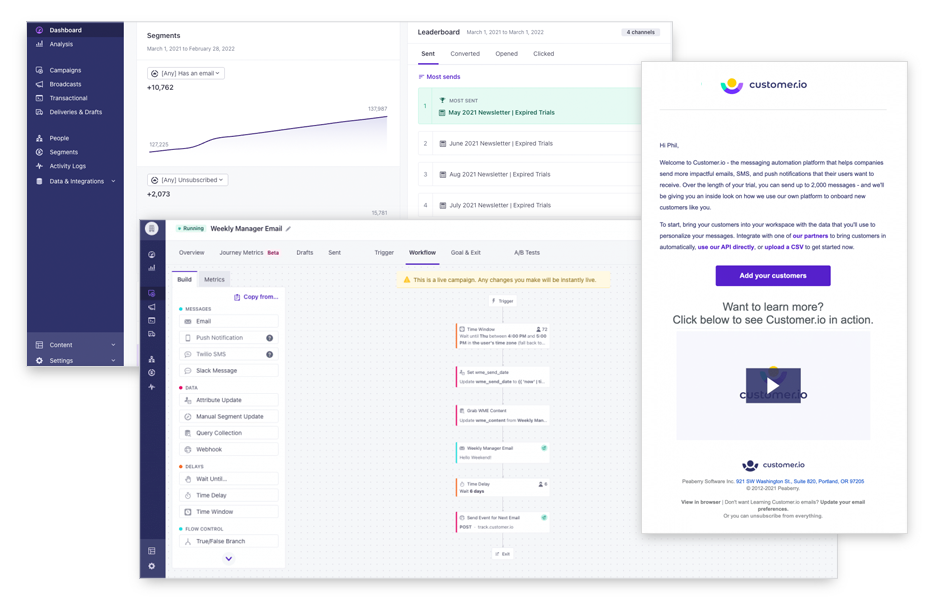 Product Features
Build your dream messaging workflows with Customer.io, the automated messaging platform that goes beyond email to deliver data-driven personalization. Customer.io is perfect for tech-savvy marketers who want more control and flexibility to craft and send personalized, data-driven emails, push notifications, and SMS messages at scale.
Flexible data integrations: Customer.io provides multiple ways to get real-time business data to power all your messaging. Use the RESTful API or upload CSVs to manage your contacts. If you're using Segment, mParticle, or RudderStack, you can connect with a library of third-party integrations in seconds.
Segmentation:

Customer.io's segmentation engine is built for speed and flexibility. Segments are calculated in real-time and performance scales with your business. With no limits on segmentation, you can be incredibly specific with whom you target, leveraging personal attributes, page views, and more.

Ad Audiences:

Start saving time and money by syncing your Customer.io segments to your ad network of choice. Retargeting the right users and showing the best ads to your most valued customers is seamless with Customer.io.

Rules-based visual workflow builder:

Spend more time on strategy and less on building with Customer.io's workflow builder. The easy drag-and-drop features give you the control and power you need to define your optimal user experience.

Customizable Email Templates: Start with a ready-to-go, mobile responsive template – or go from concept to code. With Customer.io, you can create beautiful emails that delight and convert across multiple campaigns and channels.
Transactional API:

Consistent branding is essential across all your messages, not just marketing emails. With Customer.io's Transactional API, you have the flexibility to apply your existing layouts and styles in your transactional messages.

Mobile-Ready:

Effortlessly weave push notifications into your messaging strategy with your emails and text messages. Combine behavior-driven segmentation with eye-catching content to create notifications your customers want to receive.

Personalization: Use Customer.io's Collections to include specific information about your business and tailor it to each target. Set up A/B splits and optimize your content. Upload a CSV, Google Sheet, or use the Customer.io API.
Newsletters: Send multichannel newsletters with incredible precision, and ensure that your emails land at the top of your customer's inbox.
Real-time data and analytics: Move beyond opens and clicks to measure your campaign's success. Dive deeper into conversions and monitor active A/B tests, spot trends, export data to clean reports, and review rich analytics.
Technical Support: With a 99% CSAT score, you'll have access to best-in-class support via email when you need it.
Product Details
Customer.io is a leading messaging platform with a rich set of automated features, including:
In-app and third-party integrations
Segmentation features
Sync with retargeting and ad networks
Rules-based visual workflow builder
Customizable email templates
Transactional API
Push and SMS notifications
Personalization and A/B testing
Multi-channel newsletters
Real-time data and analytics
Technical support
Support
Instructions
Need help getting started with Customer.io? Looking for support on a custom integration with Segment or mParticle? Contact us and speak with one of our experts.