Trust your email to Constant Contact – one of the leading email marketing automation platforms. Build beautiful, mobile-responsive email campaigns with easy-to-use templates and analytics.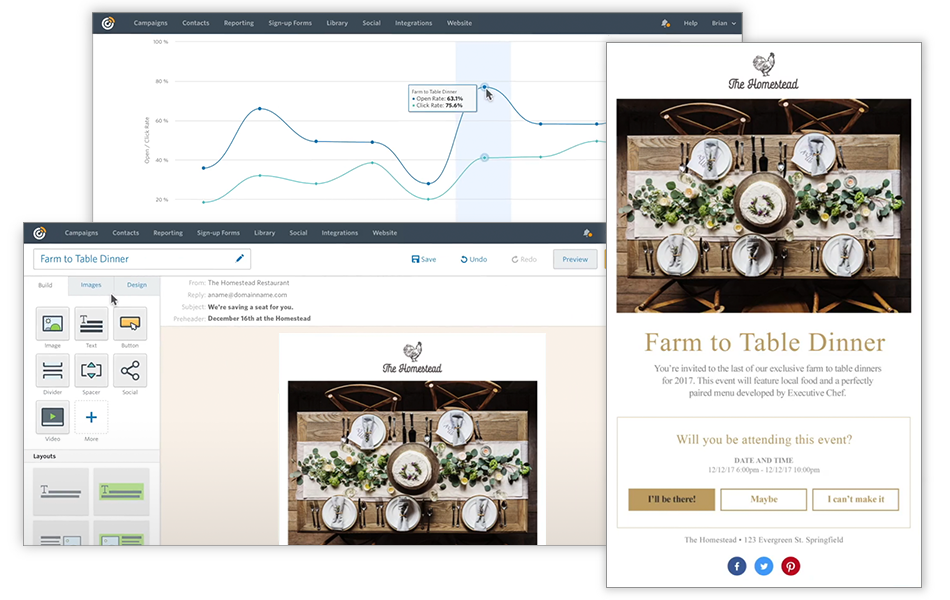 Product Features
Constant Contact is one of the most recognizable names in email marketing! With decades of trusted performance, Constant Contact's dynamic platform has often lead the way with innovative tools for personalizing the email experience with customers across industries.
In minutes, you can add the power of a complete email marketing automation platform to your website to enhance your customer communications and drive loyalty. Constant Contact's simple, easy-to-use toolset makes it easy to build an email marketing campaign from the ground up and monitor your performance with robust analytics. Whether you're a small business or an enterprise, Constant Contact can help streamline your email marketing and customer outreach.
When it comes to building a brand, your email outreach can make or break marketing efforts and your company's perception with a growing audience. Crafting emails that connect with customers takes time, but if you're a small business, you don't have that kind of time. Streamline your email marketing and customer outreach with Constant Contact's easy-to-use email templates.
Rapidly send emails to your audience. With over 100+ templates, launch your email marketing efforts quickly
Put your contacts in one location. With Constant Contact, multiple mailing lists don't have to get lost in Excel files. Consolidate your various lists at your fingertips.
Track performance accurately. Real-time reporting and robust analytics gives your team the insights they need to adjust email messaging, design, and outreach.
Support your social channels. Improve your performance across platforms like Facebook and Instagram by boosting campaign awareness and driving new leads to your content.
Product Details
From public sector to nonprofits to small businesses, every company uses email marketing for outreach and to drive audience traffic back to their brand. Constant Contact empowers users of various skill sets to create meaningful emails in just minutes.
Low-code to no-code users can design emails without HTML or CSS.
Connect to other digital tools like Facebook, Salesforce, and Quickbooks.
Marketers short on time can save their favorite templates and designs to speed up outreach.
Support
Instructions
Need help with Constant Contact? Contact us and speak with one of our experts about your email marketing goals.