Accept payments online and on-the-go with Authorize.net! Process credit cards and other payment options like Apple Pay and Visa Checkout with advanced fraud protection and security.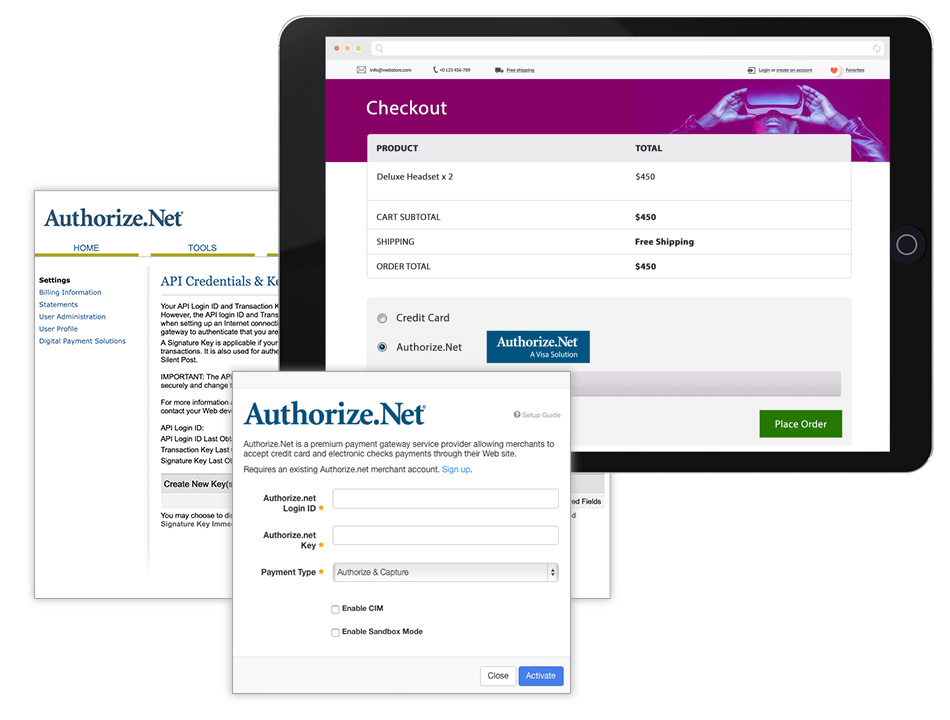 Product Features
Authorize.Net makes it easier to get paid. It's that simple. Payment processing can be a big part of your business, but it doesn't have to be a big part of your time. Authorize.net makes selling online easier than ever, whether it's through your website or mobile app – so you can focus on growing your business.
With more than 430,000 merchants, 1 billion transactions, and $149 billion in payments each year, Authorize.Net is a leading payment gateway. And because it's a wholly-owned subsidiary of Visa, you know that security and trust are always top of mind. Features include:
Accept online payments from credit and debit cards: With Authorize.Net, you can accept the world's leading forms of pay card transactions across the major credit card processors.
Digital payment platforms: Now you can accept an emerging wallet of payment options, including Apple Pay, PayPal, and Visa Click to Pay.
International transactions: Accept international transactions from customers worldwide if your business is based in the United States, Canada, the United Kingdom, Europe, or Australia. For additional locations, visit Cybersource.
Customer Information Manager: Make future orders easier by letting customers save their billing, payment, and shipping information. Profiles can include multiple payment methods and shipping locations for added ease of use.
Integrate your website or mobile app: Add Authorize.net's payment processing via API, or include a "Buy Now" or "Donate" button for simple checkout.
PCI/DSS Compliance: Authozie.net's Customer Information Manager (CIM) stores sensitive payment information on our secure servers, simplifying compliance with payment card industry standards (PCI/DSS).
Advanced fraud detection and secure customer data storage: Minimize risk to your business and help protect your customer data with Authorize.net's industry-leading fraud detection and data security.
Manage card data and recurring payments: Let Authorize.net do the work to update card data profiles and manage subscriptions with their Automated Recurring Billing™ (ARB) to help ensure your customer's payment experience is seamless.
Advanced API capabilities: With Authorize.Net, developers can access a flexible and secure API for building a custom, integrated solution in minutes.
Product Details
Authorize.Net is a leading payment processing and management services provider that enables online businesses to accept credit cards and other forms of payment.
Accept online payments from credit and debit cards
Digital payment platforms like Apple Pay, PayPal, and Visa Checkout
Simple checkout capabilities
PCI/DSS compliance
Advanced fraud detection and data security
Recurring payments tools
Invoicing tools
Support
To connect directly with live help or access online resources and documentation, visit the Authorize.Net support center at www.authorize.net/support
Instructions
Need assistance getting Authorize.Net implemented with your digital commerce strategy? Contact us and one of your e-Commerce solution experts can help.