Amazon Rekognition makes it easy to add image and video analysis to your applications using proven, highly scalable, deep learning technology that requires no machine learning expertise to use.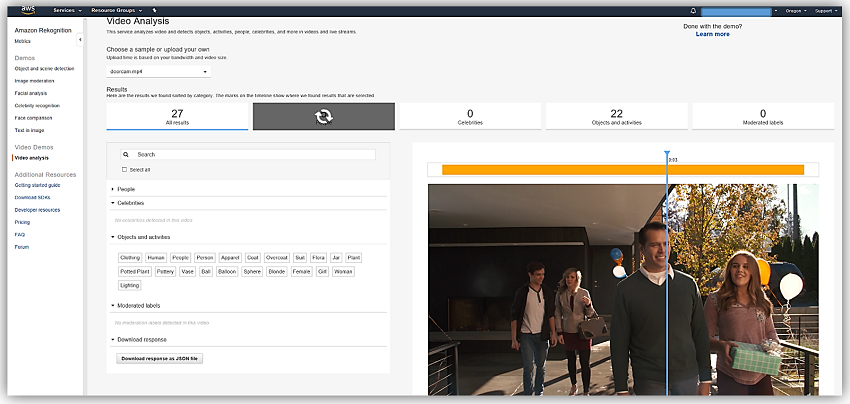 Product Features
Recognize image and video content using Amazon Rekognition! Now you can easily add image and video analysis to your applications using proven, highly scalable, deep learning technology that requires no machine learning expertise to use.
With Amazon Rekognition, you can identify objects, people, text, scenes, and activities in images and videos – and even detect inappropriate content. Amazon Rekognition also provides highly accurate facial analysis and facial search capabilities that you can use to detect, analyze, and compare faces for a wide variety of user verification, people counting, and public safety use cases.
Easy to use: Amazon Rekognition takes care of the heavy lifting of model development, so no machine learning experience is required. You simply need to supply images of objects or scenes you want to identify, and the service handles the rest.
Labels: Identify thousands of objects (such as bikes, telephones, and buildings), and scenes (such as a parking lot, beach, or city). When analyzing video, you can also identify specific activities such as "delivering a package" or "playing soccer".
Custom Labels: With Amazon Rekognition Custom Labels, you can identify the objects and scenes in images that are specific to your business needs. For example, you can build a model to classify specific machine parts on an assembly line or detect unhealthy plants.
Content Moderation: Identify potentially unsafe or inappropriate content across both image and video assets and provides you with detailed labels that allow you to accurately control what you want to allow based on your needs.
Text Detection: Read skewed and distorted text to capture information like store names, forced narratives overlaid on media, street signs, and text on product packaging.
Face Detection: Easily detect when faces appear in images and videos and get attributes such as gender, age range, eyes open, glasses, and facial hair for each. In videos, you can also measure how these face attributes change over time, such as constructing a timeline of the emotions expressed by an actor.
Face Search and Verification: Identify a person in a photo or video using your private repository of face images. You can also verify identity by analyzing a face image against images you have stored for comparison.
Celebrity Recognition: Quickly identify well-known people in your video and image libraries to catalog footage and photos for marketing, advertising, and media industry use cases.
Pathing: Capture the path of people in the scene when using Amazon Rekognition with video files. For example, use the movement of athletes during a game to identify plays for post-game analysis.
Product Details
Amazon Rekognition is a fully-managed service that provides deep learning technology and machine learning to automatically identify images, videos, and other objects.
Easy to use and get started
No machine learning expertise required
Identify thousands of objects
Instantly analyze photos and video
Add custom labels for specific business needs
Moderate inappropriate content
Read skewed or distorted text
Detection, search, and verify faces
Recognize celebrities for marketing
Analyze movement with pathing
Support
Instructions
Looking to deploy Amazon Rekognition? Want to create a custom solution for a specific use case? Contact us and speak to one of our AWS architects about your goals and how we can help.