Build amazing decentralized apps with Alchemy, the leading developer platform for Web3, blockchain, NFTs, and crypto! Get a robust set of dev tools and use Alchemy's API to connect with Ethereum.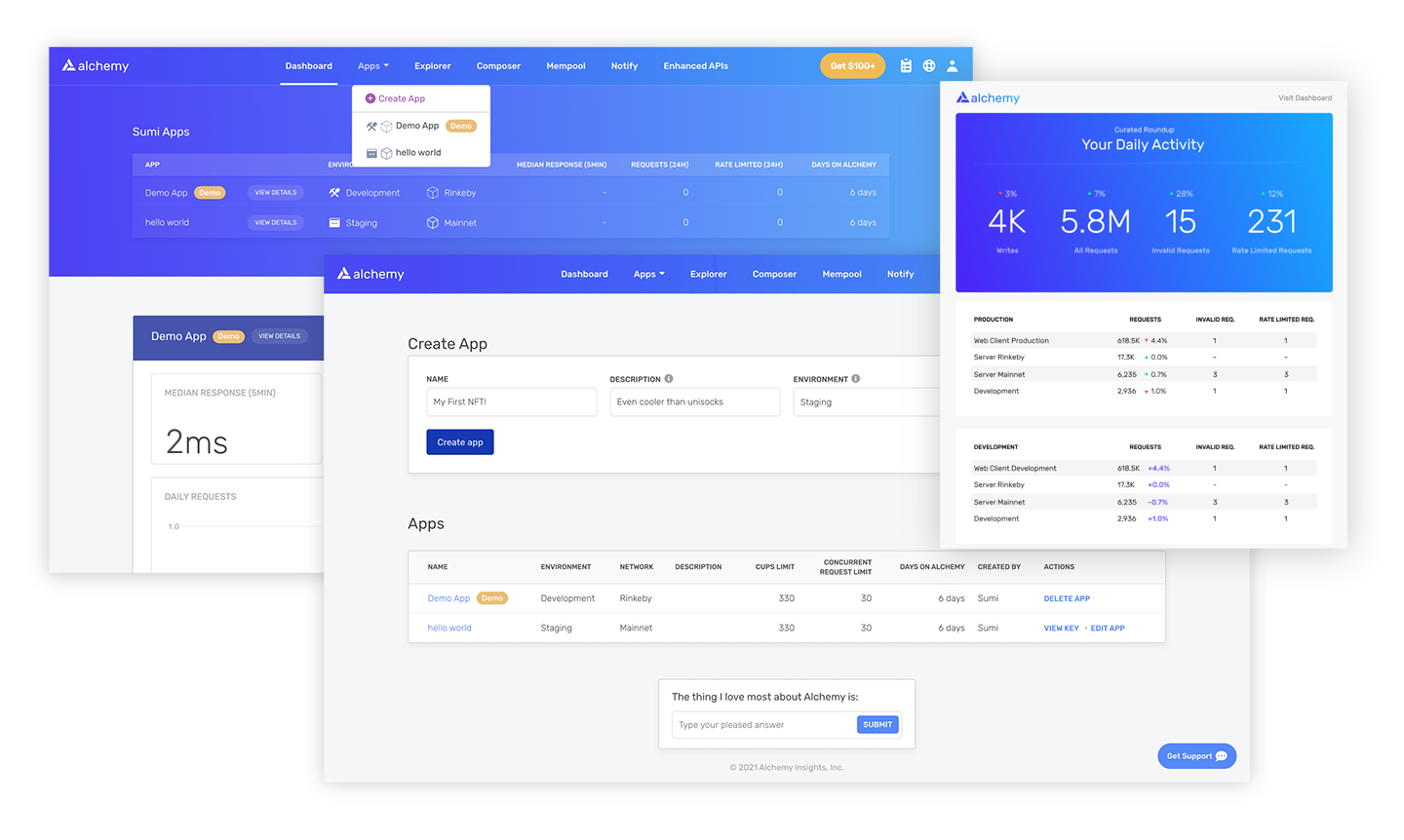 Product Features
Alchemy is building the decentralized superhighway! Build your next amazing Web3, NFT, or crypto project on Alchemy – the world's most powerful blockchain developer platform. Alchemy combines rich blockchain dev tools with helpful resources, a deep community, and solid support that makes building Web3 apps easier and faster.
From Adobe to Meta to OpenSea, leading companies around the globe rely on Alchemy to power their products and deliver on-chain transactions. This includes paying royalties to NFT artists and supporting millions of end users leveraging Web3.
Supercharged blockchain API: Alchemy Supernode is the most widely used blockchain API for Ethereum, Polygon, Arbitrum, Optimism, Flow and Crypto.org. Get all the functionality of a node, including JSON-RPC support, but with the supercharged reliability, data correctness and scalability needed to run world-class applications on the blockchain.
A powerful suite of developer tools: Alchemy Build is a no-configuration, in-house suite of developer tools to prototype, debug, and ship products faster. Instantly search through millions of historical requests, view real-time transactions in the mempool, make JSON-RPC calls directly from the dashboard, and quickly scan recent requests and errors.
All-in-one dashboard: Alchemy Monitor is a comprehensive suite of dashboards and alerts for app health, performance, and user behavior. Instantly check on the health of all your apps in one place, gain user insights without compromising privacy, and get automated alerts whenever your app needs your attention.
Web3 push notifications: Alchemy Notify allows developers to send real-time push notifications to users for mined, delayed and dropped transactions, earned interest, burned tokens, and other critical events along the journey. Includes powerful webhooks and 1-click integration.
Deep resources: Alchemy's knowledge center provides full documentation, a rich blog, and numerous case studies to help with your Web3 project development.
Multiple plans for every need: Alchemy offers a "Free Forever" tier for any developer, as well as "Growth" for advanced features and scalability, and "Enterprise" for volume pricing, support, and SLAs.
Product Details
Alchemy is the leading developer platform for Web3, blockchain, and crypto projects.
Alchemy Supernode API for connecting with blockchains
All-in-one Alchemy Monitor dashboard to gauge app health
Web3 push notifications with Alchemy Notify
Full developer documentation
Blog and case study resources
Free developer tier and advanced Growth plan
Enterprise plan with volume pricing, support, and SLAs
Support
Instructions
Looking to build a custom Web3, blockchain, or crypto app with Alchemy? We can help! Let our team of blockchain engineers support your project from end to end with dedicated service and support.