Rank higher and drive more traffic! Ahrefs is a powerful, all-in-one SEO toolset for supercharging your search performance – with free resources, a passionate community, and stellar support.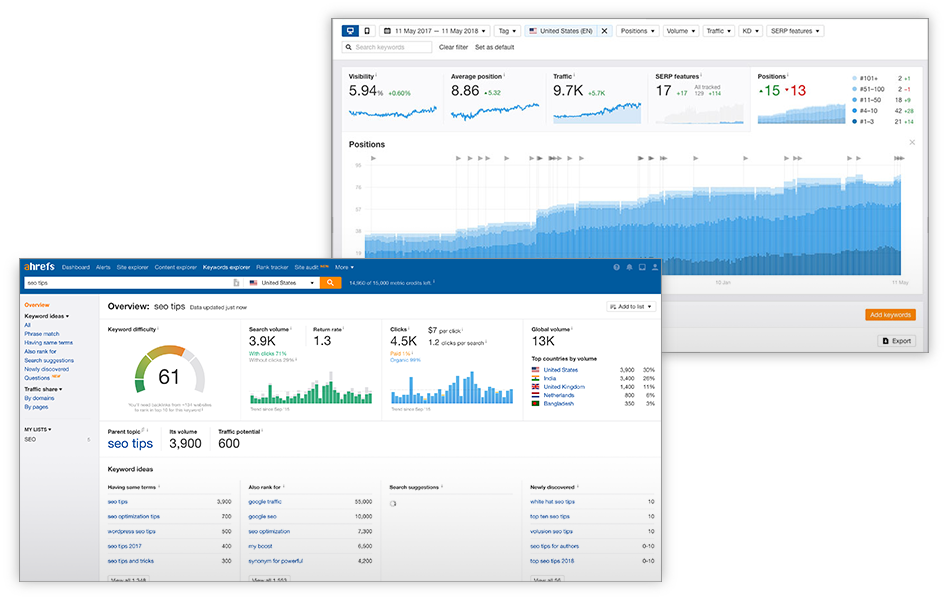 Product Features
Whether you're new to the digital marketing world or a seasoned pro, Ahrefs is one of the leading platforms for mastering SEO. Easy to learn and use, Ahrefs helps you audit and optimize your website to improve your overall search performance.
An all-in-one toolset, Ahrefs delivers a complete suite of capabilities to help analyze your competitors, research the keywords your customers are searching for, and track your ranking.
Get an exhaustive website analysis: With Ahrefs, you can crawl the pages on your website and generate an overall SEO health score. Ahrefs will flag any issues along the way and provide recommended fixes to improve your rankings. Ahrefs also features beautiful, easy-to-understand charts to help you grasp the numbers.
Crawl mobile websites: Leverage Google's mobile-first indexing and crawl the mobile version of your website with a pre-configured mobile user agent.
Study your competitors: Use Site Explorer to get an in-depth look at the organic traffic and backlink profile of any website or domain.
Go deep with your data: If you're a skilled search professional who wants to go deeper than pre-defined issues, the powerful Data Explorer puts you in full control of over a hundred different data points on each of your pages. You can also create custom filters based on numerous parameters or add custom issues.
Learn what your customers are searching for: Use the Keywords Explorer to unlock what keywords your customers are looking for – and your competitors are ranking for! Ahrefs monitors over 150 million keywords in the US alone to paint an accurate picture of any website's organic search traffic. You can also enter up to 10,000 keywords in one go and see accurate, up-to-date search volumes.
Analyze top-performing content: Use Content Explorer to discover and analyze the leading content in your niche or market.
Product Details
Site Audit: Optimize your website
Site Explorer: Analyze your competitors
Keywords Explorer: Study what your customers are searching for
Content Explorer: Learn from your industry's top performing content
Rank Tracker: Track your ranking progress
Support
Support is handled directly through the Ahrefs Global Help Center with free online documentation at help.ahrefs.com.
Instructions
Please contact us to help get your Ahrefs account set up and running optimally.