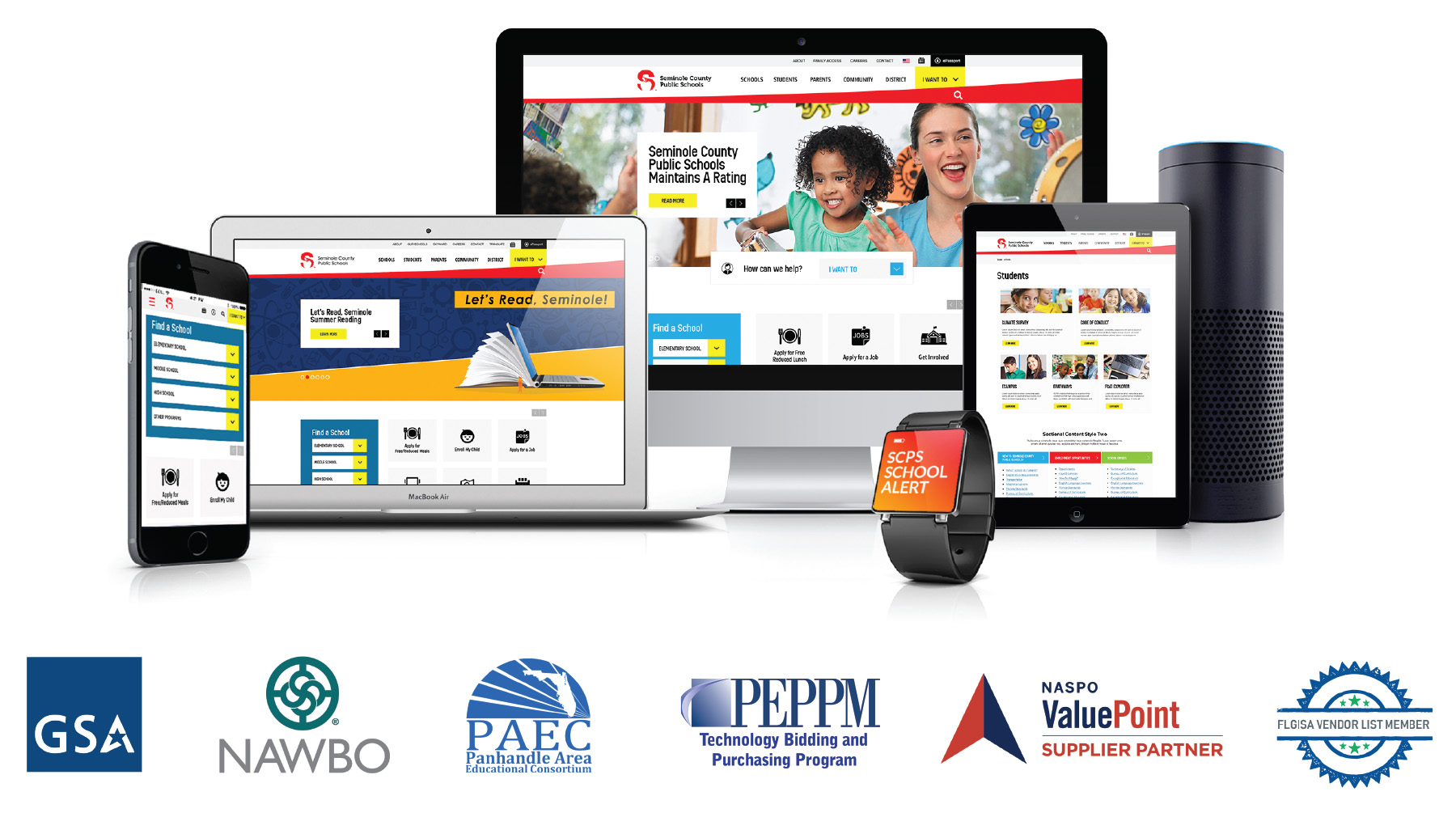 Solodev CMS: The Platform for Public Sector
Solodev is proud to serve a wide range of public sector customers, including federal, state, and local governments, public education systems, and other municipal agencies. We have deep, proven experience in building, launching and managing complex and highly federated websites and digital experiences that provide the security, scalability, and control public sector organizations require.
As an Amazon Web Services (AWS) Advanced Technology Partner, Solodev is focused on helping our public sector customers realize the benefits of the cloud and migrate their existing web and digital workloads with confidence. We are also one of the few software vendors in the AWS Public Sector to earn multiple AWS competencies in both Government and Education. These competencies demonstrate our proven cloud expertise and deep knowledge of the regulatory landscape as it affects websites – including HIPPA, ADA accessibility, and data privacy.
Serving the Digital Citizen & Community Experiences
As our flagship product, Solodev CMS (Digital Customer Experience) is a leading content management and customer experience platform that lets public sector teams work together on their digital transformation. With Solodev CMS, federal, state, and local governments – as well as school systems and agencies – can create feature-rich websites, mobile backends, portals, and applications that support their mission. Solodev also provides best-in-class training and 24/7 support, all delivered with the world-class security and scalability of AWS.
Solodev CMS enables public sector teams to collaborate in new ways, enabling communications managers and non-technical professionals to control and distribute content across channels without touching code, all while maintaining strict governance. For developers, Solodev CMS offers deep access to HTML, PHP, Mongo, and more – allowing teams to review and commit code, deploy cloud services in a variety of options, and customize applications as needed.
Our Services
To complement our enterprise content management and customer experience platform, we offer turn-key professional services that include web design and development, custom deployment of Solodev CMS, and other digital transformation projects. We also work with our public sector and enterprise customers to help ensure that their agency websites and digital experience meet specific regulatory requirements. Some of our services include:
ADA remediation
Custom software development
UI/UX, creative & design services
eCommerce solutions
Cloud migration and consulting
Third-party application integration
Security and infrastructure management
Quality assurance management
Past Performance
With vast experience delivering solutions to local, state, and federal government organizations, Solodev is the right choice for your mission. Here are just a few of the organizations we have worked with:
Resources
If you're curious how Solodev could benefit your agency website, explore how Solodev addressed the unique challenges of Seminole County, FL and the Florida Department of Education. If you're looking for more information on why and how to improve your current web experience, download our white papers where we explore local government websites and public transit websites.
Company Details and Contract Vehicles
Federal: Woman-Owned Small Business
GSA Schedule: Contract #GS-35F-475DA
PEPPM 2019 Product Line Bid: Pennsylvania Contract #528897-247 California Contract #528899?153
CAGE CODE: 6BXLO
SINS: 132 32 – Term Software License, 132 51 – IT Professional Services
DUNS: 79-8817552
Florida State Contract: Information Technology, Staff Aug Services – Contract #80101507-SA-01
NASPO ValuePoint Cloud MSA: Contract #AR2505 – Quest Media & Supplies, Inc.
Florida Buy / Panhandle Area Educational Consortium: Contract #18-077
To learn more, download our Solodev Public Sector Capability Statement