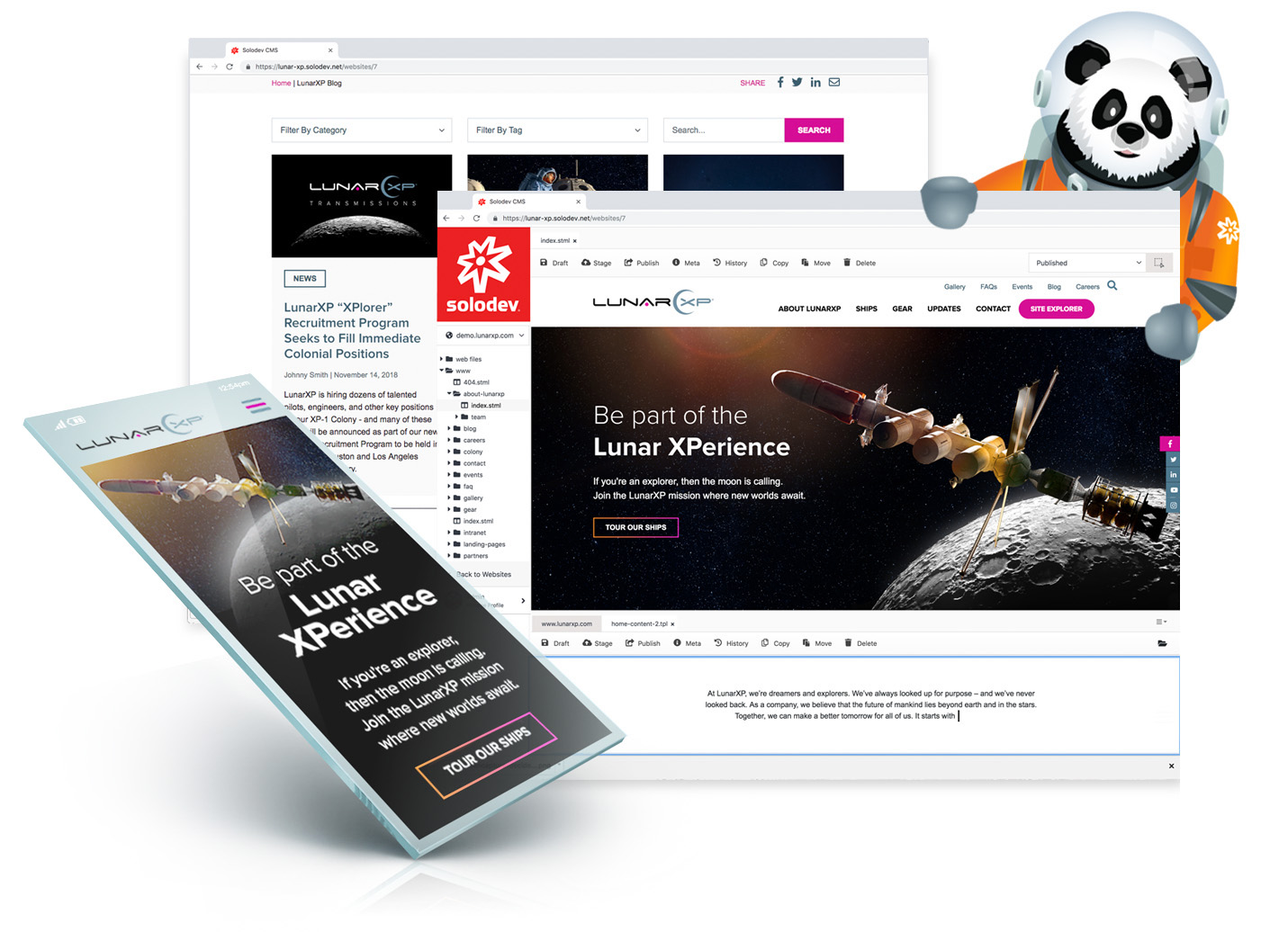 Deploy Solodev CMS in minutes from the AWS Marketplace
Solodev CMS is a content management and customer experience platform that lets your team collaborate on digital transformation. Create feature-rich websites, portals, and apps. Review code and publish content across channels and devices. Access training and 24/7 support. And it's all delivered with the world-class security and scalability of AWS.
From a single server to a high availability cluster, choose the Solodev CMS deployment that fits your needs. In minutes, you can provision Solodev CMS in a variety of editions, all from the convenient self-service of the AWS Marketplace. Need help choosing? Contact our enterprise support team.
Solodev CMS Enterprise Edition for Docker
Starting at $1.25/hour per container
"Dock" with the space-age power and performance of Docker containers and Amazon ECS! Build and deploy websites and applications at light speed with high availability and enterprise features. Includes:
Amazon Elastic Container Service (ECS)
Amazon Relational Database Service (RDS)
Amazon Elastic Load Balancing
Amazon Elastic File System (EFS)
And More
Subscribe now
Solodev CMS Enterprise Edition -

Free Trial
Starting at $1.83/hour
Climb aboard the Solodev Enterprise and warp speed ahead with a highly available, fully redundant architecture managed by AWS OpsWorks. Includes:
AWS OpsWorks
Amazon Elastic File System (EFS)
Amazon Relational Database Service (RDS)
Amazon Elastic Load Balancing
And More
Subscribe now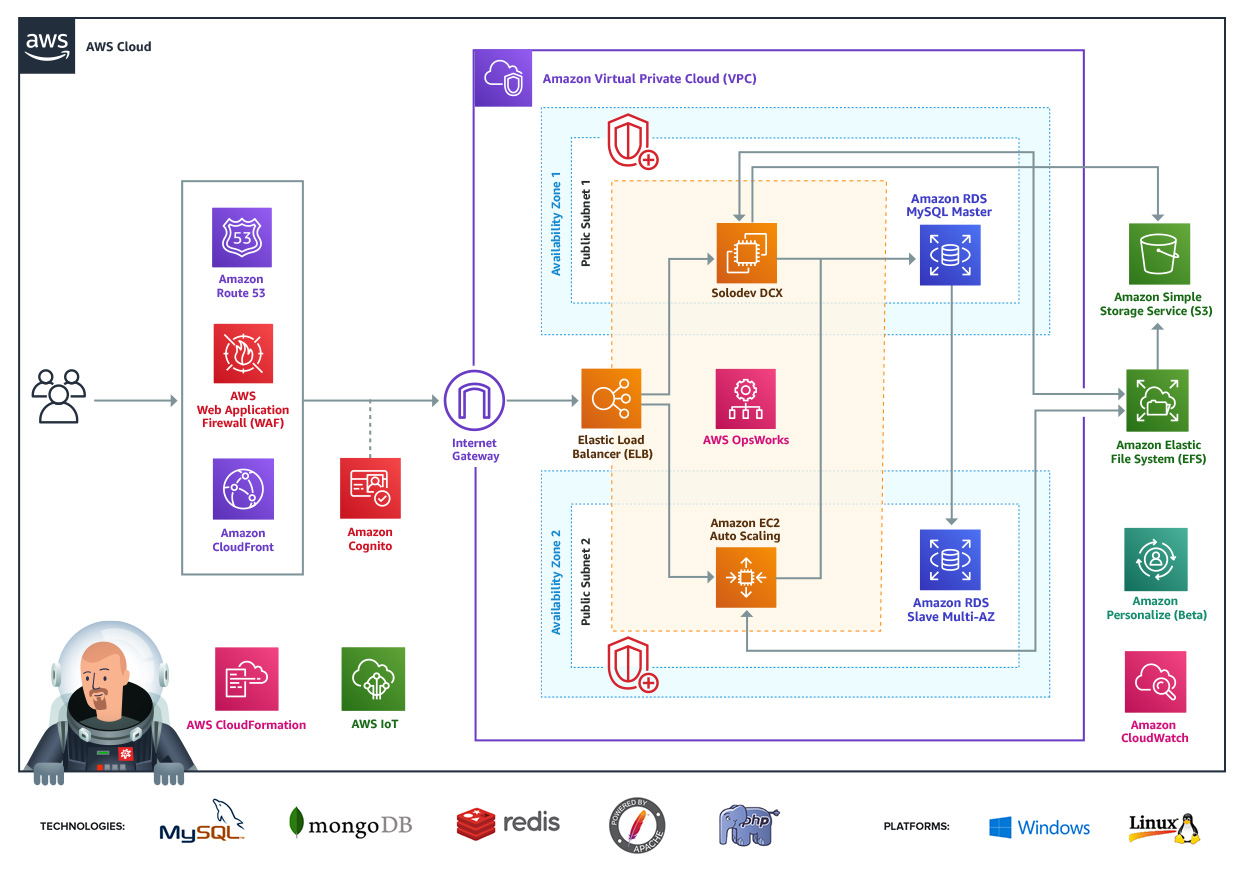 Solodev CMS Professional Edition -

Free Trial
Starting at $1.59/hour
Take command of your digital universe with the power of Solodev CMS, PHP, Apache, and Mongo on a single web server with an external RDS MySQL database. Includes:
Amazon Relational Database Service (RDS)
Amazon Virtual Private Cloud (VPC)
Amazon Elastic Compute Cloud (EC2)
Amazon Simple Storage Service (S3)
And More
Subscribe now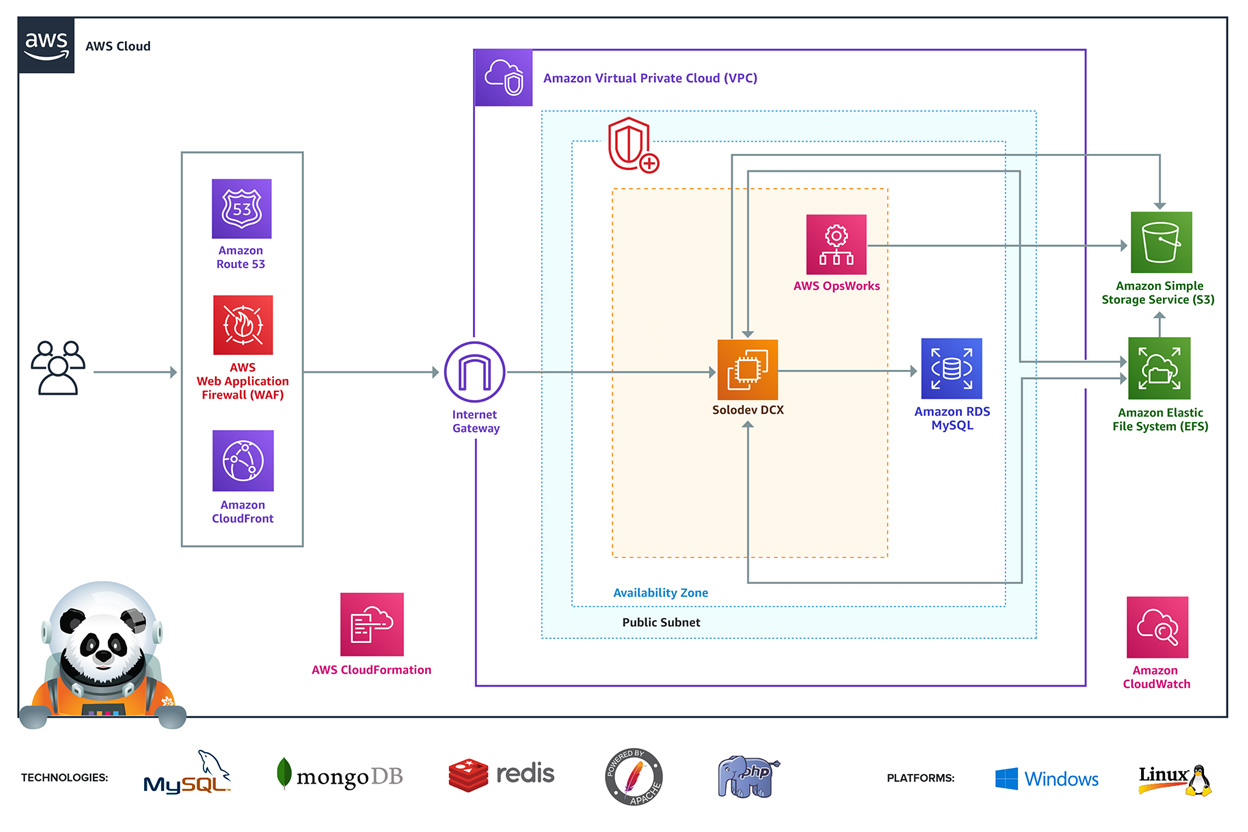 Solodev CMS Lite Edition -

Free Trial
Starting at $1.61/hour
The perfect launchpad for small dev projects! Get optimal control in a streamlined package with Solodev CMS, PHP, Apache, MySQL, and Mongo all on a single web server. Includes:
Amazon Virtual Private Cloud (VPC)
Amazon Elastic Compute Cloud (EC2)
Amazon Simple Storage Service (S3)
Amazon CloudWatch
And More
Subscribe now