Challenge
Everyday, OneBlood is saving lives. As the nation's third-largest blood bank, the not-for-profit organization provides donated blood to more than 200 hospital partners across multiple states. By the end of the decade, OneBlood's goal is to deliver world-class transfusions with the latest technology and research – propelling it to one of the top five systems in the world. To achieve this growth while enhancing the donor experience, OneBlood needed a beautifully branded, dynamic website that empowered users with quick, reliable access to information during critical decision-making moments. The organization also required a web-based solution for donors to easily find locations and securely access their donation results and other sensitive medical information. The website had to ensure maximum uptime and high availability, especially during emergencies or unexpected traffic spikes.
Solution
To meet these challenges, OneBlood engaged Solodev to create an enterprise-class web experience to meet its objectives. The website needed a modern design that reflected their brand voice – but also delivered a scalable, secure, and reliable infrastructure that provided greater control around capacity while ensuring critical features such as redundancy and disaster recovery. In addition to having a clear, intuitive UI, the new website needed to be mobile responsive and ADA compliant to serve every donor, and incorporate SEO best practices across every page.
The Solodev Web Experience Platform, hosted in the state-of-the-art Amazon Web Services (AWS) cloud infrastructure, provided an ideal foundation to manage OneBlood's growing online presence. AWS CloudFormation managed all of OneBlood's various servers, databases, user-facing websites, mobile applications and landing pages required to connect donors with their resources. By leveraging the AWS Elastic Compute Cloud (EC2), Solodev configured OneBlood's cloud infrastructure to quickly auto-scale capacity up and down as OneBlood's computing requirements changed. To ensure a secure hosting environment, Solodev leveraged AWS Global Availability Zones to increase redundancy and fault tolerance by replicating data between various geographic regions across the globe.

To help manage OneBlood's requirements, Solodev also used AWS OpsWorks, a dynamic management service for configuring and operating applications, defining an application's architecture, and detailing the specifications of each component – including package installation, software configuration and other resources such as storage. Solodev used Amazon RDS to set up, operate, and scale relational databases for OneBlood in the cloud in conjunction with AWS Cloudfront – a global content delivery network. By caching data through CloudFront, the delivery speed of OneBlood's vast amount of donor data, videos, promotional material, locations and other multimedia content reached new levels of performance.
Solodev also worked closely with Haemonetics, a global provider of blood and plasma supplies and services, to successfully integrate the E-Donor API into OneBlood's existing AWS infrastructure. While the functionality of the API was already extensive, Solodev and Haemonetics still added more features like additional medical information and the ability to schedule appointments at various OneBlood locations. OneBlood also required heavy video integration, and Solodev customized a multi-platform solution to enable the OneBlood team to create and distribute high-quality video content with unprecedented speed and efficiency.
To help streamline their loyalty programs, Solodev also developed an online web portal for OneBlood donors, allowing them to claim their donation rewards online – from movie tickets to gift cards and more. This simple gateway helped deliver greater choice and control for donors while eliminating waste and saving OneBlood thousands of dollars.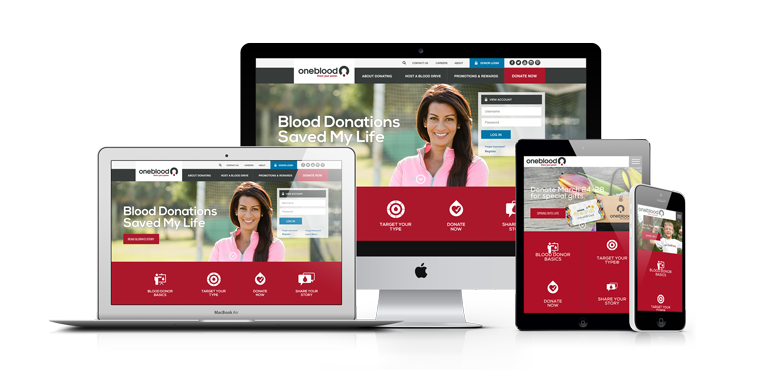 Result
The new OneBlood web experience was beautiful and easy to navigate – and made it possible to shape a donor's journey from website to blood donation and beyond. The custom E-Donor API integration gave donors easy access to their history as well as vital health information. The online reward portal made it simple and cost effective to give back. But the real test came in June 2016, when the website experienced a 2700% increase in traffic in the wake of the Pulse Nightclub shootings. Leveraging their Solodev and AWS capabilities, OneBlood auto-scaled their resources accordingly – activating additional servers in minutes to meet the demand. As a result, the website never experienced any downtime, helping to connect a community of donors to the right information and delivering more life-saving blood to hospitals.
About OneBlood
OneBlood is a not-for-profit organization that provides donated blood to more than 200 hospital partners and operates more than 80 donor centers across Florida, Georgia, Alabama and South Carolina.
About Solodev
Solodev is the Web Experience Company™ and the world's first enterprise Web Content Management System (WCMS) built for the AWS Cloud – the most secure, redundant and extensible infrastructure on the planet. With Solodev, organizations of all sizes can build amazing websites, custom applications and engaging digital strategies that transform the customer experience. Leading brands like the Florida Department of Education and OneBlood rely on the Solodev Web Experience Platform to create without compromise, and build unique digital experiences across any device with unparalleled control and 24/7/365 U.S.-based support. An AWS Advanced Technology Partner with competencies in Public Sector and Marketing & Commerce, Solodev's revolutionary SaaS solution is available for purchase in the AWS Marketplace or at solodev.com