Brightcove is video for business! With a complete suite of cutting-edge tools, from streaming to encoding, Brightcove helps big brands launch and deliver faster video experiences and scale instantly.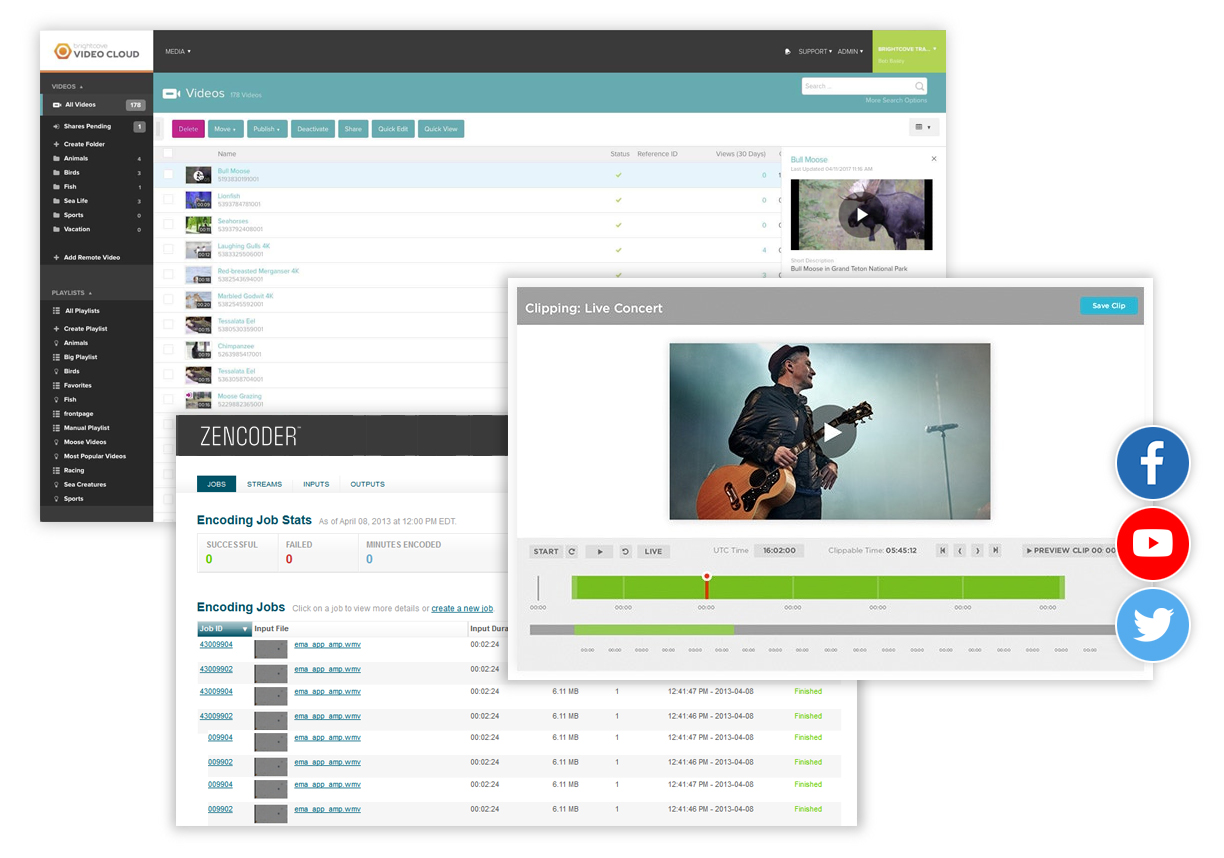 Product Features
When it comes to video for business, it's all better with Brightcove! Brightcove's video platform is powerful and flexible enough to handle whatever you throw at it. You can use it out-of-the-box, or get help with building a solution with everything you need – and nothing you don't. No matter who your audience is, from internal teams to binge-watchers to shoppers, you'll know you're delivering the best video experience anywhere.
Stay on the leading edge of video: Whether you need video hosting, interactivity, OTT services, or new ways to monetize your video content, Brightcove is leading and innovating across the video spectrum.
Recognized by leading analysts: Brightcove has been recognized as Frost & Sullivan's Global Company of the Year, and named a Leader on Gartner's Magic Quadrant for Enterprise Video Content Management.
Best-in-class partner video integrations: Brightcove works seamlessly with leading technologies, so you can use the tools you already love. Connect to systems like marketing automation platforms (MAPs), content management systems (CMS), ad serving, ad management, and audience measurement technology, so you can make the most of your investment.
Video and migration expertise: From getting up-and-running to fine-tuning your integrations, Brightcove is here to help. You'll get a dedicated account manager, customer support team, and a host of consulting services to choose from.
Grow your business and revenue: Whether you're just starting out with video or building your business around it, Brightcove's platform lets you scale as you grow – with zero growing pains.
Video Cloud: A complete video publishing platform for managing content, with tools for monetization, marketing, live streaming, encoding, analytics, and more.
Live: Deliver an unmatched viewer experience with Brightcove's industry-leading solution for live streaming at any scale, from niche trade shows to global sporting events to CEO townhalls.
Brightcove Beacon: Grow and retain global audiences with flexible layouts, monetization options, and unmatched reliability.
Player: Create totally immersive experiences with the fastest player in the industry and a management system that makes publishing a breeze.
Zencoder: Get smart, reliable, and unlimited video encoding power without having to pay for, manage, and scale expensive hardware and software.
Product Details
Brightcove empowers leading brands and businesses to harness the potential of video.
Innovative, bleeding-edge video technologies
Built to monetize your video content
Rich tools for video hosting, interactivity, OTT services, and more
Cloud and live streaming options
The industry's fastest player
Simple video publishing and distribution
Zencoder video encoding
Best-in-class partner video integrations
Deep video expertise and support
Support
Brightcove offers several multi-channel support programs with expert-level support specialists, best practices, and administrative knowledge. To access these resources, please visit the Brightcove customer support website.
Instructions
Brightcove provides full documentation for its Video Cloud, Video Essentials, and Video Add-Ons. To access their support and instructions, please visit support.brightcove.com