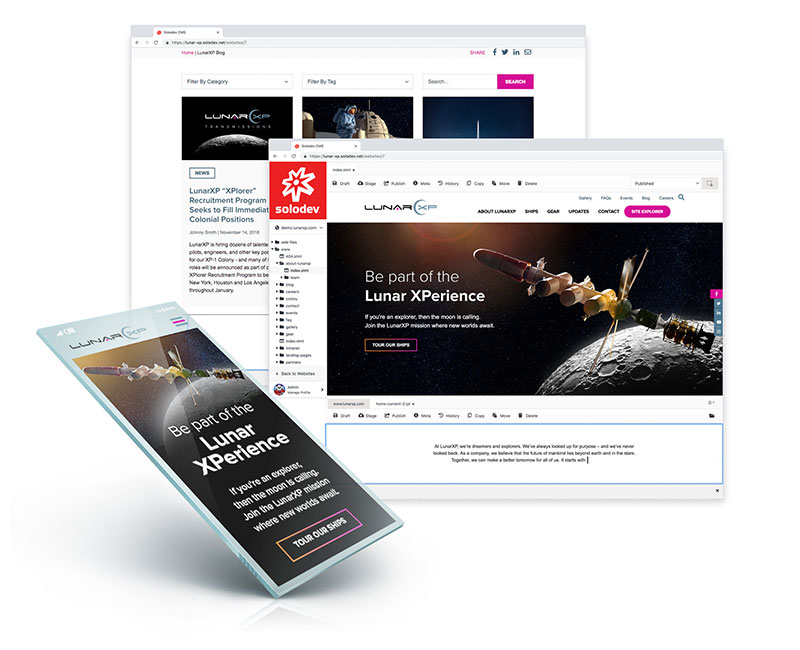 Solodev DCX: Your platform for the ultimate digital customer experience
Solodev is proud to be part of Amazon Web Services (AWS) Digital Customer Experience competency.
The AWS Digital Customer Experience Competency recognizes Solodev's proven focus on Digital Customer Experience, providing technologies and services for all phases of digital customer acquisition and retention life cycle. This includes content management and marketing automation integration to engage prospects and customers with the right experience, secure and effective commerce solutions to create seamless buying experiences, and data analytics to support decisions and retain customers. Solodev also helps users to build and manage highly-compliant solutions that address data privacy, ADA accessibility and more.
Solutions that scale with your business
With AWS, Solodev customers don't have to worry about the security and reliability of their infrastructure. They can focus on using the Solodev DCX platform to create digital experiences that keep their customers coming back for more.
Our services for optimized customer experience
To complement our enterprise content management and customer experience platform, we offer turn-key professional services that include web design and development, custom deployment of Solodev DCX, and other digital transformation projects. These services include:
Custom software development
UI/UX, creative & design services
eCommerce solutions
Cloud migration and consulting
Third-party application integration
Security and infrastructure management
Quality assurance management
Resources
Want to know how Solodev could benefit your website? Take a look at how we addressed the unique challenges of the American Dairy Association - Northeast and Visit Flagler. If you're looking for more information on what Digital Customer Experience is and why it matters, read up on our Medium pieces "5 Customer Experience (CX) Trends Every Brand Should Watch" and "5 Hacks to Boost Digital Customer Experience in Minutes."