Customer stories
Seminole County Public Schools
Breaking stereotypes around 'ugly' school websites
Challenge
Seminole County Public Schools (SCPS) is evolving the K-12 education landscape. As a Premier National School District, they are challenging the status quo and driving innovation in the classroom for nearly 70,000 students every day. Despite being the second highest ranked school system in the state of Florida, they struggled with an expanding field of choices for education. As elite private schools continued to elevate their perception as higher value alternatives, SCPS found themselves competing for students and the mindshare of parents across their communities.
To adapt, SCPS needed to transform their web presence and reposition their brand as a high-performing school system. The challenge was daunting: their existing school websites were dated, unattractive and difficult to maintain – especially by non-technical staff. The navigation was confusing, making it difficult for visitors to find simple information like summer reading lists or lunch menus. Many of their websites were also not easily accessible to users with disabilities, greatly hindering the overall user experience.
Solution
To meet these challenges, SCPS turned to Solodev – leveraging their transformative approach for designing the K-12 Public School Website of the Future. This proven methodology combined the control and capabilities of Solodev with the security and capacity of the world's most advanced infrastructure: the AWS Cloud.
First, Solodev collaborated with key SCPS leaders to craft a compelling story reflecting the district's mission, vision and values. Through intensive discovery sessions and focus groups, Solodev established the key components of the SCPS brand, as well as a website framework to meet the needs of a diverse audience.
With many private school websites carrying a $100K+ pricetag, SCPS needed a smart solution for rebuilding dozens of websites in their district. To help deliver a value-based strategy with agency-quality results for each school, Solodev created a design package with a comprehensive training component – building the initial templates and then teaching each school to build and maintain their own websites. This approach saved SCPS thousands of dollars in development costs while empowering its staff to be more productive.
To help SCPS elevate their perception and compete more effectively with private schools, Solodev designed a mobile responsive, visually-driven user experience – elevating the use of beautiful images and graphics. A more intuitive navigation – complete with an "I want to…" search capability – helped connect visitors with frequently searched topics such as teacher bios and schedules.
To enhance the community experience, Solodev designed a dynamic news and events application and alert manager to communicate quickly with students, parents and staff. In addition, Solodev developed a customizable ad manager to dynamically host banner ads. With an easy-to-use backend UI, Solodev made it simple for non-technical staff to take full control of their school's event calendars, lunch menus, blogs and more – and with powerful permissioning, administrators could assign draft, stage or publish privileges for every member of their team.
Fully optimized for the AWS Cloud, Solodev delivered the benefits of the entire AWS product suite to SCPS – from load balancing to auto-scaling to elastic file storage. With AWS CloudFront, a powerful content delivery network, Solodev helped the SCPS website reach high levels of global performance. By leveraging the AWS Elastic Compute Cloud (EC2), Solodev configured the SCPS website to auto-scale capacity up and down as computing requirements changed. AWS Shield delivered world-class security, privacy and network control access via firewalls built into Amazon infrastructure. Solodev also implemented Amazon EFS elastic storage capacity – automatically growing and shrinking storage capacity as SCPS team members added or removed files.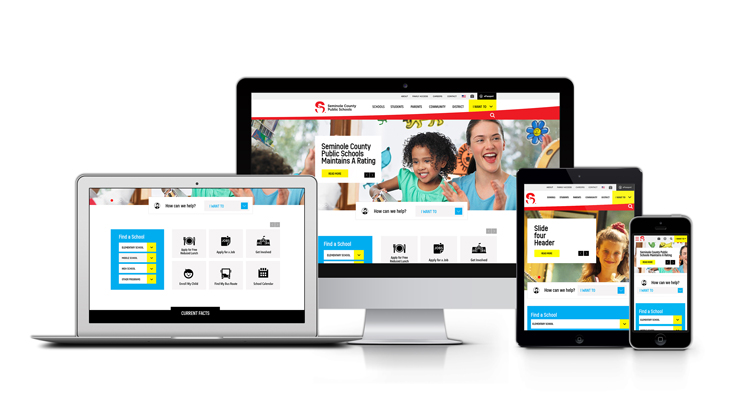 Result
Backed by comprehensive training and 24/7 support, SCPS leveraged the power of Solodev to build and manage their own websites – saving thousands of dollars each year and empowering their non-technical staff to take control of their web content. By teaching each school to manage their own website and solve issues quickly, Solodev reduced the burden to the district's IT department and improved the quality, accuracy and SEO of the entire digital footprint. The SCPS website was also the recipient of the prestigious AWS "City on a Cloud" Award in the Best Practices category.