Customer stories
CNL Financial
Investing in a more efficient web experience
Challenge
Time is money, and CNL Financial Group didn't want to lose out on either. The private investment management and commercial real estate company relied heavily on its multiple websites and mobile applications to educate and convert their audience – but still knew there was room for improvement. The Orlando-based firm needed a way to nimbly handle multiple web properties, each serving a critical role in guiding prospects through the overwhelming world of investments. They also needed to rebrand their web presence with an elevated level of sophistication – establishing industry thought leadership and trust around alternative investments. In addition, CNL wanted to empower their marketing team with a modernized platform of digital tools, allowing them to execute content strategies that seamlessly integrated with their best-of-breed marketing applications, including Salesforce and Marketo.
CNL also needed an easier, more secure, workflow-driven web experience that streamlined processes and accelerated their go-to-market strategy. They wanted a nimble solution that allowed for immediate updates to time-sensitive information while accommodating draft capabilities for FINRA compliance. With the reality of long review cycles from their legal and regulatory departments, CNL sought greater control over the "last mile," enabling them to publish quickly once a program was fully approved.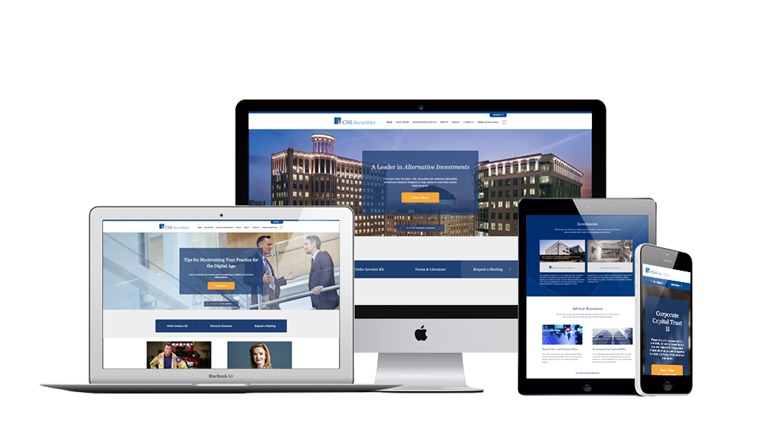 Solution
To meet these challenges, CNL turned to Solodev to develop a beautiful, visually compelling web experience that reflected its brand attributes while delivering a scalable, highly functional and easy-to-use platform. Solodev developed a new website strategy that enabled CNL to manage multiple products and services from a single backend, enhancing their productivity and delivery greater control and agility. Solodev also allowed CNL to seamlessly integrate their website with their marketing stack, delivering a complete lifecycle approach to nurturing and converting leads – from downloading content to purchasing investment products and services. SEO was a key consideration for CNL. In order to be "found" by the right investors, CNL needed a highly searchable data structure, from meta content to keyword optimization. Because Solodev is architected from the ground up for search, the new website was built to supercharge SEO on every level. Leveraging the integration with CNL's Salesforce and Marketo marketing platforms, Solodev enhanced the performance of their SEM and email campaigns.
Partnering with Solodev also gave CNL the power of the AWS Cloud - the world's most secure and advanced hosting infrastructure. By leveraging the next-level tools and capabilities of AWS, Solodev architected a way for CNL to draft, stage, and publish in a secure space. AWS CloudFormation became the perfect fit for managing CNL's various servers, databases, and user-facing websites and mobile app. Given CNL's need to have all content edits approved by financial regulatory body FINRA, Solodev built in an integration between CNL, FINRA, and Solodev on the AWS infrastructure to streamline the process.
AWS's reliable security services were integral to CNL's website success. The AWS security capabilities and services increased the privacy and controlled network access with its world-class security standard. For additional security, AWS replicated applications and data across multiple data centers in various regions using hardened Availability Zones – all part of the expansive AWS Global Infrastructure. Solodev also configured CNL's cloud infrastructure to auto-scale capacity up and down with the AWS Elastic Compute Cloud (EC2) service, allowing CNL to efficiently manage their multi-site computing requirements as traffic conditions changed.
Another useful tool for CNL was AWS OpsWorks. This powerful service enabled their team to monitor applications based on time or load and take automated actions based on the state of CNL's resources, permissions and policies. This deep level of insight streamlined the operation of their multi-user environment, making it easier for administrators to manage and configure servers in their EC2 instances.
Result
The new CNL web experience up-leveled the brand perception of the financial firm while delivering an unprecedented degree of control to their multi-site ecosystem. The new website strategy allowed CNL to work more effectively while still operating under the oversight of regulatory bodies like FINRA. With the draft capabilities of Solodev, CNL can confidently stage, review and quickly publish new content once approved – accelerating the entire process. The Solodev-powered Mobile App put the extensive list of CNL's resources at the fingertips of its users, giving advisors and investors real-time access to portfolio offerings and time-sensitive investment data. Now, CNL can securely command their brand presence while connecting vital information to investors.